Lone Star State downs Pennsylvania
Originally Published:
October 1, 2008
ESPNRISE.com
After winning in a close vote over Ohio last week in the Great State Debate, Pennsylvania has run into that impenetrable wall known as Texas.
While it's hard to dispute Pennsylvania's claim for having produced more top-level quarterbacks than any other state, it may be even harder to dispute the claim that Texas is the nation's No. 1 high school football state.
[+] Enlarge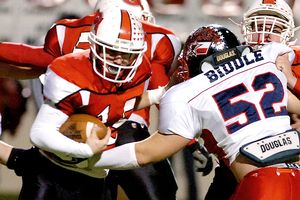 AP Photo/Rod AydelotteTexas is pounding its way through the Great State Debate.
Texas swamped Pennsylvania with 69.3 percent of the vote. Up next for the Lone Star State will be a matchup in the Great State Debate final in two weeks against the winner of next week's second semifinal between Florida and California.
Florida and California could be extremely close. Florida may have a stronger case for the top spot because of recent wins on the road in the past two years by Miami Northwestern over Southlake Carroll of Texas and Lakeland over St. Xavier of Cincinnati. California, however, has a strong edge in population, so if the state's sports fans turn out, there may not be much that Florida -- or even Texas, for that matter -- can do to win.
The Best of the Great State Debate
"Texas high-school football players fuel many of the nations top teams. Georgia, Missouri, Kansas, Texas, Texas Tech have Quarterbacks from Texas. Most of Oklahoma's, Missouri's, and of course Texas' rosters are full of Texas born players. 3 top 5 teams. Not to mention, the number 3 LSU squad is full of Texas born players. How can you even question that Texas is a better football state?"
-- hoganbrat
"Is pennsylvania building $20 million dollar stadiums for their high school football programs like Texas is? No.
Why you ask?
There is a simple reason, Texans love their high school football more than anyone else. Sorry, penn, you just don't measure up."
-- krychek67
"Texas is a better football state than Pennsylvania but i dont think its the best in the country. How can u say texas football is better when last year Miami Northwestern went over to texas and whooped up on the best team in Texas on national television. Florida always averages more 5 star recruits every year than texas. California has the most hiesmen winners and the most players in the NFL. cali also has the most hall of famers. florida and california are the best football states. Texas is great but not better than Cali or Florida. the best ATHLETES are in cali and florida."
-- kk0802
"Texas might have the upperhand on PA but you have to look at size. Texas is about 5 times the size of PA and double the population, so they have more talent to pick from. Its like Ivan Drago v. Rocky Balboa. Texas has the size and all the attributes but for its size and I think PA packs the most punch. Both states have a rich history in football and yes everything you here about football comes from Texas but PA has put up some of the greatest hall of famers. Good luck to both states Either one would beat Cal and Florida in fact I think Ohio might of beaten them too. Final thoughts: Texas has it only because of size and population if it was broken down to population density then I think PA has it all the way over any state. "
-- Sangwich2ku
FOOTBALL RANKINGS

Rank
School (City, State)
Rec
1
Don Bosco
Ramsey, NJ
11-0
2
Armwood
Seffner, FL
15-0
3
Trinity For Boys
Louisville, KY
14-0
4
Grayson
Loganville, GA
15-0
5
Good Counsel
Olney, MD
13-0
See the full football rankings »