Competition heats up in semifinals
Updated:
October 8, 2008, 8:15 AM ET
ESPNRISE.com
Editor's note: In the second semifinal matchup of the Great State Debate, No. 2 seed Florida takes on No. 3 seed California. Cast your vote for Florida or California between noon ET on Monday and noon ET on Wednesday.
Will the Sunshine State get eclipsed by California gold? This week's Great State Debate about which is the best in high school football should be the best one yet.
A state with clearly superior history goes up against a state that might be clearly superior in more recent years in the second Great State Debate semifinal.
Texas dispatched Pennsylvania in the first semifinal. Which state will the Lone Star State face in next week's finals: Florida or California?
California has the clearly superior history. California has more former players and coaches in the Pro Football Hall of Fame than any other state, claims more Heisman Trophy winners than any other state and boasts more current players in the NFL than any other state.
California also has several legendary football schools such as De La Salle of Concord and Long Beach Poly of Long Beach. De La Salle set a national record by winning 151 straight games from 1992 to 2004, and Long Beach Poly has sent more players to the NFL than any other school in the nation and has been a powerhouse for nearly 100 years.
Florida, on the other hand, claims only two Heisman Trophy winners and only has a handful of players in the Pro Football Hall of Fame -- but that's likely to change drastically in the next few years as a number of Floridians, led by running back Emmitt Smith, will be locks for Canton. Over the last 15 to 20 years, no state has been producing talented football players quite like Florida has, a fact which is best shown by the national college titles won by Florida, Miami and Florida State.
And if your criterion in the Great State Debate is on-the-field results, Florida may have the edge. Two years ago the top-ranked team from Florida (Lakeland) played the top-ranked team from Ohio (St. Xavier of Cincinnati) on the road and won. Then last year the top-ranked team from Florida (Miami Northwestern) played the top-ranked team at the time from Texas (Southlake Carroll) on the road and also won.
California has a decided population advantage in this Great State Debate, but will those laid-back fans spend the energy to vote for their state against Florida, which probably has more passionate fans? We'll see.
Cast your vote in the Great State Debate until Wednesday at noon ET. The winner will take on Texas in the final.
The case for No. 2 Florida
[+] Enlarge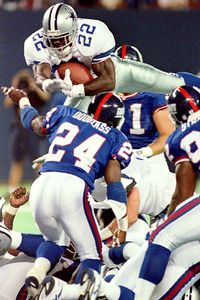 Henny Ray Abrams/AFP/Getty ImagesEmmitt Smith and his native Florida have a large hurdle to clear in California.
"When most people think of Florida, they think of speed. That's the difference in the past two [BCS] national championships; LSU and Florida had speed and Ohio State didn't. Colleges are starting to catch on to that too. Purdue has four players committed from Florida already. We got the best areas of talent. You won't find a better area than Muck Country between Glades Central and Pahokee -- they have produced 48 NFL players. Florida has the most raw talent, and on any given you week you have to be prepared to bring it, or else you'll get beat."
-- Trinity Catholic QB Rob Henry, Purdue commit
"Basically, speed separates Florida from other states. When I talk to college coaches, they bring it up. I talked to Urban Meyer and he said he wants to have the fastest team in America. When UF played Hawaii [in Week 1], everyone saw that speed kills. Florida has more versatile athletes, like Pahokee's Nu'Keese Richardson, who is a receiver that plays quarterback and can make plays."
-- Palm Beach Central LB Jon Bostic, ESPNU 150
"In my opinion, what separates us from other states is speed. We have fast players running 4.4's consistently, like at the Nike combines. Spring ball helps in a lot of ways. We get extra conditioning and have a chance to work on new plays. The competition in Florida, particularly Miami and Ft. Lauderdale, is a big difference. You play against the best talent every week, and there's not just one or two good players --everyone is faster and ready to compete."
-- Miami Palmetto RB Jaamal Berry, ESPNU 150, Ohio State commit
"Most schools come down to Florida to find their athletes. The speed down here is like nowhere else. The college programs like FSU, Florida and Miami have won a lot, and the majority of the players on those rosters are from Florida. Another thing that separates us is the way we were raised. Most of my friends want to be the best and have a certain hunger. The way we carry ourselves and have that Florida swagger. I think it puts us No. 1 for the best high school football state."
-- Plantation DB Brandon McGee, ESPNU 150 Miami commit
"In Florida, we are too fast and we have heart no matter how big the guy is across from us. Anybody can get it!"
-- Royal Palm Beach junior WR Chris Dunkley
State Your Case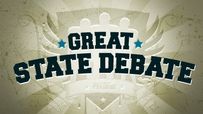 The Great State Debate poses a simple question: Which state has the best high school football? We've edited the field down to eight. This week, No. 2 seed Florida and No. 3 seed California face off. Which state will advance? That's up to you. Join the conversation, blog about your state and vote for your favorite.
Watch the video highlights of California and Florida.
Related:
Speed, swagger define Florida high school football.
California's lights shine on prep football.
The winner of this week's matchup will be announced Wednesday, Oct. 8.
The case for No. 3 California
"What separates California from the rest of the states is that we have more speed, strength and knowledgeable players. Not taking anything away from other states -- they have talent as well -- but there is so much talent in California, it's like a pot of gumbo."
--
Compton (Calif.) Dominguez LB Marquis Simmons (USC commit)
"Cali always has the best athletes. We also have the most playmakers, and we definitely know how to put the rock into the end zone."
-- Moreno Valley (Calif.) Rancho Verde RB Daniel Jenkins
"California is definitely the cream of the crop for football. We produce athletes that are multisport athletes, and we have guys that go on and make a name for themselves not only in college but in the pros, too."
-- Walnut Creek (Calif.) Las Lomas WR Diante Jackson
"I think you can match up the Cali schools against anyone in the nation and we would do very well. I also think year after year, it seems Cali puts out at least half the top QBs in the country, so you know how strong the offenses are."
-- Danville (Calif.) San Ramon Valley QB Joe Southwick (Boise State commit)
SPONSORED HEADLINES
ESPN TOP HEADLINES
MOST SENT STORIES ON ESPN.COM
FOOTBALL RANKINGS

Rank
School (City, State)
Rec
1
Don Bosco
Ramsey, NJ
11-0
2
Armwood
Seffner, FL
15-0
3
Trinity For Boys
Louisville, KY
14-0
4
Grayson
Loganville, GA
15-0
5
Good Counsel
Olney, MD
13-0
See the full football rankings »