Commentary
Football rules, but there's more to the show
Updated:
October 15, 2008, 12:18 PM ET
By
Lorne Chan
| Special to ESPNRISE.com
SAN ANTONIO -- Reagan's football team is warming up under the South Texas sun when the cavalry shows up.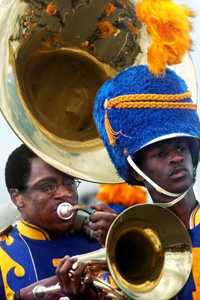 AP Photo/Ric VasquezTexas fans may come for the football, but they stay for the show.
Seventeen school buses packed with noise, intensity and ambiance empty out and fill the stands. The band, cheerleaders and dance team are here, bringing a necessary dimension to high school football in Texas.
Now that they've arrived, Friday Night Lights can begin.
Football is king in Texas, but every king needs its court. And the atmosphere surrounding football, from the band to the mascot, has taken on life of its own.
High school bands have grown to the size of major college bands. The cheerleaders standing next to the field are as athletic as any other varsity team. And dance teams often bring home more trophies than the football teams.
"We're a sport of our own," Reagan's cheerleading coach Marty Flores said. "We're competitive. We don't just stand out there and look cute."
The walls of Reagan's cheer and dance studio make that clear. More than 250 trophies and plaques line the walls, including one national championship trophy each for the cheerleaders and dance team.
"We keep the rest of the awards somewhere else," dance director Val Rodriguez said. "These are the ones from the big competitions."
While football season lasts through fall, bands, cheerleaders and dance teams practice and compete year-round.
Even game day is longer for the dancers and pep squad than the football team. The 200 members of the dance team and 50 members of the cheerleading squad begin at 7:30 a.m. with an inspection. Before school there's a pep rally, and after school on this game day in September, a Kielbasa-themed tailgate with a local TV station airing live reports from the tailgate.
[+] Enlarge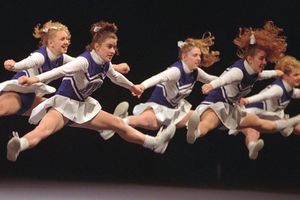 AP Photo/Eric GayCheerleading isn't an activity in Texas -- it's a full-contact sport.
By the time they arrive to the stadium, it's a nonstop 12-hour day. They don't get a pregame nap like the football players.
And the game hasn't started yet.
"Football players may have two-a-days," dance team captain Hannah Brown said. "But we're working all day."
Reagan's playing rival Churchill on this night, but the game quickly turns into a rout. Although Reagan takes a 35-0 lead by halftime, almost all of the 7,500 at the game stay in their seats to see the bands and dance teams perform.
The Reagan band, which lost numbers because a new school opened this year and took half the students, still has 200 members. The band used to average more than 300 members with a peak of about 350. Churchill's band also has about 300 members.
They're comparable numbers to the University of Texas' Longhorn band, which carries about 350 members. Or the LSU Tiger band, which has 325 students.
Reagan band members practice for a 90-minute class each day, and Texas rules don't allow more than eight extracurricular practice hours per week. They still log plenty of hours on their own to prepare for more than 20 performances this fall.
Reagan band director Mark Koehl estimated his band has an operating budget of about $100,000 for the year.
"It definitely lives up to the stereotype of everything being big here," Koehl said. "We're a part of Friday night football to make the atmosphere, and we put a lot of pride and effort into it."
In some cases in Texas, the effort goes a little overboard. The power of the Texas cheerleader has become worthy of legendary tales -- or at least a couple Lifetime movies.
There's the 1991 tale of Wanda Holloway, a mother from the Houston suburb of Channelview. She hired a hit man to kill the mother of a girl who was competing for a cheerleading spot against her daughter.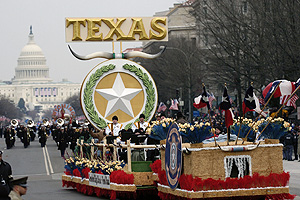 AP Photo/Nick WassThe pomp and pagentry of Texas high school football was even recognized in the 2005 Inaugural Parade for President George W. Bush.
It turned into the Lifetime movie with the self-explanatory title, "The Positively True Adventures of the Alleged Texas Cheerleader-Murdering Mom."
The 2006 story of the McKinney North Fab Five followed with more Lifetime fodder. They were a group of real-life "Mean Girls," five cheerleaders in a Dallas suburb who took over their school. They played pranks on their coach and caused a scandal by posting risqué photos online.
The McKinney North cheerleaders are depicted in Lifetime's, "Fab Five: The Texas Cheerleader Scandal."
Reagan's cheerleaders swear none of that is going on at their school. They're too busy for any drama.
Flores' calendar shows only three blank days without an event to attend or a competition. The cheerleaders don't just go to football games, but every varsity sport including golf -- except they obviously don't cheer at golf tournaments. These cheerleaders don't fit the stereotype of blondes who don't know the game, either. They're even tested on rules of the sporting events they attend.
Cheerleaders have their own competitions too, with the sport becoming more and more intense.
When Reagan cheerleaders participated in fitness testing with some of the school's other varsity athletes, they were one of the highest scoring teams.
They're flying higher, flipping more, and stunts are getting riskier and riskier.
A study by the National Center for Catastrophic Sports Injury Research found that cheerleading injuries were more than half of 112 catastrophic injuries to female high school and college athletes in the past 25 years.
"It's a contact sport," Reagan cheerleader Samantha Park said.
While cheerleading has grown as a sport, football games still take priority. It's only at a football game where the band, cheerleaders, dance teams and mascot all take the field on the same night.
Together, they make high school football in Texas one of the greatest sports experiences in America.
"Friday Night Lights are about football," Flores said. "But if we're not there, everybody knows something's missing.
"Without us, the experience isn't complete."
Lorne Chan covers high school sports for the San Antonio Express-News.
FOOTBALL RANKINGS

Rank
School (City, State)
Rec
1
Don Bosco
Ramsey, NJ
11-0
2
Armwood
Seffner, FL
15-0
3
Trinity For Boys
Louisville, KY
14-0
4
Grayson
Loganville, GA
15-0
5
Good Counsel
Olney, MD
13-0
See the full football rankings »