Fans' passion puts Texas over the top
Updated:
October 15, 2008, 2:30 PM ET
ESPNRISE.com
In a debate about high school football, the mantra "Don't mess with Texas" rang true.
Seven other states took a crack at the Lone Star State with compelling arguments, but none were able to match Texas' talent and passion. In the final vote of the Great State Debate, top-seeded Texas easily dispatched No. 2 Florida in the final vote by a substantial 68.1 percent to 31.9 percent margin.
[+] Enlarge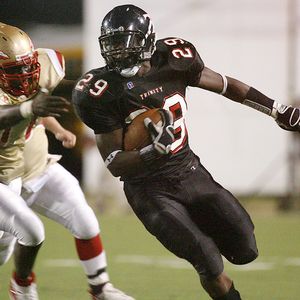 Dallas Morning NewsTrinity High School is one the Texas prep football powerhouses.
The debate over whether Florida is indeed better than California or Pennsylvania or Ohio will of course continue. But Texas has proven it has the popular support to claim the title of greatest high school football state.
The tide of voter participation in support of Texas offers only a small example of the state's passion for high school football. Games routinely attract more than 10,000 fans, and entire communities still shut down on Friday nights. Texas residents can't get enough of high school football.
Even if you took the fans' passion out of the equation, when you factor in the number of players who earn college scholarships, the numbers of teams that play each season and all the great players who have come from Texas over the years, the state may still have won the Great State Debate. But it's that zeal for all things Friday night that clearly puts Texas at the top.
Before flying past Florida in the final, Texas won its two other Great State Debate matchups against Virginia and Pennsylvania. Florida outpolled Louisiana in its first debate and took out California in the other semifinal.
And while the voting may now be closed, the debate is certainly not over.
The best of the Great State Debate
"Here is an example of why Texas high school football is number 1: The school district I live in had one high school 20 years ago. They won multiple state championships spanning several decades. The school was overcrowded -- nearly double the size of most high schools. Voters in the district continually voted down bonds that would be used to build a second high school in the district. Not because anyone was opposed to taking on more debt. No, the reason parents and residents continued to vote down the bonds was that no one wanted to mess with the football program. A second high school was finally built in the last five years, now that they probably need three high schools to keep up with the population growth. That is what high school football means in Texas. Texas schools spend money on high school football. Even if they don't go pro at the rate of Florida kids, the programs are top notch and the kids do fill out college rosters all over the country."
-- coyote_2005
"Not only does Texas have twice or three times the amount of high school football teams as Florida, but they also traditionally have better teams across the board. For instance, Texas might only have 2-3 teams a year that could compete with Floridas best team, but Texas has about 20-30 teams that could compete for Floridas Top 5!! "
-- Dustinb1981
"If the question is, which state produces the best athletes, there would be no question that Florida wins. If the question is even which state could produce the best high school team, again I would say Florida. But to really settle this debate you have to look at everything that High School Football is in a state. In Texas High School football has embedded itself in the cultural DNA of the state. From small town West Texas, to the major metropolis' of Dallas and and Houston, Friday night is football night. Furthermore, player development is huge in Texas. Again, athletically sure Florida could beat Texas. But there is a reason so many top QB's in the college ranks hail from Texas. It's because in Texas coaches and their staff know the game and play the game so that High School quarterbacks come out ready to play at the collegiate level. Furthermore, many of those quarterbacks are doing it not because of their superior athletic ability but because of their knowledge of the game. Colt McCoy, Graham Harrell, Chase Daniels, Todd Reesing, Matthew Stafford, these are guys who play smart football and know the game inside and out. It is doubtful that any of them will play professional football, since they lack the size and athletic ability to perform at the highest level. But their knowledge of the game is exceptional and this is the result of a superior culture of high school football, a culture which determines how families will spend their Fridays and makes Texas No. 1. "
-- dshall86
"My congrats to Texas for making it to the final in this hotly contested debate. We all know that the overall competition and gametime atmosphere in Texas is great, but the truth of the matter is FLORIDA is where football reigns supreme.. Within the last 15, arguably 20 years, Florida has harvested the cream of the crop when it comes to athletes, and has been the prime target for recruits throughout the country. Anyone can teach skill and technique (you can get that through constant practice, commitment, and dedication). But one thing you cannot teach is SPEED and god-given talent and ATHLETIC ability. If you haven't already recognized, which I'm sure you have...THESE FLORIDA BOYS ARE GOOD!!! In the last 15 years no other state has boasted more players (past and present) on NFL rosters. You other states can name your couple Heisman trophy guys and few other players that no one may know... and have a hard time even coming up with 15 players (in the last 15 years...) Florida, you can think of 15 in a matter of a few seconds.. I'll show you... DERRICK BROOKS, RAY LEWIS, FRED TAYLOR, DEVIN HESTER, CHAD JOHNSON, CLINTON PORTIS, EDGERRIN JAMES, DEION SANDERS, EMMITT SMITH, ANQUAN BOLDIN, ERNIE SIMMS, MICHAEL IRVIN, VINCE WILFORK, ED REED, JEVON KEARSE, WARREN SAPP... (Just the tip of the iceberg) And There are plenty of other players past and present that I failed to mention... And don't forget all the great Canes, Seminoles, and Gator players throughout the years... "
-- ekim1282
"Texas has more D-1 players than any other state (overall AND per capita)
Texas has better pro's than florida. From old school Hall of Famers to current NFL stars
Texas has players on just about every college roster across the country
The University of Texas has used roughly 90-95% only Texas players since Mac Brown has arrived and has more 10 win seasons than any other school and a national title during that span.
University of Texas is currently the #1 team in the country with 95% texas bred players (not to mention all of the other 5star Texas athletes playing for Oklahoma, Texas Tech, Ok St, Mizzou, and LSU)
Half of the Heisman race are players from Texas.
Texas has the #1 high school team, #1 College team (with 95% texas high school players), and loves football more.
When you consider all of that and then throw in the Texas high school football culture, tradition, and popularity.....it really shouldn't be close. Texas is football." -- DBU1117
"Facilities wise Texas is the nations best state. There is more money in that state to provide the best facilities for High school football than in any other state in this great nation of ours. But make no mistake even with all those great facilities. Texas is lightyears behind the talent and quality of programs that run throughout the State of Florida. We have historically had the 3 most successful college programs in UM, UF, and FSU but just to show how deep the talent goes after the big 3 get their 4 and 5 star talent, UCF, USF, and now FAU are rising to contend in the college national scene is this due to great coaching hires sure but its through the depth of home grown talent that the state produces that allows all these schools to be as dominant as they have. In Texas only UT consistantly tops the the national rankings. If Texas is so good and deep with talent why aren't Texas A&M, Texas Tech, Baylor, Houston, TCU, SMU consistantly competing for National rankings and National Titles. Its Clear Florida has much more talent than Texas ever could." -- canes5656
"Texas has the best all-around athletes in the country coming out of high school. The problem is that many of the Texas recruits are stolen from so many other universities in the country including Florida universities. Who can blame them? You don't see as many Florida players leaving the state of Florida to go to other universities Because many of them are second choices waiting to see if the Texas athletes are going to commit first. Florida has great talent and I do mean great but Texas has so many universities and so much competition out of the state for its talent you would never be able to tell its talent based off the reputation of Texas universities. I bet Texas has more players to go the NFL in the history of the NFL than any other state. TExas is #1 and always will be in this lifetime."
-- U H8 Me
SPONSORED HEADLINES
ESPN TOP HEADLINES
MOST SENT STORIES ON ESPN.COM
FOOTBALL RANKINGS

Rank
School (City, State)
Rec
1
Don Bosco
Ramsey, NJ
11-0
2
Armwood
Seffner, FL
15-0
3
Trinity For Boys
Louisville, KY
14-0
4
Grayson
Loganville, GA
15-0
5
Good Counsel
Olney, MD
13-0
See the full football rankings »