Commentary
Malzahn inspires Arkansas' offensive attack
Updated:
October 30, 2008, 4:34 PM ET
By
Doug Huff
| ESPN RISE.com
Is there something in the Arkansas drinking water causing all the offensive football explosions in recent seasons?
What else can explain the following?
(1) Last weekend, England High School outscored Rose Bud 64-55 in a three-hour game that featured 1,231 total offense yards. In a losing effort, Rose Bud wide receiver J.D. Felice set a national record with 421 receiving yards. He landed 24 aerials and scored six touchdowns, five on passes.
"It was a basketball game on grass," Rose Bud coach Steve Rose said.
"There wasn't a defensive player of the game," England coach Mike Morrison joked.
[+] Enlarge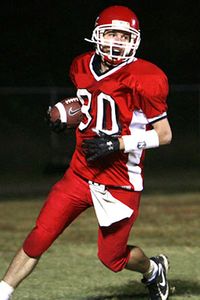 Diana Cantey J.D. Felice broke the national record for receiving yards in a game thanks to the spread offense.
(2) Two weeks earlier, tradition-laden Pine Bluff outscored Lake Hamilton 73-66, with both teams recording more than 600 yards in a game with 1,311 yards of total offense. Lake Hamilton quarterback Phillip Butterfield passed for 536 yards and four touchdowns in a losing effort. Rival Pine Bluff QB Claude Johnson passed for 403 yards and five scores and rushed for 131 yards.
(3) A week later, Har-Ber (Springdale) quarterback Zac Faust passed for 440 yards and seven TDs in a 49-17 win over Rogers Heritage. In another game, Fort Smith Northside defeated Springdale 59-28, as QB Dax Dupree passed for 443 yards and four TDs and rushed for two more scores. Springdale QB Ashton Glaser passed for 435 yards, while receiver LaDarius Eckwood landed 19 aerials for 308 yards in the loss.
The big offensive numbers in Springdale shouldn't be a surprise to observers of the Arkansas prep scene. If the "drinking water theory" doesn't hold water, maybe the origins of the offensive outbursts can be traced to Springdale in the mid-1990s.
That's when Gus Malzahn transformed little Shiloh Christian High School into one of the most explosive offensive teams in the nation. With his wide-open spread offense way ahead of opposing defenses, Malzahn coached two quarterbacks -- Josh Floyd and Rhett Lashley -- who set national passing records.
[+] Enlarge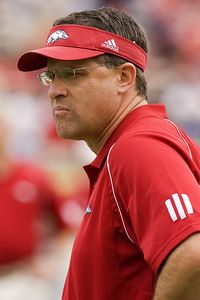 Wesley Hitt/Getty ImagesGus Malzahn parlayed his success at the prep level to offensive coordinator jobs at Arkansas and Tulsa.
Then Malzahn moved across town to the larger public school, Springdale High, which featured quarterback Mitch Mustain, a national Player of the Year selection by Gatorade and Parade.
Malzahn left the prep ranks in 2006 for the college level, and a year as offensive coordinator at the University of Arkansas. For the past two seasons, he has been the mastermind of the nation's most prolific offensive unit at the University of Tulsa. The currently undefeated Golden Hurricane team averages 55.6 points and 601.1 total offensive yards a game.
With teams achieving such success using the spread offense on the Arkansas prep level, other state schools and coaches have followed suit, as scoring triggered by the passing game has registered some remarkable numbers. Defenses have more pressure defending the entire field as basketball-sized scores and track meets erupt on gridirons.
"If you're a fan," Rose Bud coach Rose says, "these shootouts are fun to watch. But they are nightmares for coaches trying to stop the opponent."
Felice, the Rose Bud wide receiver who benefited from the spread offense with a national record, knows the difference. He was a wing-T quarterback as a junior before first-year head coach Rose shifted him to wideout in a spread offense this season.
The change in coaching strategy, not the drinking water, is the reason many results and numbers are raising eyebrows in Arkansas, and other areas of the country, in recent seasons and just last week.
The Stuff
National coach of the week
Ken Dalton has been at McQueen High in Reno, Nev., since the school opened in 1982. One thing has been a constant -- success. Dalton, whose Lancers are 8-0 this season and the No. 1-ranked team in the state, passed the 300-win milestone two weeks ago (counting his wins at North Lake Tahoe before McQueen opened) and shows no signs of slowing down. He's stuck on 79 losses and hopes to keep it that way. Win No. 302 came last week in impressive fashion as McQueen shut out the area's No. 2 team, Hug, 30-0 in a game that was so lopsided
it was called a dud by the Reno Gazette-Journal
.
Tyler York
(176 yards rushing and four TDs) led the offense, and the defense stymied Hug all night. This week the Lancers meet rival Reno High in a Thursday night game which is held in conjunction with Nevada Days. Reno comes into the game rated No. 8 in Northern Nevada.
Boring? Nothing of the sort
Will Boring is the name of the quarterback at Leland High School in San Jose, Calif., and based on last week's crazy 82-54 win by the Chargers over Piedmont Hills, he might have the most inappropriate name we've ever heard. Boring led a Leland attack that, according to the San Jose Mercury-News, had 441 rushing yards and nine touchdowns. He scored four times on short runs, finishing with 65 yards on nine carries and completed 9 of 10 passes for 192 yards and three more scores. The teams combined for 1,106 yards of total offense in a game that took 3 hours and 35 minutes to play. According to our own CalHiSports.com state record book, Piedmont Hills set a Northern California record for most points scored by a losing team. The previous record was 53 set in 2001 by Bethel of Vallejo in a 64-53 loss to Vacaville. The two-team total of 136 points is a California Interscholastic Federation Central Coast Section record, with the only two-team total in Northern California higher being a 141-0 rout by Santa Rosa over St. Helena in 1924. The state record is that category is 144, set when Bloomington beat Artesia of Lakewood 82-62 in a 1994 CIF Southern Section championship game. The two-team total of 1,106 yards of total offense also is a new CCS record, but does not come too close to the NorCal mark of 1,281 set in 1999 by Los Banos and Manteca.
Famous alumni prep football standings
After doing famous folks in the national news media one week ago, we're switching to talk-show hosts. Here's how the alma maters of the most famous of these hosts are doing on the gridiron:
1. Lawrence (N.J.): 5-2 (Alumnus: Jon Stewart)
2. Broad Ripple (Indianapolis): 6-3 (David Letterman)
3. East Literature (Nashville, Tenn.): 1-1 (Oprah Winfrey)*
4. Andover (Mass.): 3-4 (Jay Leno)
5. Porter-Gaud School (Charleston, S.C.): 3-6 (Stephen Colbert)
6. Atlanta (Texas): 2-6 (Ellen DeGeneres)**
7. Clark (Las Vegas): 2-7 (Jimmy Kimmel)
8. Brookline (Mass.): 1-6 (Conan O'Brien)
* Winfrey actually graduated from East High of Nashville, which closed in 1986 but reopened in 1993 as a literary magnet school. It did not field a football team until this season, and has a limited schedule.
** DeGeneres' alma mater is also famous for having the first female football player in the state.
Doug Huff is a senior editor of ESPN RISE and is a member of the National Federation Hall of Fame. He has been compiling national and regional rankings in multiple sports since 1987 and is credited as the founder of the national record book. Mark Tennis and Steve Brand also contributed to this column.
SPONSORED HEADLINES
ESPN TOP HEADLINES
MOST SENT STORIES ON ESPN.COM
FOOTBALL RANKINGS

Rank
School (City, State)
Rec
1
Don Bosco
Ramsey, NJ
11-0
2
Armwood
Seffner, FL
15-0
3
Trinity For Boys
Louisville, KY
14-0
4
Grayson
Loganville, GA
15-0
5
Good Counsel
Olney, MD
13-0
See the full football rankings »