Commentary
Mankins becomes big key to Pats' success
Updated:
December 5, 2008, 6:22 PM ET
By
Harold Abend
| Special to ESPNRISE.com
Forty miles west of the entrance to Yosemite Valley sits the small Sierra Nevada foothill community of Mariposa (Calif.). The local high school serves a large geographical area, but is generally not the kind of place where college recruiters come to find top prospects.
[+] Enlarge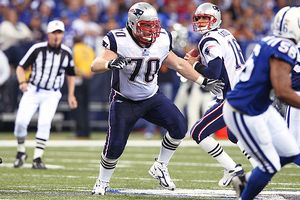 Joe Robbins/Getty ImagesLogan Mankins has started every game in his Patriots career.
The scouts didn't stop by when Logan Mankins was starring at Mariposa County High School, either. By chance, a college that was scouting another player took an interest in Mankins. He would get one shot, at Fresno State.
Today, the 6-4, 310-pounder has started 60 straight games for the New England Patriots, including Super Bowl XLII, and he's another shining example of a prominent NFL player who earned success despite not being on numerous recruiting lists and not having major colleges clamoring for his signature on a letter of intent.
Logan was born in 1982 and grew up on a 10,000-acre ranch where he and his father excelled at roping steers rodeo style. All that outdoor activity seemed to help the young man grow big and strong.
"We've had some great athletes at Mariposa County High but never a blue-chipper like Logan," said Loyd Hobby, athletic director at the 615-student school for 45 years.
"Logan was a true athlete, not just a big hulk," continued Hobby. "A lot of people don't know it but he was almost as good in basketball and baseball as he was in football."
All all-league performer and lineman of the year, Mankins was also MVP of the Southern League his senior year in basketball and baseball as well as football.
"We used him on the line, and at middle linebacker on defense," said Bruce Vegely, Mankins' football and baseball coach at Mariposa. "On offense, we used him as a tight end, a split end and at running back in the power I. In baseball, he played third base and pitched for me. In basketball, he scored 40 points in a playoff game. He could do it all. Logan was a gamer with a knack for winning."
Despite his many athletic talents, it was an accident that Mankins made it to a Division I college program.
Fresno State coaches came to town because they were recruiting a player from Modesto Christian (Modesto, Calif.) who had played against Mariposa. They were also looking for juniors and thought the Grizzlies had some with potential.
"I told them, I don't have any juniors, but I have a senior you have to see," Vegely said.
[+] Enlarge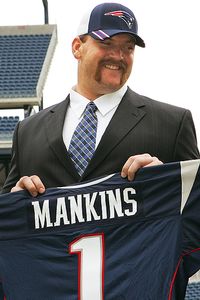 AP Photo/Elise AmendolaMankins was taken with the 32nd overall pick in the 2005 draft.
"We showed them film of Logan going head-to-head with the boy from Modesto Christian," added Hobby. "Although we lost the game, he dominated."
Fresno State had found a hidden gem and was impressed with his ability. After redshirting to work on his academics and size, Mankins turned into a giant 310-pound guard, blocking for former No. 1 draft pick David Carr.
After his stellar career at Fresno State, Mankins was drafted by the New England Patriots in the first round with the 32nd overall pick in the 2005 draft.
In his first season, Mankins was able to silence critics who called him a "reach" by becoming one of just three rookies to start all 16 games in 2005.
Mankins was also named to Pro Football Weekly's 2005 All-Rookie Team and was the first Patriots rookie to start every game since Damien Woody in 1999.
In 2006, Mankins helped pave the way for the Patriots to record 1,969 rushing yards, the team's second-highest total in the last 18 years. He also scored a touchdown in the 2006 AFC Championship Game at Indianapolis when he recovered a Laurence Maroney fumble in the end zone to give the Patriots a 7-0 lead in the first quarter.
In 2007, Mankins started every game as part of a Patriots offensive line that set all-time NFL records with 589 points and 75 touchdowns, and allowed just 21 sacks, the fewest for the franchise in 30 years.
The result was Mankins earning his first career Pro Bowl selection and a place on the Associated Press 2007 All-Pro Second Team.
"We thought he might be an excellent tight end in college," said Vegely. "But no one expected him to turn into what he has."
What he's become is one of the National Football League's top offensive linemen. A player who started his career as a virtual unknown in high school has made it big as a pro.
Harold Abend covers high school sports for ESPN RISE.
SPONSORED HEADLINES
ESPN TOP HEADLINES
MOST SENT STORIES ON ESPN.COM
FOOTBALL RANKINGS

Rank
School (City, State)
Rec
1
Don Bosco
Ramsey, NJ
11-0
2
Armwood
Seffner, FL
15-0
3
Trinity For Boys
Louisville, KY
14-0
4
Grayson
Loganville, GA
15-0
5
Good Counsel
Olney, MD
13-0
See the full football rankings »