Commentary
No. 1 Trinity falls to Allen in playoffs
Updated:
December 7, 2008, 10:47 AM ET
By
Jeff Miller
| Special to ESPNRISE.com
IRVING, Texas -- Trinity (Euless, Texas) has been a regular playoff visitor to Texas Stadium through the years, but the Trojans found themselves in an unfamiliar place early in Saturday's Texas Class 5A Division I regional championship game against the Allen Eagles.
[+] Enlarge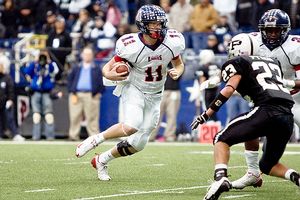 Tom CharlesAllen won for the second week in a row with Tucker Carter under center.
A hole. A huge hole.
Allen scored on its first four possessions and built a 20-point lead in the third quarter en route to a 34-21 victory to win the Region I title. That ended ESPN RISE FAB 50 No. 1 Trinity's pursuit of a second consecutive state championship and resulted in the Trojans' first defeat since losing early in the 2007 season to Odessa Permian -- a streak of 27 consecutive wins.
Trinity (13-1) committed three turnovers, forced none and had a field goal blocked. Each team had a kick return for a touchdown negated by penalty.
Allen (13-1) will face Round Rock Stony Point (13-1) in next weekend's semifinals, having avenged its only loss of the season. The Eagles lost to the Trojans in mid-September, 24-14.
"Team is a big word," Allen coach Tom Westerberg said, "and we've got team chemistry right now."
Allen won for the second consecutive week behind junior quarterback Tucker Carter, who has stepped in after an injury shelved junior starter Matt Brown. Carter completed 16 of 18 passes for 142 yards and two touchdowns. In the playoff wins over two previously unbeaten teams (Trinity and Permian), Carter is 26-for-34 for 341 yards, four TD passes and no interceptions.
"Our team has grown so much and come together," Carter said. "We weren't sharp at all that first game [against Trinity]. This time, we knew what we had to do."
The Eagles were stopped in the first half only by the halftime clock and didn't punt until the closing minutes. The game's pivotal play came midway through the third quarter, after Trinity scored for the first time to cut Allen's lead to 17-7.
New No. 1?
Trinity (Euless, Texas) spent most of the season at the top of the ESPN RISE FAB 50 rankings. An upset loss in the Class 5A playoffs to Allen ended the Trojans' national title hopes -- but a team from Texas could still be crowned champion, writes ESPN RISE's Mark Tennis. MORE
On fourth-and-5 at Trinity's 20-yard line, Westerberg called a timeout to decide whether to go for the touchdown or send in junior kicker Cody Phillips for what would have been about a 37-yard field goal. Westerberg opted to go for the end zone. Senior wide receiver Dakarai Pecikonis came back for the ball under excellent coverage and made the catch for the score and a 24-7 lead.
"I trusted Dakarai all the way," Carter said.
In the teams' first meeting, Trinity sophomore running back Tevin Williams riddled Allen for 179 yards as the Trojans' dangerous ground attack outrushed Allen, 281-195. On Saturday, it was Allen senior running back Jeremiah Williams who took top billing. He gained 180 yards on 26 carries while Tevin Williams was held to 82 yards on 13 carries.
"Good blocking; I give them props," Jeremiah Williams said. "We've been working on it all week."
Trinity got a second wind after trailing 34-14 with 6:06 to play. Senior quarterback Denarius McGhee threw a nine-yard touchdown pass to senior wideout Christian Brown to cut Allen's lead to 34-21 with 5:23 to go. The Trojans recovered their onside kick and had a second-and-1 at Allen's 6. But the drive ended when McGhee was unable to find Brown on fourth down.
Trinity drove to Allen's 11 in the final minutes, but Eagles senior defensive lineman LaChris Anyiam shook the ball loose from McGhee and senior linebacker Mike Edwards recovered for Allen.
"Coach [Westerberg] always says keep your head up because if you put your head down, that's when a team will come back and bite you," Allen's Jeremiah Williams said. "So we all kept our heads up, we all played hard and we all finished."
Jeff Miller is a freelance writer and can be reached at miller.jeff55@gmail.com.
SPONSORED HEADLINES
ESPN TOP HEADLINES
MOST SENT STORIES ON ESPN.COM
FOOTBALL RANKINGS

Rank
School (City, State)
Rec
1
Don Bosco
Ramsey, NJ
11-0
2
Armwood
Seffner, FL
15-0
3
Trinity For Boys
Louisville, KY
14-0
4
Grayson
Loganville, GA
15-0
5
Good Counsel
Olney, MD
13-0
See the full football rankings »