St. Thomas reigns supreme
Updated:
December 23, 2008, 3:29 PM ET
ESPNRISE.com
There is certainly no suspense at the top of the final 2008 ESPN RISE FAB 50 national football rankings, especially the way No. 1 team St. Thomas Aquinas of Florida walloped previously unbeaten and nationally ranked Lakeland 56-7 last Friday night to win the Florida Class fa state championship.
[+] Enlarge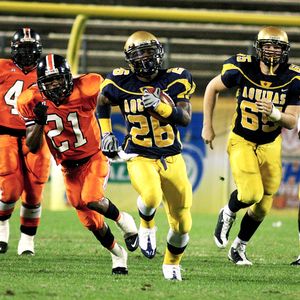 Scott PurksSt. Thomas Aquinas ran away with its second consecutive state title.
But with previous No. 2 Long Beach Poly of California going down in the California Interscholastic Federation Open Division championship on Saturday night, that did create the opportunity for movement throughout the rest of the top 10 for the final rankings.
Despite suffering one loss, Texas Class 5A Division I champion Allen took the final No. 2 spot in the FAB 50. The Eagles' one loss was to Trinity of Euless, Texas, which was the No. 1 team until Allen avenged its earlier loss with a 34-21 win on Dec. 6. The Eagles won their state title last Saturday at Reliant Stadium in Houston with a 21-14 victory over previously unbeaten and nationally ranked Hightower.
Moving up to No. 3 was Texas Class 4A Division I champion Lake Travis of Austin. The Cavaliers were previously No. 5 but hopped Camden County of Kingsland, Ga., in the final rankings as voters were impressed with their 48-23 title-game win over Longview.
Lake Travis quarterback Garrett Gilbert passed for five scores and ran for two more to complete probably the greatest season any prep quarterback in Texas has ever had, but the difference in the Cavaliers getting bumped up to No. 3 had more to do with their margin of victory over Longview. That was a team that lost 21-7 early in the season to No. 2 Allen.
Rounding out the top five is Centennial of Corona, Calif., which was No. 8 last week but moved up after a 21-16 win over De La Salle of Concord in the CIF Division I state championship bowl game. The result also in effect avenges a loss from last year to the Spartans that has prevented the Huskies from currently being on a 30-game winning streak.
The team making the biggest jump in the final rankings was the one that knocked off Long Beach Poly. Head coach Mike Alberghini's squad from Grant High in Sacramento was voted in the 10th position after its 25-20 win last Saturday completed a 14-0 season. The Pacers also had wins over state champions from Idaho and Utah.
Two years ago, Grant had arguably an even more talented team than this year's version, but the Pacers weren't able to prove how strong they were in a CIF bowl game. That team still ended at No. 25 in the FAB 50. This year's team did get the chance, won the biggest game in the history of Sacramento-area prep football, and finishes in the top 10.
Two new teams also moved into the FAB 50 for the final rankings, both for the first time all season. One was a team that just ended its season, Seminole of Florida, which won the Florida Class 6A state title on Saturday night over three-time defending champ Miami Northwestern.
The other was a team that ended its season way back on Nov. 21, Timpview of Provo, Utah. The T-Birds have won three straight Class 4A state titles and are taking a 36-game winning streak into next season.
ESPN RISE FAB 50

The ESPN RISE FAB 50 rankings were compiled by a panel of ESPN RISE and ESPN.com high school editors, which includes Mark Tennis, Steve Brand, Kynon Codrington, Doug Huff, Brian Stumpf, Mike Loveday, Chris Lawlor, Jon Mahoney, Sheldon Shealer, Bob Masajo, Ronnie Flores and Paul Muyskens.
Final results
1. St. Thomas Aquinas (Fort Lauderdale, Fla.)
Record:
15-0
Points:
250 pts
Previous rank:
1
Former Raiders star Michael Irvin flew in from Dallas with his two sons to witness the team's 56-7 demolition of Lakeland in the Class 5A state final that secured the final No. 1 national ranking. Highlights of the game also were shown on "NFL Countdown" last Sunday on ESPN with NFL analyst Cris Carter still on top of the world due to his son, Duron, being the top receiver for the team. St. Thomas Aquinas didn't get rolling until the second half of its game against Elder of Cincinnati at the Kirk Herbstreit Classic way back on Labor Day weekend. Since then, it has been romp city as head coach George Smith's team proved it belongs among the best ever from the Sunshine State.
2. Allen (Allen, Texas)
Record: 15-1
Points: 243 pts
Previous record: 3

The Eagles got three second-half touchdown passes from junior Tucker Carter to overcome another slow start and defeat Fort Bend Hightower 21-14 to claim the Texas Class 5A Division I state championship Saturday night at Reliant Stadium. Carter, who outdueled Hightower's Miami-bound senior A.J. Highsmith with a strong second half, found Marcus Thomas from 37 yards out early in the fourth quarter to give the Eagles their first lead at 14-7, and his 9-yard TD toss to Justin Robinson pushed the margin to 21-7 minutes later. Carter finished 21-of-30 for 238 yards to earn offensive player of the game honors. The state title was the first in school history for Allen, which beat three undefeated teams and FAB 50-ranked teams -- Odessa Permian, Euless Trinity and Hightower -- without injured starting quarterback Matt Brown during its playoff run.
3. Lake Travis (Austin, Texas)
Record: 16-0
Points: 238 pts
Previous record: 5

Elite 11 quarterback Garrett Gilbert capped a fairy-tale senior season by passing for five touchdowns and rushing for two more as Lake Travis whipped previous FAB 50 No. 48 Longview 48-23 in the Class 4A Division I title game last Saturday at Baylor's Floyd Casey Stadium. Gilbert completed 26 of 37 passes for 356 yards, finishing the game with 12,534 career passing yards, breaking Graham Harrell's Texas state record of 12,532 yards. Gilbert also surpassed his own single-season state passing record of 4,826 yards set a year ago, finishing the 2008 campaign with 4,852 yards. The Cavaliers might even have a legitimate gripe in finishing ranked behind Allen, as they topped Longview by 25 points and Allen managed only a 21-7 victory over the Lobos earlier in the year.
4. Camden County (Kingsland, Ga.)
Record: 15-0
Points: 234 pts
Previous record: 4

Head coach Jeff Herron's team won its second state title in six years with a 21-14 victory over Peachtree Ridge in the Class AAAAA state final on Dec. 13 at the Georgia Dome. The big play of the game for the Wildcats was an 85-yard touchdown pass from Christian Milstead to DeAngelo Smith. Camden County, which also beat perennial power Hoover of Alabama 44-16 early in the season and took out unbeaten Newnan 27-7 in the state semifinals, was No. 21 in the preseason and finishes in the top five.
5. Centennial (Corona, Calif.)
Record: 15-0
Points: 230 pts
Previous record: 8

Taylor Martinez didn't throw for any touchdowns, but he completed 15 of 21 passes for 243 yards and scored once as the Huskies defeated previous No. 19 De La Salle of Concord 21-14 in the CIF Division I state bowl game. Martinez ended the year with 2,994 passing yards for the season and also had 750 yards rushing. Centennial, which also had running back Arthur Burns and his 1,800 yards rushing on offense with All-American linebacker Vontaze Burfict on defense, posted additional quality wins over Mater Dei of Santa Ana, Clovis West of Fresno and two against Chaparral of Temecula, which was 12-0 against the other teams it played.
6. Oscar Smith (Chesapeake, Va.)
Record: 15-0
Points: 228 pts
Previous record: 6

Phillip Sims, who is still just a junior, passed for over 3,000 yards for the second straight year in leading the Tigers to the Division 6 state title. His favorite target was University of Virginia-bound Tim Smith, who hauled in 73 passes for 1,681 yards. Oscar Smith was dominant in its state title win of 54-24 over Osbourn, but did have a tougher time in the semis with a 10-7 triumph over FAB 50-ranked Oakton.
7. St. Ignatius (Cleveland, Ohio)
Record: 14-1
Points: 218 pts
Previous record:7

The Wildcats, appearing in a state-record 21st consecutive playoff, returned to the championship level for the first time since 2001 by winning a record 10th state Division 1 crown since 1988. St. Ignatius won its final 14 games, including a 28-20 finals victory over Cincinnati Elder. The Cats lost the opener 20-17 on a last-play field goal by city rival Glenville, but avenged the lone setback in the playoffs 8-7. Coach Chuck Kyle, with a 26-year record of 252-56-1, led a team which featured all-state quarterback Andrew Holland and all-state junior linebacker Scott McVey.
8. Phoebus (Hampton, Va.)
Record: 15-0
Points: 216 pts
Previous record:9

The Phantoms, led by highly regarded QB Tahj Boyd, were on fire from the first game and never let up. They outscored their foes 720-53 in winning their second state title in three years. One of those wins was a 38-8 victory over Stone Bridge, which was unbeaten and nationally ranked at the time.
9. Trinity (Euless, Texas)
Record: 13-1
Points: 207 pts
Previous record:11

Trinity, the FAB 50 preseason No. 1 team, finishes ranked among the top 10 after splitting two games with Class 5A Division I state titlist Allen. Trinity topped Allen 24-14 in the regular season, only to fall in the playoff rematch 34-21. The Trojans also topped No. 16 John Curtis 28-12 in both teams' season opener.
[+] Enlarge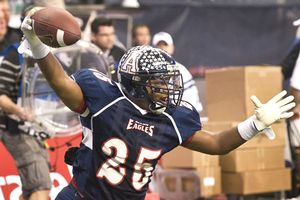 AP Photo/Dave EinselJustin Robinson and Allen surprised many with their postseason run to the Texas Class 5A title.
10. Grant (Sacramento, Calif.)
Record: 14-0
Points: 203 pts
Previous record:37
All of the Pacers stepped up their games in order to beat previous No. 2 Long Beach Poly 25-20 in the CIF Open Division championship bowl game last Saturday, but perhaps none more than quarterback Kipeli Koniseti and receiver Darvin McCauley. Koniseti, a 6-3, 225-pounder, completed 13 of 26 passes for 236 yards and two TDs and rushed 16 times for 55 yards and another score. McCauley caught eight passes for 135 yards and both of Koniseti's touchdowns. Grant, which also defeated Alta of Utah and Highland of Idaho (champions in their states) during the season, impressed enough in beating Poly that it was able to move up 27 spots for the final rankings.
11. Plant (Tampa, Fla.)
Record: 14-1
Points: 201 pts
Previous record:13

The Panthers got 344 yards and three touchdown passes from Aaron Murray in his second game back from a broken leg to top Tallahassee Lincoln 34-14 in the Florida Class 4A state title game Saturday in Orlando. Murray, who suffered a broken leg in mid-October that was supposed to keep him out for three to four months, hit Orson Charles on a 72-yard strike in the second quarter to push Plant to a 14-0 lead and then found Nathan Marvel on a 72-yard catch-and-run in the waning seconds of the first half to give the Panthers an insurmountable 28-0 halftime lead. The title caps an amazing year for Murray, a Georgia recruit, who was also named MVP of both the Elite 11 QB competition and the Nike 7ON national championship last summer.
12. Byrnes (Duncan, S.C.)
Record: 14-1
Points: 196 pts
Previous record:12

Junior running back Marcus Lattimore rushed for 2,325 yards this season as the Rebels completed a 14-1 state championship season. Byrnes avenged a regular-season loss to Dorman by defeating the Cavaliers 24-13 in the state semifinals. The Rebels have played for the Class 4A Division I championship in six of the past seven seasons. They should make it seven of eight with Lattimore plus QB Chas Dodd and many other starters coming back next year.
13. Skyline (Sammamish, Wash.)
Record: 14-0
Points: 184 pts
Previous record:16

The Spartans became the first school in Washington state history to win back-to back football titles in different classifications. The 2007 Class 3A champs capped another unbeaten season with a 20-15 win over rival Issaquah to claim the 4A title and extend their win streak to 28 games. The Spartans were dominant, outscoring opponents 514-77 despite pulling the first team at the half in most games. With the return of highly touted QB Jake Heaps, Washington Player of the Year, the Spartans are likely to claim their third straight title in 2009.
14. Don Bosco Prep (Ramsey, N.J.)
Record: 11-1
Points: 182 pts
Previous record:14

Don Bosco put Jersey on the high school football map this year with its nationally televised win on the road at FAB 50 De La Salle (Concord, Calif.). Aside from losing at St. Xavier (Cincinnati, Ohio) in their season opener, the Ironmen were able to cruise in the majority of their games thanks to a balanced offensive attack and dominating defense. Leading the way was senior running back and Gatorade State Player of the Year Dillon Romain, who ran for 1,435 yards and scored 25 touchdowns, including three in Don Bosco's win over Bergen Catholic in the Non-Public, Group 4 finals. It was the Ironmen's third consecutive title.
15. Hightower (Fort Bend, Texas)
Record: 13-1
Points: 177 pts
Previous record:15

The Hurricanes are pondering what could have been after falling to Allen 21-14 in the 5A DI Texas state final on Saturday. Hightower dominated the first half but led only 7-0 at the break after being stopped on a fourth-and-goal from the 1-yard line and also having a field goal blocked. Darius Johnson was mesmerizing in the loss for the Canes, catching five passes for 96 yards and also scoring on a 42-yard run.
16. John T. Curtis (River Ridge, La.)
Record: 14-1
Points: 174 pts
Previous record:17

Reverse a season-opening loss to Trinity of Texas, which was FAB 50 No. 1 at the time, and the Patriots might well have been in the top 10. Trinity actually moved to No. 1 before it was upset. Coach J.T. Curtis' club got stronger as the season progressed, finishing off with an impressive 35-14 win over Shreveport Evangel for the school's fifth straight state 2A title. For Curtis, the coach, it was win No. 467 and for the Patriots a record 23rd state title overall.
17. Elder (Cincinnati, Ohio)
Record: 13-2
Points: 163 pts
Previous record:18

The Panthers, with several underclassmen in key roles, finished as state Division 1 runner-up and lost two competitive games to FAB 50 No. 1 St. Thomas Aquinas (35-24) and in the finals to No. 7 St. Ignatius (28-20). Elder, the Ohio Division 1 champion in 2002 and 2003, was led by junior quarterback Mark Miller, junior wide receiver Tim O'Connor and sophomore linebacker Jacob Lindsey. Miller passed for a finals record 399 yards and three touchdowns versus St. Ignatius while O'Conner landed 15 aerials for 184 passes and two scores. Look out next season.
18. Poly (Long Beach, Calif.)
Record: 14-1
Points: 159 pts
Previous record:2

After surviving a series of close calls during the CIF Southern Section Pac-Five Division playoffs, including a 21-17 victory over Tesoro of Las Flores in the final, the Jackrabbits didn't make enough big plays for them to overcome Grant of Sacramento in the CIF Open Division state bowl game. Poly dropped 16 spots in the final FAB 50, but the Jackrabbits stayed in the top 20 due to their head-to-head win over No. 25 St. Bonaventure. Tesoro was another team that lost only to Poly, while another key win came against Florida Class 6A state finalist Miami Northwestern.
19. South Pointe (Rock Hill, S.C.)
Record: 15-0
Points: 158 pts
Previous record:22

Led by University of South Carolina commit Stephen Gilmore, South Pointe won its first state championship in school history. Gilmore ran for 119 yards and three touchdowns in the Class 4A Division II state final against Northwestern to lead his team to a 35-14 victory.
20. Prattville (Prattville, Ala.)
Record: 13-1
Points: 155 pts
Previous record:20

What will first-year coach Jamey Dubose do for an encore? Well, maybe the Lions could go undefeated, as they were just five points away from doing so, losing to Cincinnati St. Xavier 15-10 in the season opener. Dubose and his defensive-oriented club (seven shutouts) ran Prattville's state 6A title streak to three with a 16-13 victory over powerful Hoover in the final.
21. Maine South (Glen Ellyn, Ill.)
Record: 14-0
Points: 153 pts
Previous record:21

The Hawks captured their third state title -- others came in 1995 and 2000 -- with a 41-21 Class 8A final' win over Hinsdale Central. All-state quarterback and Chicago-area player of the year Charlie Goro led the way with 3,836 total offense yards and 50 touchdowns. The Vanderbilt University recruit completed 74 percent of his passes for 3,171 yards and 38 touchdowns and also rushed for 665 yards and 12 scores. Another all-state selection was defensive lineman Zach Timm.
22. Liberty (Bethlehem, Pa.)
Record: 15-1
Points: 150 pts
Previous record:24

Junior quarterback Anthony Gonzalez is definitely a name to keep an eye on next season, especially after what he did for Liberty in this year's PIAA Class AAAA state playoffs. In the semifinals, Gonzalez completed all four of his passes for 53 yards and a touchdown and added 82 rushing yards and a score on 20 carries in a 21-14 upset win over then-FAB 50 member North Penn, which handed Liberty its only loss in the season opener. Against FAB 50 Bethel Park in the state finals, Gonzalez tallied 302 yards of total offense and also had the game-clinching interception on defense as the Hurricanes won in overtime 28-21.
23. Armwood (Seffner, Fla.)
Record: 12-1
Points: 146 pts
Previous record:23

Armwood finishes in the top 25 after a 12-1 season that included a split with Florida Class 4A state champion Tampa Plant. The Hawks defeated Plant 9-2 in both teams' season opener, but lost in the playoff rematch 17-14. The team's offense struggled at times, but the defense, led by linebacker Petey Smith and defensive tackle Ryne Giddens, was one of the best in the nation.
24. Trinity (Louisville, Ky.)
Record: 14-1
Points: 139 pts
Previous record:25
The Shamrocks continued their state title runs in 2008. Trinity won its fourth straight state crown and seventh in the past eight years while recording a state-record 19th championship. Trinity routed Simon Kenton 48-0 in the Class 6A finals. The Shamrocks avenged their lone regular-season loss to city rival St. Xavier with a semifinal win over the Tigers. Linebacker Jordan Whitging, an Ohio State recruit, is one of 10 finalists for the state Mr. Football honor. Quarterback Cameron Smyth passed for 2,936 yards and 34 touchdowns and tailback Tim Phillips rushed for 1,535 yards and 25 touchdowns.
25. St. Bonaventure (Ventura, Calif.)
Record: 14-1
Points: 131 pts
Previous record:27

Of all the teams that played in the CIF state bowl games, the Seraphs were the ones with the most talented underclassmen. They will surely be among the highest-ranked teams nationally when the preseason polls are completed this summer. St. Bonaventure, which lost its only game 12-7 to No. 18 Long Beach Poly, won its five playoff games with ease, including a 28-6 win in the CIF Division III bowl game over previously unbeaten Cardinal Newman of Santa Rosa.
26. Glenville (Cleveland, Ohio)
Record:11-1*
Points: 126 pts
Previous record:26

The Tarblooders have yet to capture a state football title but did hand two champions from neighboring states their only losses this season. Glenville opened the season with a last-play 20-17 win over city rival St. Ignatius, which went on to win the state Division 1 crown. Glenville's lone loss was 8-7 to St. Ignatius in the postseason. In the second regular-season game, Glenville defeated Thomas Jefferson of Pittsburgh, Pa., which went on to a 14-1 record and a repeat state Class AAA title. Glenville had two first team all-staters in offensive lineman Marcus Hall and wide receiver Michael Edwards.
27. Union (Tulsa, Okla.)
Record:13-1
Points: 123 pts
Previous record:28

After being upset by Broken Arrow to begin the season, Union closed out the year by winning 13 straight games capped by a 34-20 win over archrival Jenks in the Class 6A state finals. It was the Redskins' second win over Jenks on the season and their fourth state title since 2002. Senior running back Jeremy Smith ran for 1,664 yards and 30 touchdowns on the season, while senior receiver Tracy Moore caught 71 passes for 1,023 yards and 14 touchdowns.
28. Muskegon (Muskegon, Mich.)
Record:14-0
Points: 121 pts
Previous record:29

The Big Reds won their third state title in the past five years with a dominating 34-14 Division 2 finals victory over previously unbeaten Warren De La Salle. In regular season, Muskegon handed Division 1 champion Rockford its only defeat. Linebacker-fullback Jason Hannett was captain of the overall all-state defensive unit. Other Division 2 all-staters were quarterback Elan Banks and defensive lineman Carlton Johnson.
29. Centennial (Peoria, Ariz.)
Record:14-0
Points: 110 pts
Previous record:30

When the Coyotes open the season next year, they will do so with a state division record winning streak of 26 straight games and three straight Arizona 5A-II titles. They'll do it without darting running back John Hughes, who so far has received scant big-time interest despite being the heart of the team. At 5-7, he doesn't fit the major college prototype. No opponent could stop him, though, as the Coyotes wrapped up the perfect season with a 20-7 victory over Avondale Westview at the University of Phoenix Stadium.
30. Bethel Park (Pittsburgh, Pa.)
Record:15-1
Points: 107 pts
Previous record:31

The Black Hawks came close to winning their first state football title when they bowed out 28-21 in overtime to FAB 50-ranked Bethlehem Liberty in the Class AAAA title game. The Western Pennsylvania champion had upended preseason No. 1 Gateway 10-6 en route to the finals. Bethel Park landed defensive back-wide receiver John Schademan on the first-team all-state squad and running back Lyle Marsha made the second unit.
31. Center Grove (Greenwood, Ind.)
Record:14-1
Points: 96 pts
Previous record:32

The Trojans captured their first state football championship and avenged their only season setback in the same game -- the Class 5A finals. Center Grove outlasted rival Carmel, the defending champion, by 36-33 in the title game. In early September, Carmel rallied in the final minute to defeat the Trojans 33-32. The Trojans were led by quarterback Jordan Luallen, a Georgia Tech recruit, plus five first team all-staters in running back Luke Swift, offensive guard Trey Thompson, kicker Mike Wood, linebacker Anthony Elias and defensive back Kevin Jones.
32. Bellevue (Bellevue, Wash.)
Record:14-0
Points: 95 pts
Previous record:33

Bellevue overcame all obstacles thrown its way this season, including a serious bus crash on Interstate 5 that forced the rescheduling of its semifinal game, to capture its sixth 3A state title in eight years and record seventh overall. The Wolverines completed a perfect 14-0 season in dominant fashion, thanks to a stout defense and an unstoppable Wing-T offense led by 2A player of the year Peter Nguyen. Bellevue outscored opponents 519-139 and only one team came within a touchdown of the Wolverines all season.
33. Dorman (Roebuck, S.C.)
Record:13-1
Points: 87 pts
Previous record:34

Dorman's running game helped it to a 13-1 season, including Ash Butler's 190-yard and three-touchdown performance in its regular-season victory over Byrnes. In their season finale, the Cavaliers rushed for 252 yards, but the Byrnes defense held them to only one touchdown as the Cavaliers' undefeated season ended with a 24-13 loss in the state semifinals.
34. Bolles (Jacksonville, Fla.)
Record:14-0
Points:78 pts
Previous record:36

The Bulldogs captured the Florida 2A state title this year with a 49-20 win over Miami Gulliver Prep, the school's state-record ninth title all time. Coach Corky Rogers, Florida's all-time winningest coach, has led the school to eight of the nine state crowns.
35. St. Xavier (Louisville, Ky.)
Record:13-1
Points:76 pts
Previous record:35

The Tigers were ranked No. 1 in Kentucky all season until city rival Trinity ended an unbeaten season with a 28-21 decision in the Class 6A semifinals. St. Xavier had handed Trinity its lone regular-season setback by 30-6. The Tigers have two Mr. Football finalists in running back Deuce Finch and quarterback Matt Brutscher.
36. Destrehan (Destrehan, La.)
Record:14-0
Points:70 pts
Previous record:39

Leaping from unranked to 36th in two weeks tells you how impressive the Wildcats were down the stretch. Destrehan won its second state 5A title, coming from behind to beat former FAB 50 member West Monroe 14-3 in the Superdome. Wide receiver Kyron King, who caught the 35-yard pass that put the Wildcats ahead, will be a pivotal returnee next year for head coach Stephen Robicheaux.
37. De La Salle (Concord, Calif.)
Record:12-2
Points:68 pts
Previous record:19

The Spartans were held to less than 200 yards in their 21-16 loss to No. 5 Centennial in the CIF Division I state bowl game. Their defense, though, hung tough when it had to and a blocked field goal by Noah Perio in the game's final minutes gave the DLS offense one last chance to tie the score. Blake Wayne passed for more than 1,500 yards and 15 TDs and also rushed for another 600 yards and 15 more scores to lead De La Salle. The team's other loss was by just two points to No. 14 Don Bosco Prep. De La Salle won its 17th straight CIF North Coast Section title with a 34-10 win on Dec. 12 over Pittsburg.
38. Permian (Odessa, Texas)
Record:12-1
Points:67 pts
Previous record:40

Mojo of "Friday Night Lights" fame might be back to the big-time if this year is any indication. The Panthers steamrolled through their district competition and lost a highly competitive playoff game to eventual Texas 5A champ and FAB 50 No. 2 Allen 28-22.
39. Gateway (Monroeville, Pa.)
Record:12-1
Points:65 pts
Previous record:41

All-American candidates Dorian Bell (LB) and Corey Brown (WR-DB) were just two reasons why the Gators were in the top 10 in the preseason. They lived up to their ranking in the regular season with easy victories until a 31-27 win in Week 9 against McKeesport. Gateway kept on winning, but in the WPIAL final at Heinz Field the Gators lost in a defensive slugfest 10-6 to FAB 50-ranked Bethel Park.
40. Wayzata (Plymouth, Minn.)
Record:13-0
Points:54 pts
Previous record:38

The Trojans capped a perfect season by winning the Class 5A Prep Bowl championship with a 27-7 victory over Blaine. Wayzata had won its regular-season matchups by an average margin of 36 and its previous playoff games by an average of 31 points. Quarterback John Reis ran the offense, which included two All-Metro players in wide receiver Cecil Doe and lineman Rob Bathe.
41. East St. Louis (East St. Louis, Ill.)
Record:13-1
Points:41 pts
Previous record:42

The Flyers grabbed the school's sixth state championship with a 33-14 Class 7A finals win over previously unbeaten Geneva. East St. Louis won its final 13 games after a debut loss to Huber Heights Wayne of Ohio in the Kirk Herbstreit Varsity Series. All-state honorees included Illinois recruit Terry Hawthorne, who played wide receiver-defensive back-kick returner-punter, and defensive lineman Ty Phillips. Junior quarterback Detchauz Wray ran the offense.
42. Homestead (Mequon, Wis.)
Record:14-0
Points:39 pts
Previous record:43

The Highlanders captured their second state Division 1 title in three years with a 13-11 finals win over previously unbeaten Hartland Arrowhead, their title game opponent all three years. Homestead landed two first-team defensive all-staters in tackle Shelby Harris and end Ben Gardner. Punter Casey Barnes was a second-team honoree.
43. Hamilton (Chandler, Ariz.)
Record:13-1
Points:36 pts
Previous record:46

Impressive wins by the Huskies and Peoria Centennial in the state championships allowed Hamilton to jump three more places in the final FAB 50. Coach Steve Belles improved his record to 38-3 and two state titles with the 17-10 win over Phoenix's Brophy Prep. Centennial was the only team to beat Hamilton (35-16) and it went on to win the 6A crown. Safety Devon Carrington leads the returnees for next year.
44. Noxubee County (Macon, Miss.)
Record:14-0
Points:35* pts
Previous record:45

Veteran coach M.C. Miller has plenty of talent coming back to maintain the Tigers' turnaround since he took over the program in 1995. Star running back Vincent Jackson will try to help the Tigers defend their 4A title, captured with a 12-10 victory over D'Iberville in a battle of unbeatens. Noxubee will now carry a large target on its back -- which still beats being a so-so team at best.
45. Meridian (Meridian, Miss.)
Record:14-1
Points:35* pts
Previous record:44

It will be difficult for the Cats to have a much bigger win than the one they had over South Panola (26-20 in overtime) for the state 5A championship. All that did was snap Panola's nation-leading 89-game winning streak. However, Meridian returns super-soph defensive standout Jacoby Eason and plenty of offensive talent for another run.
46. Lakeland (Lakeland, Fla.)
Record:14-1
Points:31 pts
Previous record:10

The Dreadnaughts will look forward to next year after taking a 56-7 beating at the hands of St. Thomas Aquinas in the 5A state title game. Lakeland returns many of its top players next fall, including QB Scooter Haggins and super sophomore Javares McCoy.
47. Tesoro (Las Flores, Calif.)
Record:13-1
Points:21 pts
Previous record:47

After knocking off highly-regarded Mission Viejo in league play, the Titans continued to prove their legitimacy as a top team in the CIF Southern Section Pac-Five playoffs. They won their first playoff game over Los Alamitos and then downed Mater Dei of Santa Ana and Lutheran of Orange. This put them in the title game at Angels Stadium, where Long Beach Poly was waiting. Tesoro played tough, but Poly won 21-14.
48. Seminole (Sanford, Fla.)
Record:13-2
Points:19 pts
Previous record:NR

The Fighting Seminoles earned a spot in the year's final FAB 50 after rallying from a 21-0 deficit to tip defending national champion Miami Northwestern 28-21 in the Florida Class 6A title game on Saturday night. The stars came through in the end for the Seminoles, as Ray Ray Armstrong, an UnderArmour All-American, found fellow UA All-American Andre Debose on a 40-yard leaping score with just 33 seconds left for the winning touchdown. Seminole's third Under Armour All-American, defensive end Dyron Dye, sealed the win with a sack of Northwestern quarterback Teddy Bridgewater on the game's final play. The Fighting Noles dropped two games early in the regular season before rattling off 11 straight wins to capture the 6A title, a remarkable turnaround in Michael Cullison's first year as head coach following a 4-5 season in 2007 and a 1-9 mark in '06.
49. Oakton (Vienna, Va.)
Record:13-1
Points:15 pts
Previous record:50

By far, the closest game FAB 50-ranked Oscar Smith had to get through in order to complete its standout season was a game against the Cougars. Oakton lost by just 10-7 and played well enough in its other games to gain a spot in the final FAB 50 rankings.
50. Timpview (Provo, Utah)
Record:14-0
Points:10 pts
Previous record:NR

Head coach Louis Wong's team didn't make it easy, but the T-Birds won their third straight state title (this time in Class 5A). After edging Mountain Crest of Hyrum 37-35 in the semifinals, the T-Birds flew past Cottonwood of Salt Lake City 34-28 in the state final. Timpview also will take a 36-game winning streak into next fall.
Also Receiving Votes: North Penn (Lansdale, Pa.) 14-1, River Hill (Clarksville, Md.) 14-0, South Panola (Batesville, Miss.) 14-1, Valley (West Des Moines, Iowa) 14-0, Tucker (Tucker, Ga.) 14-1.
Dropped Out: Previous No. 48 Longview (Longview, Texas); No. 49 Pine Forest (Pensacola, Fla.).
*Ties in points are broken according to which team was ranked higher by a majority of panelists.
SPONSORED HEADLINES
ESPN TOP HEADLINES
MOST SENT STORIES ON ESPN.COM
FOOTBALL RANKINGS

Rank
School (City, State)
Rec
1
Don Bosco
Ramsey, NJ
11-0
2
Armwood
Seffner, FL
15-0
3
Trinity For Boys
Louisville, KY
14-0
4
Grayson
Loganville, GA
15-0
5
Good Counsel
Olney, MD
13-0
See the full football rankings »