Commentary
Florida natives represent at UA Game
Updated:
January 5, 2009, 4:25 AM ET
By
Jon Mahoney
| ESPNRISE.com
ORLANDO, Fla. -- Just two weeks ago, the Seminole (Sanford, Fla.) football team was rallying from a 21-point deficit to shock Northwestern (Miami) with a 28-21 victory in the Class 6A state finals here at the Florida Citrus Bowl.
On Sunday night, Seminole seniors Ray Ray Armstrong, Andre Debose and Dyron Dye returned to the same location to play for the Black Team in the second annual Under Armour All-America High School Football Game, which the White Team won, 27-16.
All three are ranked in the ESPNU 150. Armstrong, a 6-foot-4, 215-pound safety, is rated No. 18 overall; Debose, a 6-foot, 180-pound wide receiver, is No. 30; and Dye, a 6-foot-4, 215-pound defensive end, is No. 143.
While there were a lot more fans watching the tantalizingly talented trio this time around with the game being nationally televised on ESPN, there was definitely a considerable local feel inside the Florida Citrus Bowl, with an entire cheering section composed of Seminole fans.
One of those fans was Dye's mother, Bridget Nelson, who wore a T-shirt with her son's photo on the front and his name and number on the back. Nelson wasn't surprised by the amount of support for the three friends.
"They are some good boys, so everybody follows them wherever they go," she said.
Nevertheless, it touched the three.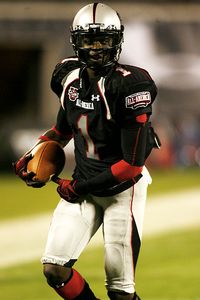 Tom Hauck for ESPN.comAndre Debose and his teammates declared their college intentions during the Under Armour game.
"It surprised me how many people showed up," said Armstrong. "This whole year there's been a lot of people coming out and supporting us and they came out to support the big three of Seminole High School of Sanford, Florida. I really liked that. It meant a lot just knowing that there are a lot of people who want to support us and are with us every step of the way."
Back in the state championship, Armstrong, Debose and Dye gave their community something to cheer about in leading their school to its first state crown. Debose scored three touchdowns, including the game-winner on a 40-yard touchdown pass from Armstrong with 33 seconds left, and Dye contributed the game-ending sack.
The trio continued to make big plays in the Under Armour All-America Game highlighted by Debose's 92-yard touchdown reception in the second quarter. Debose snuck behind Branden Smith to catch the pass from Russell Shepard and beat Stephon Gilmore in a footrace to the corner of the end zone with the Seminole section seemingly pushing him toward paydirt with their roar from the stands.
Armstrong, Dye and Debose all made their college commitments during the game, fittingly among their throngs of fans in the Seminole cheering section. Armstrong and Dye chose Miami in the first half, while Debose pledged to Florida in the fourth quarter, eschewing the chance to play with his friends in college.
Regardless of where the three end up, the Seminole fans will follow.
"We've got a lot of fan support," said Debose. "They'd follow us to Jupiter if we could go there."
Jon Mahoney covers high school sports for ESPNRISE.com.
ESPNHS.com
SPONSORED HEADLINES
ESPN TOP HEADLINES
MOST SENT STORIES ON ESPN.COM
2009 Under Armour All-America Game

The second incarnation of the Under Armour All-America Game was full of fireworks and standout performances with the White team winning 27-16. Be sure to check out ESPN.com's complete coverage of the premier prep event.
UA All-America Game index
Scouting The Practices
•
Scouts Inc.: Day 3 practice buzz
•
Tucker: Day 2 practice buzz
•
Tucker: Day 1 practice buzz
Features
•
Scouts Inc.: Stock report from UA week
•
Lawlor: Stars shine in UA All-America Game
•
Mahoney: Florida natives represent in Orlando
•
Lawlor: UA All-Americans ready for the show
•
Lawlor: Survey says ...
•
Mahoney: Lynch ready to have Boston TE party
•
Mahoney: Toma a surprise skills challenge victor
•
Mahoney: Te'o making an impression in Orlando
•
Murphy: Future Horns have one common goal
•
Luginbill: Breaking down Shepard vs. Pryor
•
Miller: Top prospect Shepard stays grounded
•
Mahoney: QB Alipate looking to open eyes
•
Murphy: Coaching legends return to their roots
•
Scouts Inc.: Matchups to watch in UA practices
•
Scouts Inc.: Matchups to watch in UA game
•
Luginbill: How the teams were selected
•
Tale of the tape: Position-by-position comparison
•
Breaking down the White team's roster
•
Breaking down the Black team's roster
Zoom Galleries
•
Under Armour All-America Game
•
Burger King All-America Skills Challenge
•
Day 3 practice
•
Day 2 practice
•
Day 1 practice
•
Welcome to the Under Armour Game
Video
•
High Five: Best nicknames
•
Lynch out to break stereotypes
•
All-American roundtable
•
Barkley ready for challenge of college
•
Texas recruits get to know each other
•
Texas commit Walters' resolutions for '09
•
Conley explains area of scouting
•
Texas commit Ashcraft shows off the bling
•
Sam and Stan's sights and sounds at UA Game
•
Recruits talk recruiting
FOOTBALL RANKINGS

Rank
School (City, State)
Rec
1
Don Bosco
Ramsey, NJ
11-0
2
Armwood
Seffner, FL
15-0
3
Trinity For Boys
Louisville, KY
14-0
4
Grayson
Loganville, GA
15-0
5
Good Counsel
Olney, MD
13-0
See the full football rankings »