Commentary
Cheeseboro turns in breakout junior season
Updated:
March 11, 2009, 10:43 AM ET
By
Mike Loveday
| ESPNRISE.com
It took a couple of years longer than Milford Mill head coach Reggie White expected, but junior Tyrek Cheeseboro turned in a breakout season in 2008.
[+] Enlarge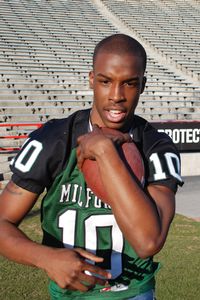 Mike Loveday for ESPN RISE Tyrek Cheeseboro alreday holds a scholarship offer from the University of Maryland.
As a sophomore, Cheeseboro (now 6-foot, 175 pounds) was considered the No. 3 receiver, with two juniors ahead of him on the depth chart. Those same two receivers returned as seniors, but Cheeseboro's hard work resulted in a season in which he made 38 receptions for 776 yards and 11 touchdowns.
"We never had a need to bring a freshman up for wide receiver. When we saw this kid move -- from his stop to his go was so smooth -- we were like, he has to come with us," White said of Cheeseboro's early promotion to varsity. "We knew this day was going to come when he was going to be a good one."
Cheeseboro spent the 2008 offseason working with quarterback Kevin Fulton instead of running track, which he did his freshman and sophomore years.
"He was always our speed guy and go-to guy," White said. "He learned his routes and he learned to control that speed -- he got it down to a science this year, and we connected with a lot of home runs this year."
White expects opposing defenses to key on Cheeseboro in 2009, limiting the opportunities for the deep ball.
"We'll probably see a lot of Cover 3 next season. … We won't sneak up on them anymore. They know he's got that speed," White said.
Cheeseboro will also have the challenge of a new starting quarterback, with Fulton graduating and moving on to North Carolina A&T.
Become Part of ESPNRise

Upload your own videos, create your own groups and interact with your friends on ESPNRISE.com. All you have to do is create a profile. Once you have created your profile, message Mike on his profile page. Upload your video and have it featured to get even more views. We will highlight some of the best videos on ESPNRISE.
Get started today!
To counter the defensive game plan, White plans to get Cheeseboro open on more screens and over the middle passes next season. The junior may also take some direct snaps from center.
The University of Maryland has already made an official offer to the junior, and, according to White, South Carolina, Virginia, UConn and New Mexico have all expressed interest.
Cheeseboro was announced as a member of the Baltimore Touchdown Club's Super 22 team and is expected to attend the Nike Baltimore Combine on March 28 at M&T Bank Stadium in Baltimore.
The Super 22 team consists of 70 of the Baltimore area's top junior football prospects entering their senior year.
Click HERE for a complete list of players profiled. Interested in having your profile on ESPNRISE/MDVarsity.com? Click here to fill out the Player Prospect Form and e-mail it to Mike Loveday. All information on the form will be verified through coaches. We will be profiling athletes throughout the winter and spring.
Mike Loveday covers high school sports for ESPNRISE.com. Mike can be reached at Michael.Loveday@espn.com
SPONSORED HEADLINES
ESPN TOP HEADLINES
MOST SENT STORIES ON ESPN.COM
FOOTBALL RANKINGS

Rank
School (City, State)
Rec
1
Don Bosco
Ramsey, NJ
11-0
2
Armwood
Seffner, FL
15-0
3
Trinity For Boys
Louisville, KY
14-0
4
Grayson
Loganville, GA
15-0
5
Good Counsel
Olney, MD
13-0
See the full football rankings »