Commentary
Bullseye Combine looks to hit the mark with underclassmen
Updated:
April 24, 2009, 10:34 AM ET
By
Mike Loveday
| ESPNRISE.com
In many ways the Nike Baltimore Combine is Maryland high school football's unofficial offseason kickoff. The late-March combine, largely for rising seniors, helps bring football back to the minds of many fans.
[+] Enlarge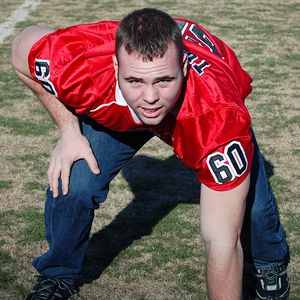 Mike LovedayTucker put up 51 reps of 185 pounds at the Nike Baltimore Combine.
With that event over, the focus this weekend shifts to the up-and-comers who will attempt to make names for themselves.
The 2009 Bullseye Combine moves into its third year and once again will be a springboard for freshmen and sophomores.
This year's combine already has 150 athletes registered for the April 26 event, which will be held at the Four Seasons Sports Complex in Hampstead, Md. The event opens for registration at 8:30 a.m. with testing scheduled to begin at 9 a.m.
The Bullseye Combine has made it its mission to not only test athletes in events but also provide them with instruction. Event organizers limit the number of participants so they can provide that instruction and move the event along without too much waiting.
"The fact that we limit the number of athletes at our combine helps us have an effective combine," co-founder Jim Eckenrode said. "There's not a lot of wait time between each testing station, but yet we still have enough time that each of our coaches can take time to help give tips to individuals and give them pointers to help them improve."
"In my experience I'd say 80 percent of the athletes that come through have never been timed in the pro agility. I need to take the time to explain it to them. I think it's big [to have that coaching aspect]," Eckenrode said.
Co-founded by Eckenrode and River Hill's Til Campanaro, the Bullseye Combine has helped some athletes go from being unknowns to names to watch.
Last year, Linganore's Kyle Tucker broke the Bullseye Combine's bench-press record when he did 38 reps of 165 pounds. One year later, the junior broke the Maryland Combine record on the bench when he did 51 reps of 185 pounds.
The event -- which was founded to provide underclassmen with knowledge and training to help them test better during their junior-year combine -- will test athletes in the 40-yard dash, shuttle run, vertical jump and the kneeling power ball. Athletes will also be measured for an accurate height and weight.
Become Part of ESPNRise

Upload your own videos, create your own groups and interact with your friends on ESPNRISE.com. All you have to do is create a profile. Once you have created your profile, message Mike on his profile page. Upload your video and have it featured to get even more views. We will highlight some of the best videos on ESPNRISE.
Get started today!
Other notable alumni from the event's first two years include Connecticut commit Leon Kinnard, Thomas Johnson's Jeremy Grove, Linganore's Zach Zwinak, DeMatha's Austin Bailey, Baltimore Polytechnic's Antoine Goodson, Fort Hill's Garrett Dolly and Damascus' Connor Frazier.
"It was a great experience. I didn't really know what to expect, but after talking to everybody about technique I just went out there and ran a 4.43 [40-yard dash] so it gave me an official time," Kinnard said in an earlier interview. "From there I was able to meet Joe Haden [Sr.] who I started training with, so I made some great contacts."
The Bullseye Combine has added several stops to this year's event, expanding beyond the borders of Maryland and Virginia.
The traditional Dulles Sportsplex (Sterling, Va.) event is May 3. Added to this year's schedule are two events in Ohio and one in Pennsylvania.
On May 9, the Bullseye Combine will stop at the Soccer Sportsplex (North Olmsted, Ohio), followed by a May 16 stop at Western Sports Mall in Cincinnati. The final stop on the combine tour will be May 17 at the Pittsburgh Indoor Sports Arena (Cheswick, Pa.).
ESPNRISE.com will have complete coverage of the April 26 event.
ESPNRise encourages comments from its users. Leave a comment below. Mike Loveday covers high school sports for ESPNRISE.com. He can be reached at Michael.Loveday@espn.com
SPONSORED HEADLINES
ESPN TOP HEADLINES
MOST SENT STORIES ON ESPN.COM
FOOTBALL RANKINGS

Rank
School (City, State)
Rec
1
Don Bosco
Ramsey, NJ
11-0
2
Armwood
Seffner, FL
15-0
3
Trinity For Boys
Louisville, KY
14-0
4
Grayson
Loganville, GA
15-0
5
Good Counsel
Olney, MD
13-0
See the full football rankings »