Commentary
Martin plays big when team needs him most
Updated:
July 15, 2009, 10:46 AM ET
By
Mike Loveday
| ESPNRISE.com
The word overlooked gets used a lot in football, but it refers to a player who is not getting much recognition.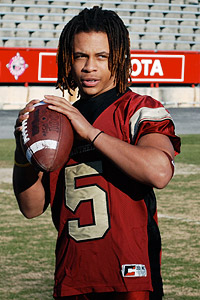 Mike Loveday Tracy Martin is a dual-threat quarterback for Paint Branch.
Paint Branch (Burtonsville, Md.) athlete Tracy Martin is literally overlooked by most football players because of his stature, but never overlooked because of his talent.
Mike Nesmith, hired as Paint Branch's head coach prior to the 2007 season, was reviewing film and noticed a 5-foot-2 freshman running all over the field.
"When we were evaluating our JV film when I first got hired I saw that he was so small," Nesmith recalled. "I was like why is this little tiny kid playing so well. He was making really strong tackles and he was being very physical, especially for a small guy."
Martin is now 5-foot-6. Heading into last season, he was expected to be the Panthers' starting running back but ended up the team's starting quarterback. Martin nearly guided Paint Branch to its first playoff berth since 2000.
"We actually worked Tracy as a third and emergency quarterback last year," Nesmith said. "Then we had some issues with our starter and our second string broke his arm."
Martin excelled as the team's quarterback.
"I thought, personally, [Martin's transition to quarterback] was going to be more difficult than it was," Nesmith said. "He was already a leader, but [the switch] really brought it out in him. He really embraced the responsibility."
Assuming the full-time starting role for the final five games of the season, Martin threw for 674 yards and nine touchdowns.
In the team's final game of the season against Damascus (Md.) and the Panthers needing to win to make the playoffs, Martin completed 5-of-9 passes for 133 yards and a touchdown.
The Panthers lost 24-21 in the final minutes of the game, but Martin's play provides Nesmith with hope for the upcoming season.
"We're excited about him now, having the passing league to hone his skill and learn the entire offense this summer as a quarterback," Nesmith said. "I think he can be one of the top quarterbacks in the county based on the experience he had last year and the way he's learned and improved on mistakes during passing league. We're really excited with where he can take us."
All totaled, Martin accounted for more than 1,000 yards of offense and 16 touchdowns. He rushed for 418 yards and seven touchdowns.
Click HERE for a complete list of players profiled. Interested in having your profile on ESPNRISE/MDVarsity.com? Click here to fill out the Player Prospect Form and e-mail it to Mike Loveday. All information on the form will be verified through coaches. We will be profiling athletes throughout the winter and spring.
Mike Loveday covers high school sports for ESPNRISE.com. Mike can be reached at Michael.Loveday@espn.com
FOOTBALL RANKINGS

Rank
School (City, State)
Rec
1
Don Bosco
Ramsey, NJ
11-0
2
Armwood
Seffner, FL
15-0
3
Trinity For Boys
Louisville, KY
14-0
4
Grayson
Loganville, GA
15-0
5
Good Counsel
Olney, MD
13-0
See the full football rankings »