Commentary
Online playbooks help spread the spread
Updated:
July 21, 2009, 2:10 PM ET
By
Matt Winkeljohn
| Special to ESPNRISE.com
Few people can truly say they've discovered new life late in middle age. Gainesville (Ga.) football coach Bruce Miller is among the lucky.
[+] Enlarge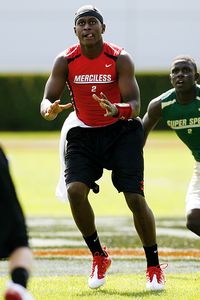 Tom Hauck for ESPN.comGainesville (Ga.) quarterback Blake Sims has learned the spread, thanks to position-by-position DVDs and other learning materials for sale online.
Even while passing through security at Portland International Airport this past Friday and herding teenage boys onto a red-eye flight, it was obvious as he spoke by phone that the shepherd is in a good place.
You work 36 years as a high school football coach, log thousands of combined games and practices, and your soul might go gray.
Miller scrapped his beloved wing-T offense in 2007 and switched to the spread. Change has been good.
With textbooks, playbooks, clinics, DVDs and counsel from spread-offense guru Tony Franklin, Miller re-engineered his team. He's jacked himself up a bit, too.
"The first year, we broke every offensive record except rushing at Gainesville," Miller said. "It's really a neat system."
Franklin's scheme is one of several that high school coaches can mimic to install the spread. They're all over the Internet, really, in what amounts to a viral outbreak.
In the age of information, the idea of locking up playbooks seems dead. When it comes to teaching the spread, you can forget old-school drawings in playbooks or on chalkboards.
Think DVDs jammed with information, PowerPoint presentations, PDF files, coaching clinics stored on flash drives and almost always open lines of communication -- usually by phone, e-mail or in person -- between teachers and pupils.
Yet Franklin's is the only package trademark protected as "The System." From the Web site (thesystemclinics.com):
THE SYSTEM teaches an amazing, comprehensive offensive system that attracts players, scores points, draws fans and, most importantly, wins games and championships! This is NOT a clinic for those coaches who want to pay $75 to leave town, drink beer and chase women all weekend.
Indeed, in 2007, Miller paid "about $2,500 to buy in," and Gainesville pays $1,300 to $1,500 annually to keep in touch with Franklin, the wide-open, no-huddle, pass-happy offensive coordinator at Middle Tennessee State. Franklin also coached at Kentucky, Troy and Auburn.
[+] Enlarge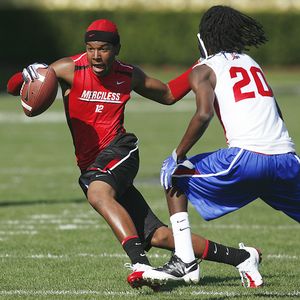 Tom Hauck for ESPN.comSeven-on-seven tournaments have helped teams like Gainesville (Ga.) install the spread offense quickly.
As the Gainesville team left the Nike 7ON tournament in Beaverton, Ore., last week, Miller -- who has a career record of 139-96, including a 70-15 mark at Gainesville -- sounded like a convert while rushing through the airport.
"First, they host seminars nationwide, and our staff went to Nashville [back in '07]," he said. "It's the most intense seminar I've ever been in; wall-to-wall football. They go over every play in the playbook with you.
"They send you DVDs of the clinic in case your notes didn't keep up. The learning curve is huge that first year. It probably took us about a week extra to install it. We sat down with our players, and there was a position-specific DVD for them."
Another spread author, Union (Mo.) High coach Brent Eckley, is a Franklin disciple of sorts. You can find Eckley's work, including "101 No-Huddle Spread Offense Plays" and more on coacheschoice.com.
"I've been dealing with the spread since 1998," said Eckley, who has a 62-23 record at three Missouri high schools. "We had a connection with Hal Mumme at Kentucky. The following year, we visited Wisconsin-Platteville and learned more.
"That staff at Kentucky … Mumme, [current Texas Tech coach] Mike Leach, [current Georgia Southern coach] Chris Hatcher, Guy Morris, Tony Franklin … they did not 'big-time' anyone."
Eckley is a spread guru about an hour southwest of St. Louis and seems to have plenty of time for others.
"I met Brent on four or five occasions," said Valle Catholic (Mo.) coach Judd Naeger, who converted to the spread with Eckley's help. "He is the guy to go to in our area; he'd share anything you'd possibly want, sometimes for seven or eight hours. He responds to e-mails after games."
Naeger quarterbacked Valle to the most recent of its nine state titles in '95.
"We're trying to get back there via the spread," he said. "The major reason for my move was the kids I had. We're competing against other sports, and we had to make [football] more fun. [The spread] allows you to get more kids involved."
Naeger competes with St. Louis-area coaches for Eckley's time.
This may explain why Eckley said he sometimes feels overwhelmed with questions about his offense.
He said he is considering creating a password-protected spread blog, a members-only commune of the faithful willing to gather 'round the keyboard campfire and swap deep thoughts on the meaning of three-foot line splits, jet sweeps and the spinner series.
In the meantime, while Eckley has believers, Naeger's team went 10-3 last season and 4-6 in '07.
"If I were to run the spread every year, I would not be very smart," Naeger said. "I'm a veer guy, a midline [dive] guy like Paul Johnson at Georgia Tech, but that's not our personnel. We can't run Air Raid like Leach at Texas Tech. I've got a 5-9, 165-pound quarterback.
"But we beat our crosstown rival, who we hadn't beaten in 12 years, [Class 3] Ste. Genevieve Public. The spread was the No. 1 reason, and Brent has been more helpful than you can imagine."
Much as Naeger enjoys access to Eckley, Gainesville's Miller relishes the ability to consult Franklin and Franklin's first lieutenant, retired high school coach Donnie Walker.
"[Franklin] has been on five conference calls this summer and spring," Miller said. "This season, it will be every Sunday night. We're also paying Donnie to spend two days with us in late July. He was in for three practices last summer. He works with coaches and on the field with the kids.
"Donnie comes in and watches tape with us and makes corrections and suggestions. You can send them tape during the season, and they'll look at tape of upcoming opponents. It really takes a lot of the guesswork out of it."
Matt Winkeljohn left the Atlanta Journal-Constitution after spending 21 years there. He can be reached at mattwinkeljohn@yahoo.com.
SPONSORED HEADLINES
ESPN TOP HEADLINES
MOST SENT STORIES ON ESPN.COM
SPREAD THE WORD

The spread offense has reached unmatched heights in recent years. Read how it has evolved and where it stands in today's football.
Day 1: Overview
Day 2: Spread Xs & Os
Day 3: The Players
Day 4: The Coach
Day 5: The History
FOOTBALL RANKINGS

Rank
School (City, State)
Rec
1
Don Bosco
Ramsey, NJ
11-0
2
Armwood
Seffner, FL
15-0
3
Trinity For Boys
Louisville, KY
14-0
4
Grayson
Loganville, GA
15-0
5
Good Counsel
Olney, MD
13-0
See the full football rankings »