Commentary
Weekend wrap-up: Week 1
Updated:
September 7, 2009, 3:02 PM ET
By
Mike Loveday
| ESPNRISE.com
Football is finally here. With more than 200 teams in action over the weekend, there is plenty to talk about and in some cases it raises more questions than gives answers.
[+] Enlarge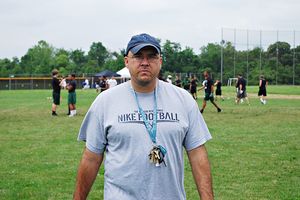 Mike LovedayLarry Hurd has his Clarksburg team among eight teams at 1-0 in 3A West.
We are the champions
It is good to be the king. Three teams have the chance to repeat as state champions in the same classifications (River Hill is defending 2A champion, but play in 3A this season) and all four defending champs started their title defenses with wins.
In all four cases, the games were never in doubt. Sherwood won by 42 points, Westlake won by 37, River Hill by 35 and Dunbar by 34.
Good Week to be 25
There should not be too much change in the Top 25, as only three teams ranked in the MDVarsity.com High School Football Media State Poll Top 25 lost this week -- No. 21 Northwest lost to Walt Whitman, No. 8 Suitland lost to No. 9 Wise and No. 18 Old Mill lost to No. 5 Arundel.
Suitland and Old Mill are not expected to fall far, while Northwest may fall out of the rankings this week, making room for a new team.
Knock-knock
While there looks to be room for only one new team in the Top 25 this week, several teams made a case for votes.
Class 1A Joppatowne's 33-7 victory over Class 4A Perry Hall is an eye-opener. The Mariners always field a strong team, but a solid win over a team that is expected to make the 4A playoffs could signal trouble for Dunbar and Fort Hill in 1A.
Edmondson may have lost its opening game, but losing by three points to Mount St. Joseph is nothing to hang your head about. The Red Storm's defense did not allow an offensive touchdown. (Brian Morton returned a fumble 1 yard for a score by MSJ to tie the game before Eric Sweeney's extra point, and Tim O'Donnell and Gentry White tackled the Edmondson punter in the end zone for the final points). Keep an eye out for Edmondson in 2A this season. In what appears to be a wide-open classification, the Red Storm could make a bid to be the favorite.
Let the assault on the record book begin
[+] Enlarge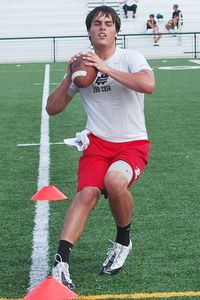 Mike Loveday Cosh is first or second in nine different categories.
One year after setting seven state records and one public school record, Arundel's Billy Cosh should climb the record book again this season.
Cosh now has 60 career touchdowns, placing him eighth all-time. He passed former Northwest quarterback Ike Whitaker with his four-TD performance against Old Mill. If he repeats last week's total, he can move up to sixth and pass former Arundel quarterback Nick Elko (63).
It is not out of the question that by the end of his two-year career, Cosh will be second all-time in Maryland for most career touchdown passes. The overall record is 113, set by St. John's at Prospect Hall quarterback Keith Ricca. The public school record is 80, held by former Friendly QB Joe Haden and former Sherwood QB Deontay Twyman.
Last year, Cosh set records for total offense (4,074), Passing yards in a season (3,909), Passing yards in a game (471), attempted passes (448), completed passes (292), touchdowns (56) and completed passes in a game (39).
3A West Watch
Much has been said about the challenges facing the teams in 3A West this season. After one week of games, eight teams are sitting at 1-0. Five teams are 0-1.
Clarksburg, Damascus, Einstein, Linganore, Northwood, Quince Orchard, South Hagerstown and Tuscarora are all sitting at 1-0. Both Seneca Valley and Frederick, who could be playoff contenders, are 0-1.
There are a couple of 3A West matchups this week, as Damascus plays Quince Orchard and Clarksburg plays Northwood.
Damascus may face the toughest challenge for the next few weeks. The Hornets play Quince Orchard (1-0) this week, followed by Blake (0-1), then Seneca Valley (0-1), while South Hagerstown will not play a 3A West team until Week 9 of the season, when they play Frederick.
Tough to bear
This week's weekend wrap-up ends on a sour note as Northwest continues to have a tough emotional season. In what seems like salt in the wound at this point, Northwest lost two players for the season this week. Kicker Ian Cottrell broke his leg in practice before the Jaguars' Week 1 game against Walt Whitman, then six plays into Friday's game, senior receiver Alieu Nyass broke his right ankle. These injuries are on top of the events from the summer: Hassan Dixon losing his sister, Shiane, in a car accident and Edwin "Dek" Miller passing away after collapsing during a conditioning session.
ESPNRise encourages comments from its users. Leave a comment below. Mike Loveday covers high school sports for ESPNRISE.com. Mike can be reached at Michael.Loveday@espn.com
SPONSORED HEADLINES
ESPN TOP HEADLINES
MOST SENT STORIES ON ESPN.COM
FOOTBALL RANKINGS

Rank
School (City, State)
Rec
1
Don Bosco
Ramsey, NJ
11-0
2
Armwood
Seffner, FL
15-0
3
Trinity For Boys
Louisville, KY
14-0
4
Grayson
Loganville, GA
15-0
5
Good Counsel
Olney, MD
13-0
See the full football rankings »