Commentary
Elite 11 Quarterback Tracker
Updated:
October 7, 2009, 2:16 PM ET
By
Michael White
| ESPNRISE.com
[+] Enlarge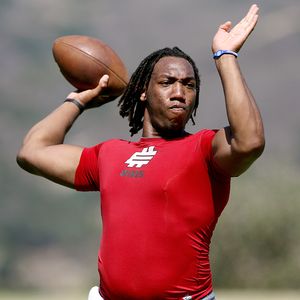 Tom Hauck for ESPN.comPhillip Sims' 253-yard passing performance against Deep Creek (Chesapeake, Va.) vaulted the senior star to No. 1 on the Virginia high school all-time passing yards leader list with 9,179.
How are the nation's top quarterbacks progressing? Each week, ESPN RISE will track the performances of the 12 QBs who attended the 2009 Elite 11 quarterback event.
(Results based on games through Oct. 3)
Blake Bell
Bishop Carroll (Wichita, Kan.)
College: Oklahoma
The game plan by East (Wichita, Kan.) was to get after Bell and slow him with blitzes. Bell wasn't phased, throwing for 151 yards and three TDs in a 35-7 victory. The QB opened the scoring with a 10-yard run.
Next Game: Oct. 9 vs. Kapaun Mt. Carmel (Wichita, Kan.)
Story Link
Joe Boisture
Saline (Mich.)
College: Michigan State
Boisture was unable to put a stop to Saline's three-game losing streak, completing 10 of 19 passes for 144 yards with two interceptions in a 32-20 loss to Huron (Ann Arbor, Mich.).
Next Game: Oct. 9 vs. Fordson (Dearborn, Mich.)

Robert Bolden
St. Mary's (Orchard Lake, Mich.)
College: Penn State
Bolden was 5-of-12 for 60 yards and an interception in a 35-0 loss to Catholic Central (Novi, Mich.). It was the first time in 123 game a St. Mary's team was shut out.
Next Game: Oct. 10 vs. Brother Rice (Bloomfield Hills, Mich.)

Elite 11
Performer of the Week
Kyle Cook
Little Miami (Morrow, Ohio)
19-of-31 for 437 yards and 4 TDs; also 105 yards and 2 rushing TDs


Cook was also selected ESPN Rise Midwest Player of the Week. Story

Other Notable Performances

Dylan Favre - St. Stanislaus (Bay St. Louis, Miss.)
40-of-48 for 506 yards and 6 TDs

Jeffrey Godfrey - Miami Central (Miami, Fla.)
14-of-20 for 251 yards and 4 TDs

Avondre Bollar - Thousand Oaks (Thousand Oaks, Calif.)
13-of-19 for 307 yards and 4 TDs

Brian Bell - China Spring (China Spring, Texas)
21-of-36 for 329 yards and 2 TDs

Garret Grayson - Heritage (Vancouver, Wash.)
21-of-28 for 329 yards and 4 TDs

Jake Glover - Fort Worth Brewer (Fort Worth, Texas)
34-of-45 for 345 yards and 3 TDs

Josh Dorman - Birdville (North Richland Hills, Texas)
25-of-30 for 388 yards and 5 TDs

Attention quarterbacks: Want to be part of the ESPN RISE Elite 11 Tracker? Send your stats to Michael White (michael@studentsports.com). Top performances for quarterbacks around the country will be included weekly, so check ESPNRISE.com to see if you had a game worthy of making the Elite 11 Tracker or being performer of the week.

-- Michael White
Tyler Bray
Kingsburg (Calif.)
College:
Tennessee
Bray had five TD passes in a 63-14 win over Immanuel (Reedley, Calif.), the third straight week he threw for three or more scores. The Tennessee commit finished 9 of 15 passing for 203 yards.
Next Game:
Oct. 9 vs. Coalinga (Coalinga, Calif.)
Barry Brunetti
Memphis University School (Memphis, Tenn.)
College: West Virginia
Memphis University beat White Station (Memphis, Tenn.) 55-35 largely without Brunetti, who went out in the first quarter with a groin injury. Brunetti rushed for touchdown.
Next Game: Oct. 15 @ St. Benedict (Cordova, Tenn.)
Story Link
Devin Gardner
Inkster (Mich.)
College: Michigan
Gardner continues to carry Inkster on his back, rushing for 108 yards in a 27-20 victory over Central (Bay City, Mich.) and completing 7 of 13 passes for 131 yards and a touchdown.
Next Game: Oct. 10 at Muskegon Catholic (Muskegon, Mich.)

Jake Heaps
Skyline (Sammamish, Wash.)
College: BYU
It was a quiet night for Heaps in a 55-0 win over Garfield (Seattle). In limited work, the QB went 12-of-17 passing for 180 yards and two scores.
Next Game: Oct. 9 at Eastlake (Sammamish, Wash.)

Austin Hinder
Steamboat Springs (Colo.)
College: Cal
At one point in the second half of a 28-21 win over Palisade (Colo.), Hinder connected on 11 straight passes. He rushed for 102 yards and a score and completed 23 of 28 passes for 259 yards and two TDs.
Next Game: Oct. 9 vs. Rifle (Colo.)
Story Link
Nick Montana
Oaks Christian (Westlake Village, Calif.)
College: Washington
Not much was needed from Montana except to hand off to Malcolm Jones, who rushed for 332 yards in a 33-13 win over Venice (Los Angeles). Montana went 16-of-27 for 131 yards with a score and an interception.
Next Game: Oct. vs Jordan (Long Beach, Calif.)

Jesse Scroggins
Lakewood (Calif.)
College: USC
Compton (Calif.) could not stop the USC-bound QB in Lakewood's 61-0 win. For the second game in a row, Scroggins threw four touchdown passes. He finished 12-of-17 for 197 yards and without an interception.
Next Game: Oct. 9 vs. Long Beach Poly (Long Beach, Calif.)
Story Link
Phillip Sims
Oscar Smith (Chesapeake, Va.)
College: Alabama
After nearly losing the week before, Oscar Smith beat Hickory (Chesapeake, Va.) 63-3. Sims had his best performance of the season, going 14-of-18 for 297 yards with four touchdowns.
Next Game: Oct. 9 vs. Deep Creek (Chesapeake, Va.)
Story Link
Chandler Whitmer
Downers Grove South (Downers Grove, Ill.)
College: Illinois
Downers Grove South led 28-0 at halftime and cruised to a 42-6 victory over Proviso East (Maywood, Ill.). Whitmer had one of his best games of the season, throwing for three touchdowns and 154 yards on 8 of 18 passing.
Next Game: Oct. 9 vs. Hinsdale South
Elite 11 Quarterback Tracker
Quarterback
COMP
ATT
Yards
TD
INT
Notes
Blake Bell
101
154
1,135
10
0
8 rush TDs

Joe Boisture
73
135
925
3
4
3 rush TDs

Robert Bolden
38
74
513
1
2

Tyler Bray
53
87
1,050
13
0

Barry Brunetti
60
122
1,101
13
0
6 rush TDs

Devin Gardner
44
77
972
7
4
5 rush TDs

Jake Heaps
68
112
979
12
3
1 rush TD

Austin Hinder
79
118
995
12
2
5 rush TDs

Nick Montana
60
106
708
7
3

Jesse Scroggins
71
107
996
18
1
4 rush TDs

Phillip Sims
63
104
1,156
8
4

Chandler Whitmer
72
124
969
12
7
1 rush TD
FOOTBALL RANKINGS

Rank
School (City, State)
Rec
1
Don Bosco
Ramsey, NJ
11-0
2
Armwood
Seffner, FL
15-0
3
Trinity For Boys
Louisville, KY
14-0
4
Grayson
Loganville, GA
15-0
5
Good Counsel
Olney, MD
13-0
See the full football rankings »