Commentary
Elite 11 Quarterback Tracker
Updated:
October 14, 2009, 3:35 PM ET
By
Michael White
| ESPNRISE.com
[+] Enlarge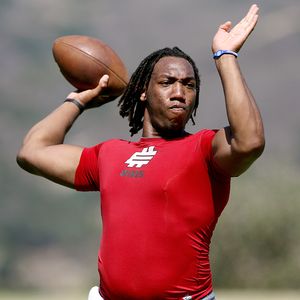 Tom Hauck for ESPN.comPhillip Sims' 253-yard passing performance against Deep Creek (Chesapeake, Va.) vaulted the senior star to No. 1 on the Virginia high school all-time passing yards leader list with 9,179.
How are the nation's top quarterbacks progressing? Each week, ESPN RISE will track the performances of the 12 QBs who attended the 2009 Elite 11 quarterback event.
(Results based on games through Oct. 10)
Blake Bell
Bishop Carroll (Wichita, Kan.)
College: Oklahoma
Bell was the difference maker in Bishop Carroll's 36-34 comeback victory out Mount Kapaun (Wichita, Kan.) securing its third straight league title. Through air and by land Bell was unstoppable rushing for three scores and 80 yards while adding another score and 239 yards passing.
Next Game: Oct. 15 at West (Wichita, Kan.)
Story Link
Joe Boisture
Saline (Mich.)
College: Michigan State
It was another tough outing for Boisture and the Saline Hornets as they fell to 2-5 after losing to local power Fordson (Dearborn, Mich.). In not so great weather conditions, Boisture managed to complete 17-of-27 passes for 132 yards and 1 touchdown.
Next Game: Oct. 16 vs. Ypsilanti (Mich.)

Robert Bolden
St. Mary's (Orchard Lake, Mich.)
College: Penn State
Any player will tell you that stats don't matter when you win. This is the case for Bolden who helped St. Mary's to a triple overtime victory against Brother Rice (Bloomfield, Hills, Mich.). Early in the game Bolden suffered an injury to his throwing hand, limiting him to 3-of-12 passing for 49 yards. The Eaglet quarterback rushed for the winning score in the third overtime.
Next Game: Oct. 17 vs. Davison (Mich.)
Story Link
Elite 11
Performer of the Week
Willie Tindal
Stranahan (Fort Lauderdale, Fla.)
14-of-19 for 344 yards and 7 TDs


Tindal's seven touchdown passes tied the Broward County single-game record.

Other Notable Performances

Marcus McDade, St. Mary's (Stockton, Calif.)
12-of-24 for 270 yards, 3 Tds and rush TD


Ryan Bergman, Issaquah (Wash.)
26-of-35 for 521 yards and 6 TDs


Ryan Polite, De Soto (Texas)
20-of-35 for 507 and 5 TDs


Chas Dodd, Byrnes (Duncan, S.C.)
13-of-16 for 260 yards and 5 TDs


Sawyer Kollmorgen, Jenks (Okla.)
18-of-24 for 354 yards and 4 TDs


Luke Woodley, Highland Park (Dallas, Texas)
43-of-61 for 544 yards and 4 TDs


Frankie Popp, Brother Rice (Bloomfield Hills, Mich.)
*25-of-*49 for *365 yards and 3 TDs
*All New School Records


Billy Cosh, Arundel (Gambrills, Md.)
16-of-19 for 267 yards and 7 TDs
*Became Maryland's all time public school leader in career TD passes


James Franklin, Lake Dallas (Corinth, Texas)
25-of-42 for 317 and 3 TDs
33 rushes for 202 yards and 2 TDs


Marquel Carter, Culver City (Calif.)
31-of-45 for 473 yards and 3 TDs


Attention quarterbacks: Want to be part of the ESPN RISE Elite 11 Tracker? Send your stats to Michael White (michael@studentsports.com). Top performances for quarterbacks around the country will be included weekly, so check ESPNRISE.com to see if you had a game worthy of making the Elite 11 Tracker or being performer of the week.

-- Michael White
Tyler Bray
Kingsburg (Calif.)
College:
Tennessee
Another solid outing from the future Tennessee quarterback in a 62-0 route of Coalinga (Calif.). Bray now has Kingsburg off to a 5-0 record and has thrown at least four touchdowns for three straight games. In the win, Bray was 8-of-12 for 241 yards.
Next Game:
Oct. 16 at Dinuba (Calif.)
Barry Brunetti
Memphis University School (Memphis, Tenn.)
College: West Virginia
Idle this past weekend
Next Game: Oct. 15 @ St. Benedict (Cordova, Tenn.)

Devin Gardner
Inkster (Mich.)
College: Michigan
With the game tied at halftime, Gardner came out firing in the third quarter and helped Inkster pull away for a 34-19 victory over Muskegon Catholic Central (Detroit, Mich.). The future Wolverine did a little of everything rushing for a score and 99 yards while adding 110 yards through the air.
Next Game: Oct. 17 at St. Ignatius (Cleveland, Ohio)
Story Link
Jake Heaps
Skyline (Sammamish, Wash.)
College: BYU
Another victory for Skyline and another dominating performance for Heaps. In a little over a half of play, the future BYU signal caller went 14-of-29 for 270 yards and four TDs in the 43-7 victory over Eastlake (Sammamish, Wash.).
Next Game: Oct. 16 vs. Issaquah (Wash.)
Story Link
Austin Hinder
Steamboat Springs (Colo.)
College: Cal
An all-around strong performance for Steamboat Springs keeps the team unbeaten on the season after a 34-0 victory over Rifle (Colo.). In a game where the defense stole the show, Hinder was his usual self -- completing 7-of-14 passes for 109 yards and two touchdowns.
Next Game: Oct. 16 at Battle Mountain (Minturn, Colo.)
Story Link
Nick Montana
Oaks Christian (Westlake Village, Calif.)
College: Washington
Montana and Oaks Christian cruised to another victory with a 42-7 route of Jordan (Long Beach, Calif.). Only getting limited chances to throw, Montana made them all count going 5-of-6 for 126 yards and three TDs.
Next Game: Oct. 16 vs. Bishop Diego (Santa Barbara, Calif.)

Jesse Scroggins
Lakewood (Calif.)
College: USC
Scroggins helped Lakewood to one of its biggest wins in school history, beating Long Beach Poly 21-14 to end Poly's 80-game Moore League winning streak, which started in 1994. In the game, Scroggins went 14-of-27 for 143 yards and a touchdown.
Next Game: Oct. 16 at Cabrillo (Long Beach, Calif.)
Story Link
Phillip Sims
Oscar Smith (Chesapeake, Va.)
College: Alabama
With 253 yards through the air in a victory over Deep Creek (Chesapeake, Va.), Sims became the most prolific passer in Virginia state history with 9,179 yards passing to date. This number is sure to grow with games to play and playoffs looming. The record-breaking quarterback added four TDs passing while being picked off twice in this historic game.
Next Game: Oct. 16 at Lakeland (Suffolk, Va.)
Story Link
Chandler Whitmer
Downers Grove South (Downers Grove, Ill.)
College: Illinois
Whitmer and South continue to roll and now have a five-game win streak following an 0-2 start. The future Illini quarterback got the team off to a fast start scoring on its first three possession on its way to a 42-7 victory over Hinsdale South (Ill.). Whitmer provided a touchdown through the air and on the ground finishing 9-of-15 for 189 yards.
Next Game: Oct. 16 at Addison Trail (Addison, Ill.)
Elite 11 Quarterback Tracker
Quarterback
COMP
ATT
Yards
TD
INT
Notes
Blake Bell
1,374
11
0
12 rush TDs

Joe Boisture
90
162
1,057
4
4
3 rush TDs

Robert Bolden
41
86
562
1
2
3 rush TDs

Tyler Bray
61
99
1,291
18
1

Barry Brunetti
60
122
1,101
13
0
6 rush TDs

Devin Gardner
48
86
1,082
7
4
6 rush TDs

Jake Heaps
82
141
1,249
16
4
1 rush TD

Austin Hinder
79
118
995
12
2
5 rush TDs

Nick Montana
65
112
834
11
4

Jesse Scroggins
85
134
1,139
19
1
4 rush TDs

Phillip Sims
73
118
1,409
12
6

Chandler Whitmer
81
139
1,158
13
7
2 rush TD
SPONSORED HEADLINES
ESPN TOP HEADLINES
MOST SENT STORIES ON ESPN.COM
FOOTBALL RANKINGS

Rank
School (City, State)
Rec
1
Don Bosco
Ramsey, NJ
11-0
2
Armwood
Seffner, FL
15-0
3
Trinity For Boys
Louisville, KY
14-0
4
Grayson
Loganville, GA
15-0
5
Good Counsel
Olney, MD
13-0
See the full football rankings »