Commentary
The big hits keep coming for McVey
Updated:
October 28, 2009, 10:09 AM ET
By
David Auguste
| ESPN RISE Magazine
This story appeared in the Cleveland edition of the October ESPN RISE Magazine.
[+] Enlarge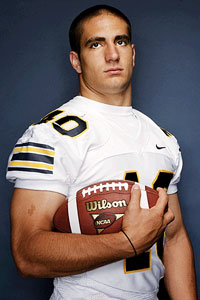 Danny Vega\ESPN RISE MagazineScott McVey, St. Ignatius' tackling machine, has committed to Ohio State.
The names read like the top of an Ohio football power ranking poll.
Elder has captured a pair of Division I crowns this decade. Glenville began the fall as the area favorite for this year's title. Hoover advanced to the state semis in 2008.
The three schools also top Scott McVey's hit list -- performances where the St. Ignatius (Cleveland) senior linebacker and reigning Associated Press Defensive Player of the Year delivered such a big blow to an opponent that it sent chills down spectators' spines and forced trainers to sprint from the sideline to attend to the tackled player.
"He's knocked the hats off a lot of people; they were shocked," says St. Ignatius coach Chuck Kyle. "The reaction from the sideline is totally overshadowed by the reaction of the crowd. What you hear is the entire stadium going, 'Oooh.'"
Last year, McVey used his bone-crushing hits to lead St. Ignatius to its 10th state crown, as the Wildcats beat Elder, 28-20, in the Division I final. The 6-foot-1, 225-pound McVey paced the defense in the championship with five solo tackles and 4.5 sacks, and he made a momentum-changing interception with Elder threatening early in the contest.
"His intensity is the first thing I noticed about him," says Kyle. "He plays at a top gear at everything he does."
Fans of the defending state champs have been captivated by McVey's intensity and hard-hitting on-field tendencies since he made his debut as a freshman. Because the Ignatius varsity team was loaded with Division I prospects, McVey was forced to take his lumps with the freshman and JV squads before moving up to varsity midway through his sophomore season. That was fine with him; he would take his frustrations out on whoever lined up opposite him.
"You'd go to a freshman game, and guess who made all the tackles -- it was Scott McVey," says Kyle.
McVey began building his rep in a JV game against Glenville as a sophomore. A Tarblooder running back ran a flare pattern in the flat and swiveled his head to look for the pass. McVey, stalking from his linebacker spot, met the back as the ball arrived and laid him out.
"It felt like one of the best hits I've ever had," says McVey.
The tackle and his subsequent all-around play at the JV level caught the attention of the coaches, who quickly alerted Kyle that they had someone special on the roster.
When McVey was promoted to varsity, the vicious tackles followed.
In his first varsity start, he racked up 18 tackles and three sacks in an overtime loss to defending champ St. Xavier (Cincinnati). McVey walked off the gridiron disappointed by the loss. Kyle left the field astonished at what the sophomore had accomplished.
McVey's disappointment would be short-lived, but Kyle continued to be impressed last fall. During the regional semifinals, Ignatius met up with Glenville, giving McVey an opportunity to prove his ferocious tackle the previous season wasn't a one-hit wonder. Sure enough, McVey sniffed out a screen pass, accelerated toward the sideline with a full head of steam and drilled the ball carrier into a crowd of coaches and players. Later, in the state semifinals, he blindsided Hoover's quarterback to force a fumble and lead Ignatius to the title game.
With every big hit, McVey earns another fan.
"He just pops them," says Ignatius senior lineman Pat Dowd. "It really sends a message. They don't want to get hit like that again."
While his big hits garner the most attention, McVey is a complete player who is adept at dropping into coverage or defending against the run. On offense, he is a battering ram at fullback, clearing lanes for Kevin Johnson, a senior tailback who rushed for seven scores while splitting carries last season.
"I always try to be the best in every category," says McVey. "I am never satisfied."
Never being satisfied and never giving up on a play are the keys to McVey's game. His high motor was on full display during the state final last year.
With St. Ignatius leading in the fourth quarter, McVey took it upon himself to send a message to the Elder offense. On three straight downs, McVey blitzed and hurried the Elder quarterback into three consecutive off-balance throws.
"Everyone knew he was coming," says Kyle. "He doesn't make some big hit on it, but he was still able to [force] three straight incomplete passes. One kid put it on his shoulders to stop a drive single-handedly."
McVey also added another team to his list in the season finale.
As Elder's quarterback dropped back to pass, McVey blitzed and shed a blocker on the way to the backfield. The quarterback was just able to get the ball off, but McVey made him pay, sending him flying to the turf.
"We were hitting him hard all game," says McVey. "That was pretty much the end of him. The backup came in right after that."
After the championship conquest, McVey's reputation around Ohio grew. The following Monday, he received an offer from Ohio State and subsequently gave a verbal commitment to the Buckeyes.
To prepare for college ball, McVey amped up his workouts, lifting big two to three times a week and putting more emphasis on conditioning. He also began getting his younger brothers, Tim and Matt, prepared for the rigors of high school ball.
"I definitely try to watch how and what they do on the field," says McVey. "I tell them what I did. Just go full speed and put your all into it."
And you can bet, with one season to go before he has to chase down Terrelle Pryor in practice and battle Michigan annually, McVey hopes to put his all into another state title pursuit and add some more hits to the list.
"I still got one more year left," says McVey, "so I still got time to get a couple more."
David Auguste writes about high school sports for ESPN RISE Magazine.
SPONSORED HEADLINES
ESPN TOP HEADLINES
MOST SENT STORIES ON ESPN.COM
FOOTBALL RANKINGS

Rank
School (City, State)
Rec
1
Don Bosco
Ramsey, NJ
11-0
2
Armwood
Seffner, FL
15-0
3
Trinity For Boys
Louisville, KY
14-0
4
Grayson
Loganville, GA
15-0
5
Good Counsel
Olney, MD
13-0
See the full football rankings »