Commentary
Elite 11 Quarterback Tracker
Updated:
October 22, 2009, 10:32 AM ET
By
Michael White
| ESPNRISE.com
[+] Enlarge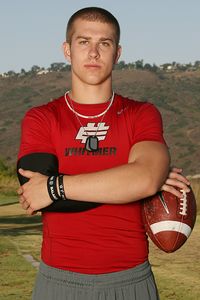 Tom Hauck for ESPN.comChandler Whitmer has accounted for 18 total TDs this season.
How are the nation's top quarterbacks progressing? Each week, ESPN RISE will track the performances of the 12 QBs who attended the 2009 Elite 11 quarterback event.
(Results based on games through Oct. 17)
Blake Bell
Bishop Carroll (Wichita, Kan.)
College: Oklahoma
In what's become a recurring theme for Bell and Bishop Carroll, the team rolled to a 55-0 win over West (Wichita, Kan.). Yet to be intercepted through seven games, Bell threw for four first-half touchdowns (five in all) and went 17-of-27 for 245 yards.
Next Game: Oct. 23 vs. Valley Center (Valley Center, Kan.)
Story Link
Joe Boisture
Saline (Saline, Mich.)
College: Michigan State
With high expectations heading into the season, five straight losses were something of a shock. But the future Spartan and his senior teammates won their final home game, 26-16 over Ypsilanti (Ypsilanti, Mich.). Boisture was 2-of-9 for 23 yards and an interception.
Next Game: Oct. 23 vs. Chelsea (Chelsea, Mich.)

Robert Bolden
St. Mary's (Orchard Lake, Mich.)
College: Penn State
Bolden and the Eaglets are on to the Catholic League championship game after a 31-7 win over Davison (Davison, Mich.). Bolden rushed for 65 yards and two touchdowns and completed 5-of-8 passes for 86 yards.
Next Game: Oct. 24 vs. Catholic Central (Novi, Mich.)
Story Link
Elite 11
Performer of the Week
Hutson Mason
Lassiter (Marietta, Ga.)
32-of-45 for 545 yards and 6 TDs


Mason set a Georgia record for passing yards in a game.

Other Notable Performances

Jordan Johnson, Sheldon (Sheldon, Ore.)
14-of-22 for 320 yards and 6 TDs


Stephen Weatherford, Land O'Lakes (Land O'Lakes, Fla.)
12-of-15 for 287 yards and 5 TDs


Brett Smith, West Salem (Salem, Ore.)
12-of-18 for 355 yards and 4 TDs


Javan Shashaty, Calvary Christian (Fort Lauderdale, Fla.)
13-of-17 for 318 yards and 7 TDs


Paul Millard, Flower Mound (Flower Mound, Texas)
25-of-30 for 390 yards and 6 TDs


Matt Joeckel, Arlington (Arlington, Texas)
21-of-28 for 396 yards and 5 TDs


Dano Graves, Folsom (Folsom, Calif.)
28-of-36 for 394 yards and 5 TDs


Attention quarterbacks: Want to be part of the ESPN RISE Elite 11 Tracker? Send your stats to Michael White (michael@studentsports.com). Top performances for quarterbacks around the country will be included weekly, so check ESPNRISE.com to see if you had a game worthy of making the Elite 11 Tracker or being performer of the week.

-- Michael White
Tyler Bray
Kingsburg (Kingsburg, Calif.)
College:
Tennessee
Bray and Kingsburg were challenged for the first time this season and pulled out a 14-0 victory over Dinuba (Dinuba, Calif.). Bray was intercepted for the first time but threw for 274 yards and two touchdowns.
Next Game:
Oct. 23 vs. Central Valley Christian (Visalia, Calif.)
Barry Brunetti
Memphis University School (Memphis, Tenn.)
College: West Virginia
Memphis University cruised to a 46-0 victory over St. Benedict (Cordova, Tenn.) behind Brunetti's three touchdowns and 192 yards on 12-of-17 passing. He has not been picked off in 139 attempts this season.
Next Game: Oct. 23 vs. Christian Brothers (Memphis, Tenn.)

Devin Gardner
Inkster (Inkster, Mich.)
College: Michigan
Gardner rushed for 130 yards, including 71 yards for a TD, and passed for 166 and a score, but Inkster couldn't keep pace with St. Ignatius (Cleveland, Ohio) in losing 49-20.
Next Game: Oct. 23 at Steubenville (Steubenville, Ohio)

Jake Heaps
Skyline (Sammamish, Wash.)
College: BYU
All was status quo for Heaps and Skyline as they rolled to a 42-0 victory over Issaquah (Issaquah, Wash.). Heaps finished 13-of-24 for 123 yards and two touchdowns.
Next Game: Oct. 23 vs. Redmond (Redmond, Wash.)
Story Link
Austin Hinder
Steamboat Springs (Steamboat Springs, Colo.)
College: Cal
Not much was needed out of Hinder's arm in a 61-21 victory over Battle Mountain (Minturn, Colo.), as the QB rushed for 124 yards and two scores. Hinder attempted only four passes, completing one.
Next Game: Oct. 23 vs. Moffat County (Craig, Colo.)
Story Link
Nick Montana
Oaks Christian (Westlake Village, Calif.)
College: Washington
Oaks Christian scored 51 first-half points en route to a 65-6 victory over Bishop Diego (Santa Barbara, Calif.). Montana had a quiet night, going 7-of-9 for 130 yards and two touchdowns.
Next Game: Oct. 23 at Carpinteria (Carpinteria, Calif.)

Jesse Scroggins
Lakewood (Lakewood, Calif.)
College: USC
Scroggins was held out because of illness, but Lakewood did not miss a beat in rolling to a 61-8 victory over Cabrillo (Long Beach, Calif.).
Next Game: Oct. 23 vs. Jordan (Long Beach, Calif.)
Story Link
Phillip Sims
Oscar Smith (Chesapeake, Va.)
College: Alabama
Sims has thrown for four touchdowns in three straight games, the latest a 48-13 victory over Lakeland (Suffolk, Va.). He has 79 career TD passes and needs two more to become the South Hampton Roads leader. Sims was 12-of-22 for 231 yards.
Next Game: Oct. 23 at Nansemond (Suffolk, Va.)
Story Link
Chandler Whitmer
Downers Grove South (Downers Grove, Ill.)
College: Illinois
Not only did Whitmer throw for three touchdowns, he also hauled in a 33-yard reception on a halfback pass in a 40-0 win over Addison Trail (Addison, Ill.). The Mustangs have won six in a row heading into their last regular-season game.
Next Game: Oct. 23 vs. Morton (Morton, Ill.)
Story Link
Elite 11 Quarterback Tracker
Quarterback
COMP
ATT
Yards
TD
INT
Notes
Blake Bell
118
181
1,619
16
0
12 rush TDs

Joe Boisture
90
161
1,055
5
5
3 rush TDs

Robert Bolden
46
94
648
1
2
3 rush TDs

Tyler Bray
78
131
1,565
20
1

Barry Brunetti
72
139
1,293
16
0
6 rush TDs

Devin Gardner
63
116
1,248
8
4
6 rush TDs

Jake Heaps
95
165
1,372
18
4
1 rush TD

Austin Hinder
87
136
1,125
15
2
5 rush TDs

Nick Montana
72
121
964
13
4

Jesse Scroggins
85
134
1,139
19
1
4 rush TDs

Phillip Sims
85
140
1,640
16
6

Chandler Whitmer
89
150
1,358
16
7
2 rush TD
SPONSORED HEADLINES
ESPN TOP HEADLINES
MOST SENT STORIES ON ESPN.COM
FOOTBALL RANKINGS

Rank
School (City, State)
Rec
1
Don Bosco
Ramsey, NJ
11-0
2
Armwood
Seffner, FL
15-0
3
Trinity For Boys
Louisville, KY
14-0
4
Grayson
Loganville, GA
15-0
5
Good Counsel
Olney, MD
13-0
See the full football rankings »