Commentary
News and notes for Week 8
Updated:
October 26, 2009, 10:05 AM ET
By
Mike Loveday
| ESPNRISE.com
Undefeated champions?
There are six undefeated teams in Class 3A this season -- more than any other classification. The list will soon narrow to five as River Hill (8-0) and Atholton (8-0) play this week. With four of those undefeated teams ranked in the top 13 in the MDVarsity.com Media State Poll, there is a decent chance the 3A title game will be a game of undefeated teams.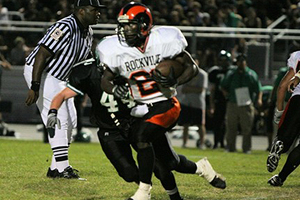 Sheila Carmines for ESPNRise.comCrusoe Gongbay has rushed for more than 1,500 yards this season.
An interesting note is that every region, except two, has at least one undefeated team. The 4A and 2A West regions are without undefeated teams. Sherwood (7-1) took down Winston Churchill (7-1) this week in a 4A West game.
Toughest road to title?
Much has been made of the minefield the 3A West region is this season, but 4A South may be the toughest region to escape unscathed. Wise has been the dominant team this season, tying a Maryland state record with its seventh straight shutout last week, but Eleanor Roosevelt went 10-0 last year and lost in the first round to Wise. The battle for second and third in the region may change with Flowers and Suitland vying for position. ER's loss to Bowie it may keep the Raiders in fourth where they will get a chance to avenge last year's first round exit. No matter the order, it is always difficult to defeat the same team twice in a season. For example, only 16 points have separated the three games the four teams have played against each other so far this season.
Wins of note
Neither team is in the Top 25, but both Forestville and Riverdale Baptist had wins, I feel, are worth noting. Riverdale Baptist defeated Friendly 21-6 and Forestville ousted Douglass-PG, 22-20. Forestville's win is their fourth straight since losing to Riverdale Baptist on Sept. 18. The Knights are in a good position to make the Class 1A playoffs with Fairmont Heights and Largo upcoming.
Made to be broken
Arundel's Ronnie Harris is the first receiver to crack the 1,000-yard barrier for receivers this season. The senior receiver has 39 career touchdowns, one shy of the public school record of 40 held by former Arundel receiver Brandon Johnson-Farrell. Barring injury, Harris should at least finish second in career touchdowns. Ten more touchdowns this season would give him several more records -- most touchdowns in a season (27) and tied for the career record (49).
Quick Hitters
Out of the 183 public schools in Maryland, only two start with the letter Q - Quince Orchard and Queen Anne's. If that was not selected enough company, both of those schools are 8-0.
Rockville's Crusoe Gongbay is quietly having one of the better seasons for running backs. The junior has rushed for 1,225 yards and 19 touchdowns. Those numbers have been put up in a little more than six games, having missed one entire game and most of a second this season with a sprained ankle.
It is a testament to their seasons that Darius Jennings and Marcus Coker are still first and third respectively on the rushing list after not playing this week. Jennings (1,650) and Gilman were off this week while Coker (1,321) sat out DeMatha's game against O'Connell.
Looking ahead
Heading into the final two weeks of the season there are a few big games that could determine who heads to the playoffs and who stays home.
Archbishop Spalding has a big game this week with John Carroll that could determine who makes it to the MIAA B conference championship game. Spalding is 6-1 in conference (7-1 overall) and John Carroll is 5-2 (6-2). A Spalding win will give them a rematch with Boys' Latin who handed the Cavaliers their only loss. A John Carroll win would give the team the tie-breaker and put them in the title game if the Patriots defeat Archbishop Curley in the final game of the regular season.
Staying in the MIAA, but moving to the A conference there is a big game in Owings Mills this week with McDonogh playing host to Calvert Hall. A McDonogh win combined with a Gilman win over Mount St. Joseph this week would mean an Eagles/Greyhounds game in the final regular season game for the conference title on the line.
Seneca Valley's (5-3) playoff hopes may have ended with a loss to Quince Orchard last week, but maybe not. Seneca fans will be watching this week's Damascus/Clarksburg game with earnest. No matter which team wins will put them in a record tie with Seneca Valley, but depending on which team wins will matter in the point standings. First, Seneca Valley will need to win at home against Walt Whitman this week.
SPONSORED HEADLINES
ESPN TOP HEADLINES
MOST SENT STORIES ON ESPN.COM
FOOTBALL RANKINGS

Rank
School (City, State)
Rec
1
Don Bosco
Ramsey, NJ
11-0
2
Armwood
Seffner, FL
15-0
3
Trinity For Boys
Louisville, KY
14-0
4
Grayson
Loganville, GA
15-0
5
Good Counsel
Olney, MD
13-0
See the full football rankings »