Commentary
Players on the verge of records
Updated:
November 11, 2009, 10:17 AM ET
By
Doug Huff
| ESPNRISE.com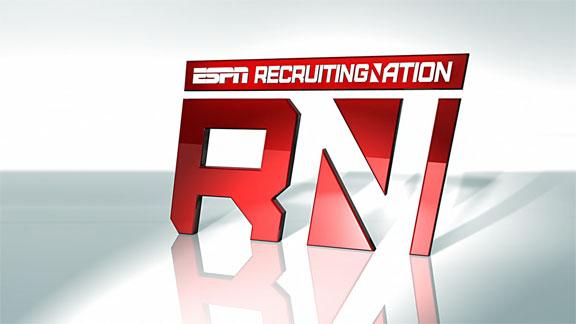 Kip Smith
NEXT VIDEO
Each week, ESPNRISE.com senior editor Doug Huff takes a look at high school football players who may be about to surpass significant state or national records. (Based on games through Nov. 7):
Mac Morse
Position: Quarterback
School: J.J. Pearce (Richardson, Texas)
What:The junior replaced injured starter Caleb Lewis and passed for a state-record 634 yards in a wild 70-56 loss to Newman-Smith (Carrollton, Texas) in a regular-season finale. Morse completed 42-of-68 passes with four touchdowns and no interceptions. Coach Randy Robertson, whose defense gave up more than 700 yards to Newman-Smith, said Monday that Lewis is expected to return for this week's playoff game against Denison.
Old record: 595 yards, set in 2006 by Alvaro Garcia of United (Laredo, Texas) against Reagan (San Antonio, Texas).
Notable: Quarterbacks coach Steven Anthony referred to Morse as "a field rat, which is the same as a gym rat for basketball." Anthony added: "He's great at studying film and wanting to get better. Not taking anything away from Mac, but in this game Caleb could have done the same thing. Both are equal, but Caleb just has more experience. We also have a tradition here where juniors bide their time to become the starting quarterback."
Blake Jumonville
Position: Wide receiver
School: J.J. Pearce (Richardson, Texas)
What:Jumonville was the primary target for Mac Morse in his Texas record 634-yard passing night. In the 70-56 loss to Newman-Smith, Jumonville caught 19 passes for 386 yards and two touchdowns. His yardage total set a single-game state record.
Old record: 357 receiving yards, set in 1984 by Randy Boone of Chillicothe vs. Aspermont.
Notable: Unlike Morse, Jumonville starts for the Mustangs. The big outing gave him a reported 68 catches for 1,298 yards and nine touchdowns this season.
Michael Holmes
Position: Running back
School: Harrisonburg (Harrisonburg, Va.)
What: The junior rushed for a school-record 2,580 yards on 215 carries in 10 regular-season games. If he maintains his average of 258 yards per game through a deep playoff run, Holmes could threaten the single-season state record.
Record: 3,319 yards, set in 1994 by Thomas Jones of Powell Valley (Big Stone Gap, Va.).
Notable: Holmes rushed for 413 yards and a state-record-tying eight TDs in the first half against Lee (Staunton, Va.) this season. Harrisonburg has a bye this week before opening in the playoffs.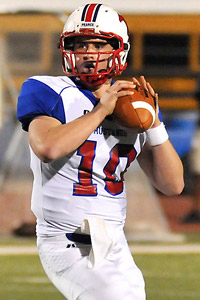 Doug Koval PhotographyJ.J. Pearce (Richardson, Texas) junior Mac Morse passed for 634 yards and four scores in a loss to Newman-Smith (Carrollton, Texas).
Ryan Izzo
Position: Running back
School: Walpole (Walpole, Mass.)
What:He scored five touchdowns and added five PATs for 35 points in his team's 41-7 win last weekend against Needham and has 678 points in his career.
Record: 682 career points, set in 2006 by Nathan Sherr of Austin Prep (Reading, Mass.).
Notable:Izzo was the 2008 Division 2 Player of the Year in Massachusetts and will lead Walpole (9-0) against Natick (9-0) on Saturday for a state playoff berth.
Trevor Romaine
Position: Kicker
School: Centennial (Corona, Calif.)
What:With four PATs in a 32-28 loss to Norco last week, Romaine hiked his career total to 195. Centennial plays rival Corona in a regular-season finale this week before the playoffs start.
Record: 206 PATs, set in 2002-04 by Gio Podesto of Modesto Central Catholic.
Notable: Romaine scored points in CIF bowl games in 2007 and 2008 and has committed to Oregon State.
Kip Smith
Position: Kicker
School: Legacy (Broomfield, Colo.)
What: The 24-year-old national record for longest field goal might be in jeopardy this season. Smith opened the season by booting a 67-yarder against Mountain Range (Westminster, Colo.).
Record: 68 yards, set in 1985 by Dirk Borgonone of Reno, Nev.
Notable: Smith's 67-yarder bettered the state mark of 64 yards set in 2001. Smith, bound for Minnesota, has also kicked field goals of 52 and 51 yards this season and has converted on 10-of-12 attempts entering this week's state Class 5A playoff game against FAB 50 No. 33 Mullen (Denver, Colo.).
Zach Hocker
Position: Kicker
School: Russellville (Russellville, Ark.)
What: His 48-yard field goal in the regular-season finale (a 28-24 loss to Cabot) gave him 17, a state record for FGs in one season.
Old record: 16, set in 2001 by Kyle Magrini of Greenwood (Greenwood, Ark.).
Notable: Hocker enters the Class 7A playoffs with an outside chance of reaching the national season mark of 22 shared by three players, including current University of Oklahoma kicker Jimmy Stevens while at Heritage Hall (Oklahoma City, Okla.) in 2005.
Jared Toney
Position: Running Back
School: Alcoa (Alcoa, Tenn.)
What: With 38 touchdowns in 11 games for the unbeaten Tornadoes, the 5-foot-10, 175-pound senior is threatening the single-season state record.
Record: 48, set by Kelcey Williams of Humboldt in 1995 and Ralph King of Murfreesboro Riverdale in 2000.
Notable: Earlier in the season, Toney scored six touchdowns in a 41-24 victory over Maryville.
Scotty Young
Position: Quarterback
School: Ryan (Denton, Texas)
What: Young (44 touchdown passes in 10 regular-season games) could threaten the state standard for TD passes in a season if Ryan has an extended playoff run.
Record: 67, set in 2003 by Graham Harrell of Ennis.
Notable: Young, a 6-foot-2, 180-pound senior, passed for a state-best 65 touchdowns as a first-year starter in 2008. He's bound for Texas Tech, where Harrell also played.

Doug Huff covers high school sports for ESPNRISE.com. He is considered the founder of the National Federation of State High School Association's National High School Record Book.
SPONSORED HEADLINES
ESPN TOP HEADLINES
MOST SENT STORIES ON ESPN.COM
FOOTBALL RANKINGS

Rank
School (City, State)
Rec
1
Don Bosco
Ramsey, NJ
11-0
2
Armwood
Seffner, FL
15-0
3
Trinity For Boys
Louisville, KY
14-0
4
Grayson
Loganville, GA
15-0
5
Good Counsel
Olney, MD
13-0
See the full football rankings »