Commentary
Class 2A features rematch games
Updated:
November 18, 2009, 11:12 AM ET
By
Mike Loveday & Sheldon Shealer
| ESPN RISE
Like clockwork, South Carroll is back in the region final.
Playoff Coverage

MDVarsity.com covers all four classifications from the pre-snap to the post game press conference for the 2009 maryland high school playoffs.
REGION SEMIFINALS
REGION FINALS
STATE SEMIFINALS
STATE FINALS
CLASS 1A COVERAGE
CLASS 2A COVERAGE
CLASS 3A COVERAGE
CLASS 4A COVERAGE
RELATED LINKS
Come to think of it, so are Douglass-PG, Eastern Tech and Middletown.
Although there is not a single Class 2A state title among the eight remaining playoff teams, they have combined for 20 region final appearances since 2003. Five of the eight were in the region final last year.
Eastern Tech and South Carroll are making their bids to join elite company with four region crowns since the current playoff format was put into action in 2003.
This week's 2A region finals features four games between league opponents, and three of the meetings are occuring for the second time this season. South Carroll and Middletown are MVAL members, but are in separate divisions. Eastern Tech and Chesapeake are Baltimore County 3A/2A league rivals, Gwynn Park and Douglass-PG are Prince George's County 3A/2A/1A league rivals and Queen Anne's and Kent Island compete in the Bayside Conference.
Lowest Seed Likely To Win: Middletown. Considering all four of Middletown's losses are to playoff teams (4A, two 3A and 1A), the Knights are certainly battled tested. The only common opponent Middletown shares with its region final opponent South Carroll is Century. Middletown won 6-0 to start the year, South Carroll lost to Century 26-6 at midseason, but won 10-6 last week.
Regional Semifinal Surprise: South Carroll. Although South Carroll was the higher seed, its win over Century comes as a surprise since Century had just defeated South Carroll 26-6 in Week 5.
West
No. 4 Middletown (6-4) at No. 2 South Carroll (9-2)
Details: Friday at South Carroll, 7 p.m.
Most Recent Meeting: 2006, Middletown won, 35-7
Middletown Region Final History: Middletown is seldom mentioned among the state's top programs, but interestingly the Knights are making their fifth straight region final appearance. Middletown's lone regional title was in 2006. South Carroll Region Final History: Since the regional format was adopted in 2003, South Carroll has won titles in the odd years (2003, 2005, 2007) and failed to make the playoffs in even years.
Game Notes: Middletown must feel like it has been in the playoffs all season. The Knights played six teams during the regular season that all made the playoffs, including its first five games, boasting wins over Century and Boonsboro. Head coach Kevin Lynott feels that schedule has prepared his team for the real playoff run. "It makes you feel better about your opponents because you feel like you've seen just about everything." The Knights will use a running attack led by Koby Cavanaugh (762 yards, nine touchdowns) and Sam Michels (610 yards eight touchdowns) to attempt to control the ball. If needed, quarterback Sam Glushakow (942 yards, 12 touchdowns passing) can make plays with his arm or his legs (247 yards and five touchdowns rushing). For South Carroll, the team has seen very few injuries this season and will rely on its combination of quarterback Alex Terpening (1,087 yards) and running back Ben McCarty (806 yards). Joe Wright leads the South Carroll defense that limited Century's Boston College-bound quarterback, Josh Bordner, to 167 yards and one touchdown.
North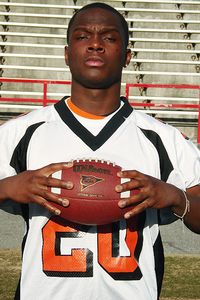 Sheldon Shealer Emmanuel Gbor has been a varsity player for four seasons at Eastern Tech.
No. 2 Eastern Tech (10-1) vs. No. 1 Chesapeake-BC (10-1)
Details:
Friday at CCBC-Dundalk, 7 p.m.
Most Recent Meeting:
2009, Chesapeake-BC won, 15-13
Eastern Tech Region Final History:
Eastern Tech is the only school to have qualified for the 2A North region playoffs each year since 2003, and the program is 3-1 in region final contests. A win this week will make Eastern Tech only the second 2A school to ever win three straight region titles (Potomac was the first, 2003-2005).
Chesapeake-BC Region Final History:
After losing to the eventual region champ in the 1A North semifinals the past two years, Chesapeake finds itself in new territory this year - in 2A and in a region final for the first time.
Game Notes:
Chesapeake already has one win over Eastern Tech this season and will once again be looking to a trio of skill position players to lead them over the Mavericks. James Bedgood (652 yards, 11 touchdowns) and Corey Polston (781 yards, seven touchdowns) line up in the backfield and will get the lion share of carries. But if Eastern Tech loads the box,quarterback Delvonta Cole is capable of adding to his 10 touchdown passes this season. Cole has proven himself an athletic quarterback this season, rushing for 569 yards and five touchdowns. These teams run similar offenses and there will likely not be many surprise plays. Eastern Tech boasts several players of its own to carry the ball. The Mavericks have rushed for more than 2,900 yards this season and have five players with at least 300 yards rushing this season. Three-year starter Emmanuel Gbor leads the team in touchdowns with 12 while Zach Burkhardt has rushed for 453 yards, thrown for 403 and combined for 15 touchdowns. Last week against Lake Clifton, senior Criszon Brown rushed for 134 yards and two touchdowns.
South
No. 3 Douglass-PG at No. 1 Gwynn Park
Details: Saturday at Gwynn Park, 1 p.m.
Most Recent Meeting: First meeting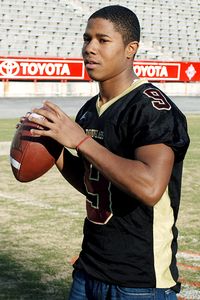 Mike LovedayBarber missed Douglass' first meeting against Gwynn Park.
Douglass-PG Region Final History:
Douglass is making a bid to become the first school to win region titles in three different classifications. Douglass won the 3A East title in 2004, the 4A South title in 2005. The program is 2-2 in region finals.
Gwynn Park Region Final History:
Gwynn Park has one region title to its name (2005), and that result vaulted the team to a 3A state title. This will be the Yellow Jackets' third region final appearance (1-1), but first as a 2A school.
Game Notes:
This was a close game during the regular season with Gwynn Park winning 35-24, but Douglass will have someone they did not have in that first meeting - Richard Barber. The senior was injured for Douglass' two losses this season and has rebounded to lead Douglass to three straight wins. Barber has accounted for more than 1,500 total yards, with 979 yards and 14 touchdowns passing. Emmanuel Paul is the team's leading rusher with 965 yards and 11 touchdowns and linebacker Emani Benjamin averages around 10 tackles per game. Gwynn Park has been getting stellar quarterback play this season too. Marc Lucas has thrown for 1,383 yards and 15 touchdowns this season. Running back Khalek Shepherd has not been held below 100 yards rushing in any game this season, including rushing for 211 yards and one touchdown in the first game against Douglass. On the season, Shepherd has rushed for 1,415 yards and 22 touchdowns.
East
No. 2 Kent Island at No. 1 Queen Anne's
Details: Friday at Queen Anne's, 7 p.m.
Most Recent Meeting: 2009, Queen Anne's won, 35-21
Kent Island Region Final History: Kent Island is making its second straight region final appearance, and last year's team lost to Queen Anne's.
Queen Anne's Region Final History: Queen Anne's is 2-0 in region finals, winning the 2A East crown in 2008 and the 1A East title in 2004.
Game Notes: Five. That is the number of consecutive games Kent Island has lost to Queen Anne's, including a 35-21 loss two weeks ago. Kent Island's Joe Kirby is coming off a 146 yards, one touchdown performance against North Caroline while the defense recorded its first shutout since Week 2. For the season, Kirby has rushed for 1,297 yards and 16 touchdowns and quarterback Ben Schaffle has thrown for 940 yards and 14 touchdowns. Kirby rushed for two touchdowns and had 109 yards receiving in the first meeting, but Queen Anne's scored 28 straight points and controlled most of the game. Queen Anne's quarterback Tyler German threw for 107 yards and a touchdown and rushed for 132 yards and three touchdowns in the win.
FOOTBALL RANKINGS

Rank
School (City, State)
Rec
1
Don Bosco
Ramsey, NJ
11-0
2
Armwood
Seffner, FL
15-0
3
Trinity For Boys
Louisville, KY
14-0
4
Grayson
Loganville, GA
15-0
5
Good Counsel
Olney, MD
13-0
See the full football rankings »