Commentary
Who's No. 1?
Updated:
December 7, 2009, 11:17 AM ET
By
Mike Loveday
| ESPN RISE
With Linganore's 31-14 victory over Huntingtown and a Class 3A state championship in its hand, the debate can begin.
State No. 1 Teams

The MDVarsity.com High School Football Media State Poll has around for 20 years. With a new decade ready to begin we take a look back at the teams that finished No. 1 for the past 10 years.
2000, Urbna
2001, DeMatha
2002, Gilman
2003, DeMatha
2004, DeMatha
2005, Gilman
2006, DeMatha
2007, Quince Orchard
2008, River Hill
2009, ???
Who is the No. 1 team in Maryland - Linganore or Good Counsel?
In the final regular season MDVarsity.com High School Football Media State Poll, which is the only state poll voted on by reporters from around Maryland, Linganore was No. 2 and Good Counsel No. 3.
Good Counsel's 14-7 victory over previous No. 1 DeMatha ensured there would be a new No. 1 team when the final poll is released Tuesday.
THE BASICS
Linganore is only one of two teams in Maryland to finish undefeated this season, capping a 14-0 season Saturday. The Lancers competed in what was considered the toughest region in the state in 3A West.
Good Counsel finished 11-1 with its only blemish a 24-21 regular season loss to DeMatha. The Falcons played in possibly the toughest conference in Maryland, the Washington Catholic Athletic Conference (WCAC).
STRENGTH OF SCHEDULE
Good Counsel played DeMatha and Bishop McNamara twice this season, going 3-1. The Falcons also traveled to play Valhalla (El Cajon, Calif.) for its opening game of the year. The record of Good Counsel's opponents was 55-50 (.523).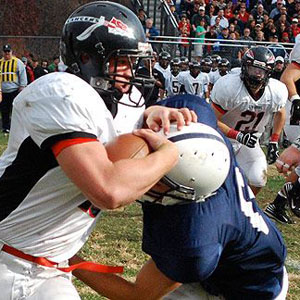 Mike LovedayZwinak was a 2009 Consensus All-State selection.
Linganore did not travel out of state, but the record of its opponents was 99-58 (.631). The Lancers played four teams that reached the state semifinals: Middletown, Thomas Johnson, Hereford, and Huntingtown.
WHO THEY DEFEATED
Linganore defeated eight teams that made the playoffs this season: Damascus, Hereford, Huntingtown, Middletown, Quince Orchard, Thomas Johnson, Tuscarora and Urbana. Three of those teams were ranked in the Top 25 at the time: Quince Orchard (6), Huntingtown (12) and Damascus (16).
Good Counsel has a private school schedule and the WCAC only allows four teams into the playoffs. However, the Falcons defeated four teams that were ranked in the Top 25 at the time of their meeting: DeMatha (1), Gilman (5), Bishop McNamara (14) and Mount St. Joseph (21).
STATEMENT WINS
Good Counsel's statement win is easy to pick because it was its last. The 14-7 win over DeMatha earned the Falcons its first WCAC championship and ended the Stags six-year championship run. The win avenged the regular season loss, in which Good Counsel led DeMatha 21-10 in the fourth quarter before losing 24-21. In addition to the championship victory, the Falcons outscored the Maryland Interscholastic Athletic Association's (MIAA) Gilman and Mount St. Joseph 91-37.
There are no common opponents to compare scores for Linganore and Good Counsel, but the Lancers and Falcons do have a link. Linganore defeated Friendship Collegiate (D.C.) 48-8 during Week 6. DeMatha, who held the No. 1 ranking all season, defeated Friendship Collegiate 45-12. In addition to that win, the Lancers defeated No. 6 Quince Orchard 19-0 on the road in the 3A West region final.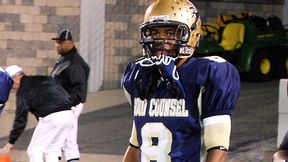 Mike LovedayGood Counsel has at least 10 players who will play college football next season.
THE ARGUMENTS FOR
Linganore won the toughest classification the Maryland. How can we make that statement? Quince Orchard defeated Class 4A Sherwood 22-9 and then the Cougars were handled by Linganore two weeks later. The Lancers defeated Class 4A Urbana and Thomas Johnson, with the latter making the 4A semifinal. Linganore faced seven straight playoff teams en route to its championship and did not play a team with a record below .500 since Week 7. Linganore has the nation's best fullback in Zach Zwinak who is committed to Penn State and boasts Wisconsin commit Robbie Havenstein, Ryan Dixon (James Madison) and Kyle Tucker (Monmouth). The Lancers have been the No. 2 ranked team all season and in position for No. 1 if DeMatha lost. It would be strange for the No. 2 team to be jumped by the No. 3 team without a loss.
Good Counsel faced more teams with future Division I-A players than any team, other than DeMatha, in Maryland. Valhalla has three future Division I-A players, including Arizona State-bound quarterback Peter Thomas. Even Archbishop Carroll, which finished 2-8 has two future Division I-A lineman in Jeremiah Attaochu and Nate Clark. The Falcons have at least 10 players that will be playing football on Saturdays next season and already have one of the nations top recruits for 2011 in Vincent Croce.
THE ARGUMENTS AGAINST
The argument for Good Counsel can also be made against it. While the Falcons faced more Division I-A talent, the schedule was not that tough. Mount St. Joseph was ranked at the time, but finished the season 2-8. In fact, Good Counsel played three teams that ended their seasons with only two wins. While Linganore faced seven straight playoff teams, the Falcons toughest road was its first three games against Valhalla, Mount St. Joseph and Gilman, which boasted a combined final record of 17-14.
Linganore never faced a Top 25 team in the regular season. While Thomas Johnson and Urbana were ranked at one point during the season both teams had fallen from the rankings by the time Linganore faced them. While the Lancers faced several ranked football teams in the postseason, the level of Division I-A talent is not close to what the Falcons saw during their season. Maybe the most compelling argument against the Lancers is that Good Counsel defeated the No. 1 team. If DeMatha had won it would have been the No. 1 team and there would be no debate. With Good Counsel defeating No. 1 it can claim they beat the best team in Maryland.
SAVE THE DATE
Both Good Counsel and Linganore had championship seasons and both have compelling arguments for the final No. 1 ranking in the MDVarsity.com High School Football Media State Poll, but only one will lay claim.
The final rankings will be released on Tuesday Dec. 8 at 1 p.m.
ESPNRise encourages comments from its users. Leave a comment below. Mike Loveday covers high school sports for ESPNRISE.com. Mike can be reached at Michael.Loveday@espn.com
FOOTBALL RANKINGS

Rank
School (City, State)
Rec
1
Don Bosco
Ramsey, NJ
11-0
2
Armwood
Seffner, FL
15-0
3
Trinity For Boys
Louisville, KY
14-0
4
Grayson
Loganville, GA
15-0
5
Good Counsel
Olney, MD
13-0
See the full football rankings »