Commentary
Kay beats cancer to return to football
Updated:
December 8, 2009, 1:18 PM ET
By
Jared Zwerling
| ESPN RISE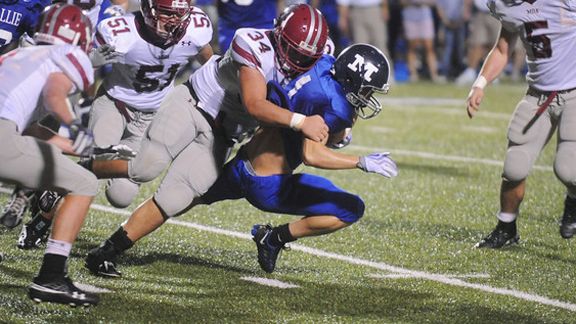 Elaine KayAfter regaining his strength, James Kay has become the second-leading tackler for Montgomery Bell Academy (Nashville, Tenn.).
One day in February of 2005, an 11-year-old James Kay started feeling a sharp pain in his left kidney.
"It felt like somebody was taking a knife and just stabbing me," says Kay, now a sophomore middle linebacker at Montgomery Bell Academy (Nashville, Tenn.). "I thought it was just cramping, but it continued for about 10 hours. I finally went to my mom and I was like, 'There's something wrong.'"
At first, his family thought he was passing kidney stones, but to be sure he got a CT scan. That's when the shocking diagnosis was made -- Kay had a deadly tumor in his kidney, a form of Ewing's sarcoma.
"It's very rare," says Dr. Allyson Ocean, medical oncologist at the Weill Cornell Medical College. "It usually occurs in the bone. Fortunately, most cancers that are caught early in kids are curable."
'Don't Give Up'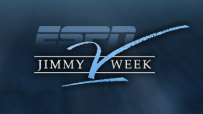 Jim Valvano had a deep love for sports and a passion for life. During Jimmy V Week, ESPN RISE highlights those who epitomize the late coach's fighting spirit. For more on Jimmy V Week, click here.
• Dec. 2: Perseverance served
• Dec. 3: No quit in this coach
• Dec. 4: Like mother, like son
• Dec. 5: 'Something to prove'
• Dec. 6: Tucker's Team
• Dec. 7: Pitch for the Cure
• Dec. 8: The fight must go on
Throughout Jimmy V Week, ESPN hopes to raise funds and awareness about this very important cause championed by our dear friend, Jim Valvano. 100 percent of all cash donations goes directly to cancer research. Click here to donate or call 1-800-4JimmyV to make a donation.
Just two weeks after the discovery, Kay had surgery to remove the tumor and began chemotherapy. Doctors considered two years of treatment, but they shortened it to 10 months to see how Kay's body would react. It didn't come easy. Kay threw up almost 10 times a day, and he was forced to lay down for about a week after each treatment. He couldn't even go to school or play his favorite sports: football, baseball and basketball.
But after 15 chemo treatments and 30 radiation sessions, there were positive signs. Kay's bright attitude sure helped.
"The mental part wasn't that bad because I was always looking forward to it being over," says Kay, who read Lance Armstrong's autobiography for inspiration during his recovery. "It was rough my fifth-grade year, but I kept up with classes as much as I could."
Kay vividly recollects his lowest moment.
"It was the day after I finished my last chemo," he says. "I was pretty much dead tired and I got a really, really high fever. I was lying on the couch and I was just sweating. My school actually played a football game that night. I wanted to go because that's where all my friends were going, but I couldn't. I remember going outside and puking up pure red. I assumed it was blood."
Kay returned to the classroom as a sixth-grader and joined the junior high football team the next year. Since then, he's worn a protective pad over his right kidney and has had to constantly drink water to stay hydrated. If his healthy kidney ever had to be removed because of complications, he would have to go on dialysis.
Kay regained his strength quickly by working with personal trainer Matt Poe, who played football at Tennessee. Kay also had his father, former Auburn linebacker Jim, to thank.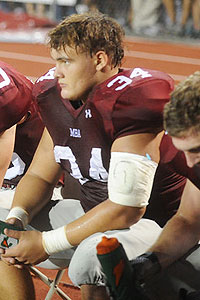 Elaine KayNow recovered, Kay's coach compares his style of play to All-Pro Ray Lewis.
Kay, now 5-foot-11 and up to 215 pounds, has recovered well enough that he's turning heads all around Tennessee. MBA coach Daniel McGugin says Kay reminds him of All-Pro linebacker Ray Lewis for his aggressive, high-motor style of play.
"Some opponents are just flat-out afraid of him," McGugin says. "He plays so violent and reckless in a good way. We put him in on offense sometimes just to create a physical-type presence. Some fullback and receiver and some wing-type stuff for blocking. He bludgeons people."
Last week, Kay led MBA (9-5) to the Division II-AA title game, where it lost to ESPN RISE FAB 50 squad Memphis University School (Memphis, Nev.), 27-17.
Kay finished the season as the team's second-leading tackler (76), but not without a setback -- he separated his right shoulder.
Tackles aside, Kay may have made his biggest difference off the field. He was named the Junior Honorary Chair for Eve of Janus, Nashville's major fundraising event that benefits Vanderbilt's children's hospital. As part of that honor, he gave a five-minute speech.
While telling his story, Kay says that he sometimes thinks about the what if's, but he forgets them once he puts on his football pads.
"I just figure you can only live once, so you might as well take advantage of it," says Kay, who wants to be a doctor. "If you really love something, pursue it with everything you've got."
FOOTBALL RANKINGS

Rank
School (City, State)
Rec
1
Don Bosco
Ramsey, NJ
11-0
2
Armwood
Seffner, FL
15-0
3
Trinity For Boys
Louisville, KY
14-0
4
Grayson
Loganville, GA
15-0
5
Good Counsel
Olney, MD
13-0
See the full football rankings »