Commentary
Peterson carries day on All-Decade team
Updated:
December 28, 2009, 6:15 PM ET
By
Doug Huff
and
Mark Tennis
| ESPN RISE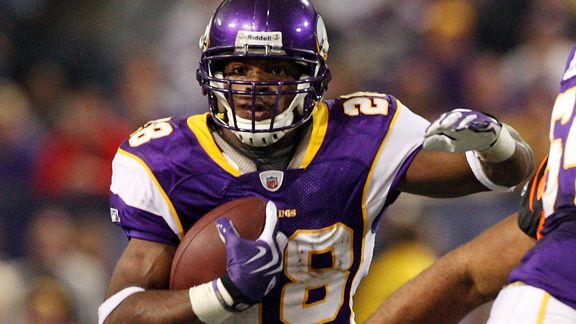 Jim McIsaac/Getty ImagesA career of sustained excellence has carried Adrian Peterson to our football player of the decade honor.
THE SCHEDULE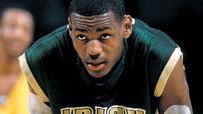 Over the past six weeks, ESPN RISE named its All-Decade All-America teams for the following high school sports:
•
Nov. 24:
Baseball
•
Nov. 25:
Softball
•
Dec. 1:
Boys' basketball
•
Dec. 2:
Girls' basketball
•
Dec. 8:
Boys' soccer
•
Dec. 9:
Girls' soccer
•
Dec. 15:
Boys' cross country
•
Dec. 16:
Girls' cross country
•
Dec. 22:
Boys' track & field
•
Dec. 23:
Girls' track & field
•
Dec. 28:
Football: Offense
|
Defense
In a decade filled with multi-purpose athletes running up big offensive numbers in the spread offense and Wildcat formation, ESPN RISE has turned to an old-school running back as best of the past decade.
Adrian Peterson, who led the NFL with 1,760 rushing yards last season (his second in the league), gets the call despite eye-opening statistics posted by numerous other players in each of the last 10 years.
The 6-foot-2, 210-pounder was no slouch in running up numbers at Palestine High in football-fertile Texas before taking his talents to the University of Oklahoma. Peterson averaged more than 200 yards per game his last two seasons in going for 4,360 yards and 53 touchdowns. As a senior, the All-American ran for 2,313 yards and 32 scores in 11 games.
Those numbers may not be records, but Peterson's consistent production beyond high school adds to his resume. "All Day" ran for 4,057 yards and 41 scores in three seasons at Oklahoma. The Minnesota Vikings took him seventh overall in the 2007 draft, and he's risen his game since.
Peterson ran for 1,341 yards as a rookie and has surpassed 1,200 yards this season. Playing in the same backfield with veteran quarterback Brett Favre, Peterson has dramatically increased his receiving totals as well.
SPONSORED HEADLINES
ESPN TOP HEADLINES
MOST SENT STORIES ON ESPN.COM
FOOTBALL RANKINGS

Rank
School (City, State)
Rec
1
Don Bosco
Ramsey, NJ
11-0
2
Armwood
Seffner, FL
15-0
3
Trinity For Boys
Louisville, KY
14-0
4
Grayson
Loganville, GA
15-0
5
Good Counsel
Olney, MD
13-0
See the full football rankings »