Commentary
Here's the kicker: These guys are good
Updated:
January 4, 2010, 12:11 PM ET
By
Jon Mahoney
| ESPN RISE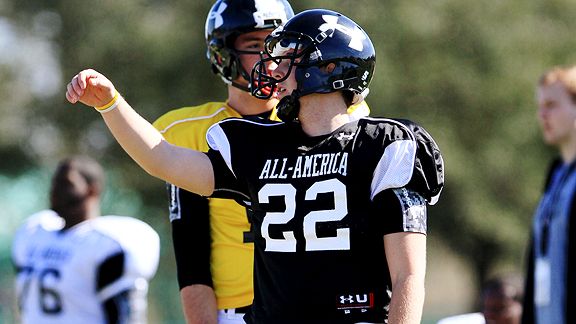 Davide DePas/ESPN.comHow good is Legacy (Broomfield, Colo.) senior Kip Smith? Good enough to hit from 67 yards this season.
They're the guys who get the least amount of attention on the football field -- unless something goes wrong. When college fans look at what commitments their favorite teams have landed, they obsess over skill-position players and hardly look at these guys. Don't kickers walk on, anyway?
Seniors Cody Parkey of Jupiter (Jupiter, Fla.) and Kip Smith of Legacy (Broomfield, Colo.) know what it's like to feel like an afterthought.
Both are tremendous talents -- Parkey is rated the nation's No. 1 kicker in the ESPNU 150 and has committed to Auburn, while Smith is No. 2 at the position and has pledged to UCLA. But when they take part in the third annual Under Armour All-America High School Football Game on Saturday (11 a.m. ET on ESPN), they know fans aren't exactly rushing to watch them play.
"I'm sure we're at the bottom of the totem pole," Parkey says. "But we're still part of the team and part of the game. We get to take part in everything everyone else does."
If the national audience pays close attention to Parkey and Smith, they'll get to witness two kids with incredible leg strength who one day may have a say on national titles. Perhaps even Super Bowls.
Even though they're typically overlooked, placekickers actually serve one of the most important roles in football. For starters, booming kickoffs help set up field position, which is always crucial in tight games. And of course, if a team finds a kicker who can boot game-winning kicks under intense pressure, it has a resource other teams envy.
Sure, Tom Brady won three Super Bowls, but it was Adam Vinatieri who kicked the game-winner in all three games. More recently, Texas senior Hunter Lawrence's 46-yarder in this season's Big 12 championship game allowed the Longhorns to clinch a berth in the BCS title game.
Parkey and Smith could be next in line.
Before Parkey committed to Auburn, he shared kicking duties with his older brother, Doug, as a freshman at Jupiter. The Parkey brothers were helping the Warriors replace Matt Bosher, who's now a star at Miami and was the nation's No. 4 kicker his senior year in high school.
Jupiter coach Charlie Persson knew he had another star on his hands when the younger Parkey nailed a kick through the uprights on a kickoff during practice.
"When I saw that, I knew I had a replacement for Bosher," says Persson, who in 28 years as head coach has had seven kickers earn Division I scholarships.
Since first impressing his coach, Parkey has developed into the nation's best at his position. Before his senior year, he shined at the prestigious Chris Sailer and Kohl's kicking camps (as did Smith). And this fall, Parkey earned the Lou Groza Award as Palm Beach County's top kicker after connecting on 11-of-14 field goals and 9-of-10 extra points while only having three kickoffs returned. Parkey's longest field goal this season was a 47-yarder (he kicked a 55-yarder as a junior).
Smith is also no stranger to kicking long field goals. After Legacy made a fair catch at its 43 near end of the first half in a September game against Mountain Range (Westminster, Colo.), the team called a timeout in order to set up a free kick. Smith took advantage of the tee allowed in free kicks and blasted a 67-yard field goal, which broke the state record of 64 yards and was one yard shy of tying the national record.
"It was one of those perfect kicks that just exploded off his foot," says coach Wayne Voorhees.
Smith connected on 8-of-12 field goals and 25-of-25 extra points on the season. He also served as the team's punter, connecting on a season-best 81-yarder.
Despite all that success, Smith hasn't simply been overlooked -- he's been doubted, too. Many people have questioned his success, wondering how much his kicks have benefited from Colorado's thin air.
"Nobody believes your halfway decent because of the altitude," he says.
But after proving himself at national competitions away from the comfort of his home state, colleges began to realize his talent was legit. Minnesota was the first school to offer him last summer and he committed to the Golden Gophers before switching his pledge to UCLA in the fall.
With their high school careers behind them, Smith and Parkey are eager to show off their abilities on a national stage at the Under Armour Game, where they'll also handle punting duties.
"I think they'll be surprised by us," Parkey says.
They'll maybe even pay attention.
ESPNHS.com
SPONSORED HEADLINES
ESPN TOP HEADLINES
MOST SENT STORIES ON ESPN.COM
FOOTBALL RANKINGS

Rank
School (City, State)
Rec
1
Don Bosco
Ramsey, NJ
11-0
2
Armwood
Seffner, FL
15-0
3
Trinity For Boys
Louisville, KY
14-0
4
Grayson
Loganville, GA
15-0
5
Good Counsel
Olney, MD
13-0
See the full football rankings »