Commentary
Bella Swan vs. Bella Swan
Updated:
February 29, 2012, 12:14 PM ET
By
Alison Overholt
| ESPNHS Girl Magazine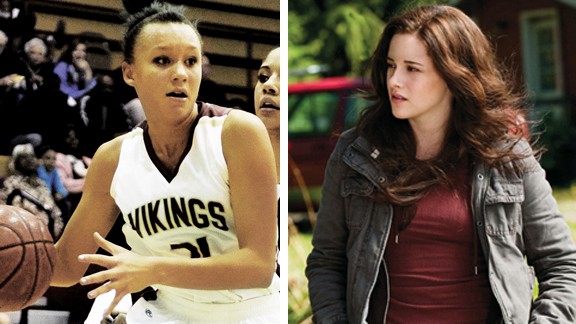 Jen Barnett and Kimberly French Unlike her often klutzy movie counterpart, the real Bella Swan (left) is a multi-sport athlete at Viewmont (Bountiful, Utah).
"The Twilight Saga: Breaking Dawn Part I" hits theaters this weekend and, like pretty much every girl on the planet, we wonder what it's like to be Bella Swan.
So we found her. The real Bella Swan, that is, who just happens to be a star hoops player at Viewmont (Bountiful, Utah), just outside Salt Lake City.
So how does her life stack up against everyone's favorite girl from Forks?
Twilight Zone
Real-life Bella
Vs.
"Twilight" Bella
Her full name is Isabella Rose Swan. "I was named after the actress Isabella Rossalini," she says.
Name Game
Isabella Marie Swan. Author Stephenie Meyer gave her the name she wanted for her own daughter, if she'd had one.
Age 17, senior. Real Bella stands tall at 5-foot-10 -- a great vantage point for playing every position on the floor but point guard for her hoops team. "Shooting guard is my favorite," she says.
Vital statistics
Twi-Bella is a 17-year-old junior when the saga starts, but she's 18, graduated and about to marry Edward in this fall's installment. Meyer imagined Bella to be about 5-foot-4, with pale skin and long, straight dark hair.
A killer jump shot.
Power
Ability to shield others with her mind.
Real Bella's a three-sport athlete (basketball, track, soccer). Last year she was her hoops team's second-leading scorer, averaging 12 points per game, and her 4x400 relay team won state.
Triple Threat
Baby vampire strength, a wolf best friend and an overprotective husband with mind-reading powers are movie Bella's threepronged toolkit.
"Sophomore year I didn't play a lot of varsity. But we were playing our rival, and we were down by 1. They put me in. I went up and got fouled, then made my two free throws. We won -- by one point!"
Big Win
With their lives on the line, Bella and the Cullens will face down the Volturi in "Breaking Dawn." We won't give away her big moves, but we'll say this: even klutzy Bella can be trained to win!
Real Bella opted for a coral pink dress and a pair of brown sandals. Her date was a junior named Chris.
Prom Picks
She wore Converse to her prom -- with a cast on her leg, of course. Her date? Edward Cullen.
"Jacob. He's hotter than Edward! No, seriously, he seems more relaxed and chill about everything. Edward's just uptight and scary."
Team Edward Or Team Jacob?
It was always Edward for movie Bella -- right down to the vampire wedding, creepy honeymoon and hybrid baby. Wait, we're ruining the movie!
SPONSORED HEADLINES
ESPN TOP HEADLINES
MOST SENT STORIES ON ESPN.COM