2012 Women's College Basketball Team Recruiting Rankings
Late Surge
Last Updated: 07/05/2012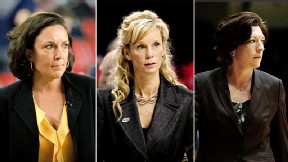 The late signing period in women's basketball is never the spectacle that it is on the men's side. But this season was more active than we've seen in some time, even with the top eight spots remaining the same.

Three programs made considerable noise and made moves up the 2012 signing class rankings this spring - Georgia Tech, Miami and Michigan State.

MaChelle Joseph and her Yellow Jackets program added three players to a class that was ranked 11th in the fall, and the program moved into the top 10 with a seven-player class. The biggest splash for Georgia Tech came in the paint with the signing of No. 67 Je Zhe Newton of Chandler, Ariz., and four-star post Nariah Taylor of Indianapolis, Ind., who originally signed with Auburn but was released following the departure of Nell Fortner.

Miami made the biggest jump, from No. 44 in the fall to the top 20 in the final class rankings, by adding two players in the top 50 of the ESPN HoopGurlz 100 - No. 37 Macy Keen of Tamarac, Fla., and No. 47 Caprice Dennis of Detroit, Mich. The additions give Katie Meier and the Hurricanes staff three prospects ranked in the top 70 nationally.

Michigan State added one of the most explosive athletes in the class late, keeping Detroit's Aerial Powers, No. 99 in the class. By keeping two of their state's top players home, Suzy Merchant and her staff moved up 11 spots in the final class rankings.
Click on team logo for analysis.