2012 Women's College Basketball Team Recruiting Rankings
2
Texas A&M
Commits:6ESPNU HoopGurlz 100 Commits:6Top Prospect:G/F Courtney Williams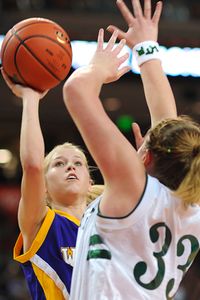 Peyton Little of Abilene, Texas.
(
ESPN HoopGurlz
)
The Aggies are set to sign six players, all of whom are ranked in the ESPNU HoopGurlz 100. What separates this haul from Cal's 2009 crop of seven top 100 prospects, is the two 5-star prospects that headline it. Courtney Williams, a 6-foot-1 wing from Houston, and Jordan Jones, a 5-6 point guard from DeSoto, Texas, put this class up with Connecticut as the only programs with multiple players rated with five stars.

This group sets up the 2011 NCAA national champion's backcourt with depth and versatility. Jones, ranked 14th in the class, is not the only point guard in the class as she is joined by Curtyce Knox of Humble, Texas, ranked 72nd. Gary Blair can also get minutes from No. 29 Peyton Little of Abilene, Texas, at the point, in addition to using her shooting abilities on the wing. Plus the team has freshman point Alexia Standish, a top 100 prospect from the 2011 class.

No. 31 Courtney Walker of Oklahoma City and No. 45 Chelsea Jennings of Forth Worth, Texas, bring ample athleticism to the perimeter with a knack for making plays on defense.

Williams, ranked 9th in the class, is a coach's dream, as she can effectively play either wing position but with her length, athleticism and build, she may prove to be one of the hardest matchups in the country at the forward position, where she played a lot of minutes this summer.

This recruiting class will have the benefit of one of the most imposing frontcourts in the country when these six prospects hit College Station. These six will have two years with Kelsey Bone, the 6-4 post who was ranked No. 2 in the 2009 class and sat out last season after transferring from South Carolina, and Karla Gilbert, a 6-5 post who was No. 9 in 2010, and three years with current freshman Rachel Mitchell, a 6-7 post ranked 41st in 2011, who will have three years remaining.

Needless to say, the National Championship season helped turbo-charge a fantastic class.
Recruit Tracker: View full class