2012 Women's College Basketball Team Recruiting Rankings
20
Colorado
Commits:3ESPNU HoopGurlz 100 Commits:2Top Prospect:F Jamee Swan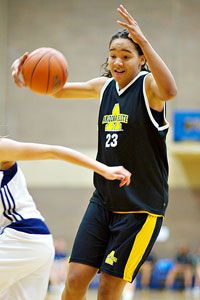 Jamee Swan of Tuscon, Ariz.
(
ESPN HoopGurlz
)
The top priority for most programs is to keep the best in-state talent home. Colorado, under second-year coach Linda Lappe, was successful there by securing a commitment from Lauren Huggins of Littleton, Colo., the top ranked player in the state.

What pushes this Buffalo class into the top 20 is the top prospect in Arizona. Jamee Swan of Tuscon, Ariz., is ranked 38th in the class and gives CU a versatile forward with elite athleticism.

Both Huggins and Swan, at 6 feet 1 and 6-2, respectively, bring length to the floor and their offensive skillsets complement each other well. Huggins has deep range while Swan has great touch and lift to score in the paint. Joining this pair is 5-7 guard Kyleesha Weston of Kansas City, Mo.
Recruit Tracker: View full class