2012 Women's College Basketball Team Recruiting Rankings
10
Baylor
Commits:4ESPNU HoopGurlz 100 Commits:3Top Prospect:G Niya Johnson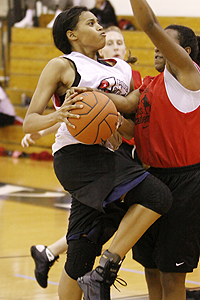 Destiny Brown of Monroeville, Pa.
(
ESPN.com
)
The Bears now have four prospects tabbed for 2012 with the Nov. 1 commitment of combo guard Niya Johnson of Gainsville, Fla., the No. 43 player in the 2012 class. Previously Baylor secured three verbals -- No. 44 Chardonae Fuqua of Birmingham, Ala., a 6-0 forward; No. 56 Kristina Higgins of El Paso, Texas; and four-star guard Destiny Brown of Monroeville, Pa.

Higgins is a 6-4 post who will bolster the frontcourt. Fuqua brings tremendous athleticism and upside, while Higgins has the size and hands to be a consistent scorer in the Big 12. Brown brings a lot of the skills the Bears found so valuable from Melissa Jones. She can play several positions, brings some ball handling, but most intriguing is her range.

Baylor's 2012 recruiting haul is holding strong in the top 10.
Recruit Tracker: View full class