2012 Women's College Basketball Team Recruiting Rankings
8
Georgia Tech
Commits:4ESPNU HoopGurlz 100 Commits:3Top Prospect:W Aaliyah Whiteside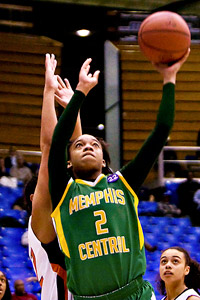 Aaliyah Whiteside of Memphis, Tenn.
(
ESPN HoopGurlz
)
With the recent addition of 6-foot wing-guard Breanna McDonald of Lithonia, Ga., the No. 42 prospect in the class, the Yellow Jackets make the biggest jump in the rankings in the month of October, up eight spots. But she's not the only elite wing in this class, or even the highest ranked. No. 23 Aaliyah Whiteside of Memphis, Tenn., is also heading to Georgia Tech.

Coach MaChelle Joesph also reached down into the Sunshine State to pick up No. 55 Brittany Jackson of Sebastian, Fla., who is a strong kid with a knack for scoring the basketball. Jackson is the kind of guard that will fit perfectly in Tech's system as she can play both guard spots effectively. Also in the backcourt is Kymberly Ellison of Columbus, Ga., a three-star prospect and a pass-first point guard.
Recruit Tracker: View full class