2012 Women's College Basketball Team Recruiting Rankings
3
Rutgers
Commits:4ESPNU HoopGurlz 100 Commits:4Top Prospect:P Rachel Hollivay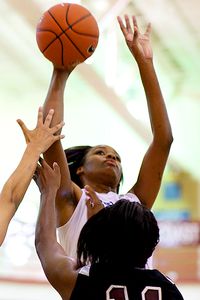 Rachel Hollivay of Columbus, Miss.
(
ESPN HoopGurlz
)
After a busy November, Rutgers saw no changes in the spring. But the mid-November extravaganza brought the Scarlet Knights No. 9 Rachel Hollivay of Columbus, Miss.; No. 18 Kahleah Copper of Philadelphia, Pa., and No. 77 Ariel Butts of Columbus, Ga. That brought plenty of company -- and length -- to Rutgers' only early commitment, No. 70 Precious Person of Rex, Ga. This group adds thunder to the abundance of lightning that graced Rutgers' 2011 signing class of No. 6 Briyona Canty, No. 11 Betnijah Laney, No. 18 Shakena Richardson, No. 51 Syessence Davis and three-star post Christa Evans.

Together, the two classes offer speed, depth, length, creativity, shooting, inside punch and defensive deterrence -- a recipe for national-championship contention.

The 6-foot-4 Hollivay is the centerpiece, so to speak, of the 2012 class. Until she damaged her vision in an automobile accident, she was in the discussion at the upper echelon of the 2012 class. Though she isn't as skilled and versatile as No. 1 Breanna Stewart of North Syracuse, N.Y., Hollivay is faster, more explosive and quicker off the floor. The vision issues impact her most at the offensive end but, with the firepower amassed around her, that may not be much of a liability. Copper, who is 6-1, is an athletic slasher with an improving mid-range game who could turn out to be the team's alpha player on offense. Butts is 6-3 and has the college-ready body to do the heavy lifting inside, freeing Hollivay to act as a basketball free safety on defense. Person is another 6-1 greyhound who can break defenders down off the bounce and launch from the outer limits.
Recruit Tracker: View full class