2012 Women's College Basketball Team Recruiting Rankings
8
Baylor
Commits:5ESPNU HoopGurlz 100 Commits:4Top Prospect:W Alexis Prince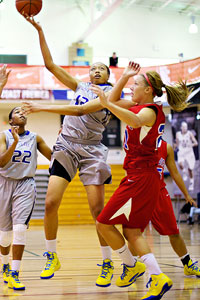 Alexis Prince of Maitland, Fla.
(
ESPN HoopGurlz
)
How good this class turns out to be is distinctly on the shoulders of Alexis Prince, the No. 16 prospect from Maitland, Fla., whose wont is to dip a toe into the pool of stardom. When roused, there may not be a more effective scorer in the class. At 6-feet-2, Prince has the frame, fluidity and leverage to launch jumpers from anywhere on the court with the greatest of ease. While she won't break down defenders much off the dribble, she can put her back to the basket and use power bounces to outmaneuver interior defenders. The key will be preventing Prince from ever retreating into her shell.

Prince's club teammate, No. 43 Niya Johnson of Gainsville, Fla., also is at her best when in aggressive mode, a dervish both with the ball and against it on defense. No. 44 Chardonae Fuqua of Birmingham, Ala., is a 6-foot forward with gigantic athleticism and upside; No. 57 Kristina Higgins of El Paso, Texas, has size at 6-4 and great hands to go with it, and four-star guard Destiny Brown of Monroeville, Pa., can play several positions, brings some ballhandling, but most intriguing is her range.

The Bears are national contenders with otherworldly post Brittney Griner; this class begins to address the void that will be left when she goes on to conquer the WNBA.
Recruit Tracker: View full class