2012 Women's College Basketball Team Recruiting Rankings
1
Connecticut
Commits:3ESPNU HoopGurlz 100 Commits:3Top Prospect:F Breanna Stewart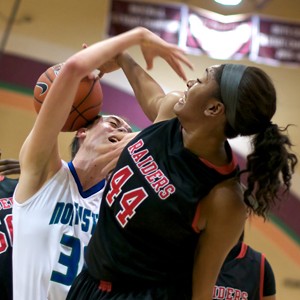 Morgan Tuck of Bolingrook,Ill.
(
ESPN HoopGurlz
)
If almost any other program in the country were rolling with the No. 1 prospect in the class, fanatical euphoria would be worthy of a movie, especially when the player is Breanna Stewart, the 6-foot-3 forward from North Syracuse, N.Y. But alas, Connecticut has come to expect these types of things in recruiting. The coaching staff and its fans are far from indifferent, and even the most entitled of Husky Nation have to get the March Madness sensation when their beloved program signs the top two players in the class.

Taking one of the most skilled frontcourt players in recent memory and teaming her with an electric point guard like Moriah Jefferson should easily elevate already sky-high expectations for UConn. Jefferson, a 5-7 home-schooled baller out of Glenn Heights, Texas, will team in the backcourt with Bria Hartley, who has more than proved her worth, for two years. The exciting thing about this potential tandem is that both can play on or off the ball and create offense.

The only spring change for the Huskies was the elevation in ranking of Morgan Tuck, the 6-2 forward from Bolingbrook, Ill. But when you already are No. 1, there's no adjustment to be made. The rich get richer... again.
Recruit Tracker: View full class