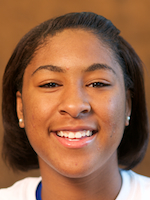 Chadarryl Clay
Point Guard
CLASS: 2012
Chattanooga, TN

Hometown

Girls Preparatory School

High School
79

Overall Rank

13

Position Rank
ESPN Player Evaluations
EBA All American Camp-Sept. 11: So quiet off the court but a game that speaks loudly on the floor. In a setting with several other point guards she's grown up playing with, she refused to backdown or allow someone's great play to go unannounced. She is showing improvement in finishing shots. She's long been able to create separation to take shots, but with them falling at a higher rate, she's becoming the player Auburn needs her to be, a real lead guard. She is strong and though not the best athlete in the class, she is explosive within the space she needs to be. (Hansen)

EBA Super 64 Camp - June 11: Nice handle, can create space and leave defenders in their tracks. Has a tendency to use multiple counters when she only needs one. Good build and frame, right hand dominant. Battled back and forth with Jasmine Jenkins (GA-12). Likes to attack the lane off the bounce to kick. Will also finish in traffic, has to improve the range on her jumper. (Clay)

Spring Showdown-April 11: Even though the Georgia Ice gave the Georgia Elite the cold shoulder, Clay, a 5-7 point guard, simply put on a show. Clay nullified any and all traps or presses the Ice threw at her. She masterfully weaved through and around opponents by going behind the back, between her legs... Click here for the full evaluation and tip sheet.
Notes
Club Team: Georgia Elite

Averaged 17.2 points, 5.4 assists and 3.1 steals as a sophomore, 2010.