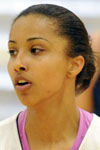 Boogie Brozoski
Point Guard
CLASS: 2015
Brookville, NY

Hometown

Long Island Lutheran

High School
—

Overall Rank

17

Position Rank
Considering
No schools available.
ESPN Player Evaluations
USJN-July 2013: Tough, competitive floor-leader handles and attacks with swagger; penetrates and distributes in traffic; elevates on mid range jumper to the arc; assuming leadership role. (Olson)

The Mecca-Feb. '12: Her confidence as a freshman is striking. She makes you forget that she is on the small side. She is not slight, but loses her balance, which is an indication of missing strength. A very solid shooter off the dribble or stationary. A clever passer and ballhandler. (Nelson)

June 8, 2012: Brozoski is the prototypical New York City point guard. In New York, the point guard position is an institution, and there is a certain approach to playing the game and running a team that every New York City point guard seems to have. Brozoski has it. She is good off the bounce and has the ability to get into the lane and force defenses to send second and third defenders her way. Her ability to handle the ball and release pressure was on full display as she helped her team advance all the way to the finals. Brozoski has the ability to make some noise as a prospect if she continues to play like she did at the Showcase. (Moore)
Notes
Notes are not available.