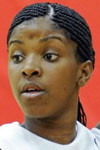 Krystaline McCune
Post
CLASS: 2016
Louisville, KY

Hometown

DuPont Manual

High School
9

Overall Rank

1

Position Rank
Considering
No schools available.
ESPN Player Evaluations
Boo Williams Invitational-April 2014: Quick and agile power performer in the key; explosive 1st-step attacks rim in mid post game; pound glass; superb in transition; defends the key. (Olson)

Battle-in-the-'Boro-July 2013: True low-post presence with superb timing, shot-blocking ability; roams the lane, defends the block; emerging interior efficiency with superb mobility; next-level impact. (Olson)
Notes
Notes are not available.