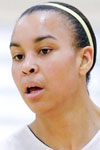 Stephanie Jones
Forward
CLASS: 2016
Havre De Grace, MD

Hometown

Aberdeen

High School
18

Overall Rank

5

Position Rank
Considering
No schools available.
ESPN Player Evaluations
Boo Williams Invitational-April 2014: Versatile forward with superior size on perimeter handles, finds rim in uptempo; soft touch on jumper with emerging offensive game to the arc; size and mobility, versatile defender. (Olson)

Nike Nationals-July 2013: Efficient finesse insider finishes in traffic; soft touch with emerging mid-range consistency; versatile defender to the arc; outstanding mobility in uptempo game. (Olson)
Notes
Notes are not available.