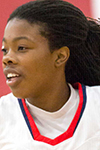 Kelsey Marshall
Guard
CLASS: 2017
Fort Lauderdale, FL

Hometown

Country Day School

High School
—

Overall Rank

6

Position Rank
Considering
No schools available.
ESPN Player Evaluations
FHSAA State Tourney-March 2015: Versatile on the perimeter, physical off the dribble; uptempo contributor, finishes with consistency on the break; stretches the defense to the arc. (Olson)

Naples Holiday Shootout-December 2014: Strong, athletic off-guard with a scorer's mentality; drives, delivers in traffic; stationary threat at the arc. (Olson)
Notes
Notes are not available.