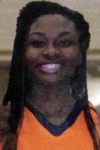 Dana Evans
Point Guard
CLASS: 2017
Gary, IN

Hometown

West Side

High School
7

Overall Rank

2

Position Rank
Considering
No schools available.
ESPN Player Evaluations
Boo Williams Invitational-April 2016: Dynamic floor-leader with a scorer's mentality; tough to contain, manufactures, scores in bunches, dictates tempo; superb off the dribble, interior passer; leadership in the back court; an elite guard in the class of 2017. (Olson)

Nike Nationals-July 2015: Explosively athletic floor-leader with confident swagger; lock-down defender dictates tempo, superb in uptempo game; 1 on 1 creator breaks down defender, interior passer; among the elite point-guards in the 2017 class. (Olson)

Nike Midwest Showdown-May 2015: Jet-quick, athletic lead-guard handles, breaks down defender, finishes in traffic; interior passer, playmaker; disruptive defender. (Olson)

April 2014: Athletic lead guard handles and attacks, distributes in uptempo; court awareness, reads spacing, penetrates and dishes in traffic; triple-threat creator to the arc, tough to contain off the dribble. (Olson)

March 2013: Jet-quick, athletic floor leader with explosive uptempo game; reads passing lanes, anticipates and converts in transition; facilitator with a scorer's mentality, elevates in mid-range game to the arc. (Olson)
Notes
IBCA Supreme Underclass All-State in 2015, 2016.