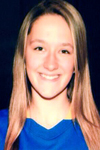 Karissa McLaughlin
Point Guard
CLASS: 2017
Fort Wayne, IN

Hometown

Homestead

High School
—

Overall Rank

16

Position Rank
Considering
No schools available.
ESPN Player Evaluations
January 2015: Confident floor-leader with a scorer's mentality; smooth stroke on midrange game extends to the arc; handles, reads pressure, decision-maker; superb guard skills. (Olson)

Mid-America Challenge-May 2014: Fundamental floor game handles and distributes in half-court set; triple-threat attack to the arc with smooth release point; interior passer, game manager. (Olson)
Notes
Notes are not available.