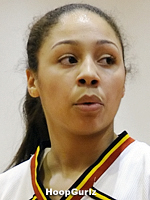 Doris Ortega
Guard
CLASS: 2010
New York, NY

Hometown

Murray Bergtraum

High School
—

Overall Rank

48

Position Rank
Considering
No schools available.
ESPN Player Evaluations
Boo Williams-April 09: Can definitely can play and has great court sense but without the ball in her hands sometimes loses focus.

Kennedy Classic: It's not hard to imagine Doris Ortega being very near the top of her class' rankings. She is a very sturdy, long and athletic 5-10 and about as clever as they come. With the ball, the Murry Bergtraum guard can pull up with the best of them, or makes impossible-to-diagram, acrobatic shots, often earning and-one opportunities, off the dribble. Ortega also maintains good sightlines, sees plays a couple sequences in advance, initiates them with a proper move and executes them, many times with aplomb. Those kind of plays, as well as the derring-do forays into the painted area seem out of kilter with a player who also often does not offer the kind of sense of urgency a coach would like, especially for a wing player. One frequently is left with the sense that the only thing holding Ortega back from greatness is her own inner dialogue.
Notes
Club Team: New Heights