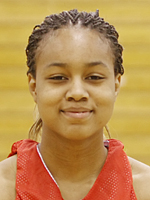 Maleeka Kynard
Point Guard
CLASS: 2011
Toledo, OH

Hometown

Start

High School
—

Overall Rank

41

Position Rank
ESPN Player Evaluations
Classic in the Country-Jan. 11: Kynard continues to advance her game in almost every aspect. However this event wasn't one of her better outings shooting the ball. Finishing a combined 7 for 31 from the field she struggled to find the range both nights. She can create opportunities at will and in the past has demonstrated a good touch from long range. She plays hard tip to buzzer and is looking to push and attack from makes, misses and turnovers. Defensively she quick and harassing on the ball and anticipates well from the weakside. (Lewis)

USJN DC-July 10: Really looking more and more comfortable and playing at a pace that will allow her to excel at the next level. Making good decisions with the ball in her hands while still being a legitimate scorer in her own right. In DC her on ball defensive presence was instrumental in forcing early entries and slowing opponents transition. (Lewis)

Battle in the Boro-July 10: Kynard is another player enjoying a step forward this summer with a significant advancement in the maturity of her game. Her quickness and attack have always been a threat but now her decision making and command of the floor are becoming more evident. She demonstrated some versatility as well playing some off guard and scoring effectively on the drive and jumper. Defensively she can overplay ballhandlers and recover time and again and has the hands to take it off carless opponents. Effort has never been an issue and still sets a standard. (Lewis)

Braggin' Rights-Dec. 09: Her quickness and attacking approach to the game get her into the paint time and again. She creates off the dribble both in transition and in the halfcourt. This time out she forced some shots in situations he normally has made better decisions. Her perimeter threat is still there and defenders have to close out tight. While she develops her own looks effectively, at this point she needs to become more effective at making the players around her more efficient in their game.

Classic in the Country: Maleeka Kynard is another one of those small explosive point guards that can penetrate almost at will. The 5-6 Toledo Start sparkplug has the quickness and ballhandling to create both shots and passes. She's at her best penetrating and pitching the ball where she shows good decision making and adept passing skills. Her jumper is effective as well which keeps defenders from backing off too far. Size is going to be a concern but being only a sophomore there's lots of time.

Nike Regional Skills-May 09: Recent Ohio State commit Maleeka Kynard has all the tools to be a solid point guard at the college level. She has a great first step, which makes her a legitimate breakdown player offensively. She keeps her eyes up and her head on a swivel in traffic. She is at her best collapsing the defense and finding open players. She crosses over low, doesn't waste a lot of motion or take extra dribbles for show -- which is refreshing. The 5-6 lead guard has adequate size for the position, but will need to add strength to deal with the more physical players at the next level.

Nike Skills May 08: Maleeka Kynard is a promising young point guard. She isn't the biggest player in the world, and she took advantage of her slender build to get into the seams of the defense. She showcased one of the more impressive pro-hop moves, which utilizes using a hard step and dribble into a long jump as she picks up her dribble to explode to a spot on the floor. This move is used a lot by players splitting double teams or trying to get by the defender before the help defense can react. Kynard averaged nearly 11 points per game in her freshman season.
Notes
Club Team: Michigan Crossover

State Champs, Michigan, 2006...