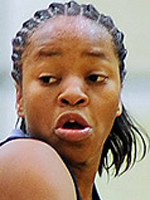 Shalethia Stringfield
Point Guard
CLASS: 2011
Jacksonville, FL

Hometown

Potters House Christian

High School
95

Overall Rank

19

Position Rank
ESPN Player Evaluations
AAU Orlando-July 10: We were told by one of the Rams' many defeated opponents that "they (Jacksonville Rams) may have some of the best guards in the country, but it's Springfield who makes them go." The 5-7 guard was all over the floor, literally, during the Rams championship game victory over Memphis Elite. One of the toughest guards you'll find in the class of 2011, Springfield sacrificed her body on several occasions pursuing loose balls and defensive rebounds. On the offensive side of the ledger, her passes cut through the Elite defense to find cutting teammates for easy lay-ins and open perimeter shots. Her ability to affect the game with passing and defense will keep her on the court, as any level. (Powell)

Turkey Jamm-Nov. 09: This past summer the Potter's House point guard seemed to be finding her game and coming into her own. This past weekend she continued to show the advancement and confidence that is taking her game to the next level. Surrounded by multiple scoring threats, she's demonstrating a balance between creating looks for her teammates and keeping defenders honest with her own offensive attack. Stringfield, 5-7, pushes the ball at every opportunity and makes sound decisions in most numbers situations. She seems to be extending her range and developing more consistency to her jumper to the dismay of opposing players. There even appears to have been some physical growth that should serve her well down the road.

Derby Classic-July 09: While not as heralded as some of the other ballers from Potter's House Christian, point guard Shalethia Stringfield is the motor that keeps her Lady Rams club team, comprised of primarily her high school teammates, going. The 5-8 guard is a blur with and without the basketball. She seems to tip a pass at least every other possession and if she gets a steal she uses her nitrous-boosted speed to get to the rim on the other end before the defense can react. Offensively, she is tough to defend because she mixes up scoring and dropping dimes to her teammates. While the listed height of 5-8 might be a stretch, she has the tools in her game to score off dribble penetration anyway. Unlike a lot of hyper-quick guards who play out of control, it is rare to see her off-balance. She is simply a fantastic playmaker.

Braggin' Rights Jan. 09: Small and slight but constantly attacking. She has good ballhandling skills but also cuts effectively off the ball. She defends aggressively on ball and in help side with great anticipation. Lots of potential. Combo-guard.
Notes
Club Team: South Florida Lady Jags