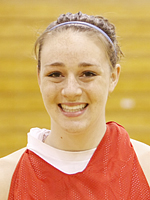 Natalie Cohlmeyer
Point Guard
CLASS: 2012
Evansville, IN

Hometown

Reitz Memorial

High School
—

Overall Rank

114

Position Rank
ESPN Player Evaluations
Midwest Showdown-May 11: Solid wing, good knock down shooter. Finished right and left hand around the basket. Lacks great lateral foot speed - has had two knee injuries. (Clay)

Nike RSA-May 09: Natalie Cohlmeyer of Evansville Memorial in Indiana already has a go-to move. The 5-9 shooting guard has mastered the art of the step-back jumper. When the instruction shifted to the footwork and mechanics of the move her confidence soared and it really gave her momentum going forward for both of Sunday's sessions. The step-back is traditionally a counter move, but for her it is utilized like a primary move, which means she'll need to develop a counter to it by exploding by defenders that commit to their closeouts when she creates that space. She has good footwork on the perimeter and seems to read the floor well when she faces up. Being a threat with the jab or taking that first step towards the defender in a more threatening manor should really complement her mid-range game. (Hansen)

USJN Oktoberfest-Oct. 08: One of the many intangibles coaches mention is "having a good feel for the game," and that's what Natalie Cohlmeyer of Evansville, Ind., brings to the table. The 5-9 wing has a good left hand, converts inside, is a good passer, can pump fake and step back, and do all the things that coaches like. Her ability to defend more athletic wings will be a key, but she's got all the tools to be a fine player.
Notes
Club Team: The Family

Freshman Year (2008-2009): started at point guard for Indiana's 7th ranked 3A team that finished 18-4. ... All Conferece selection scoring 325 points. ... Averated 14.8 points, 4.1 rebounds, 1.6 assists and 1.4 steals.

Academic Notes: Taking college prep courses.