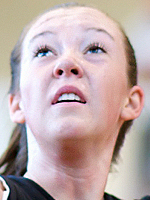 Eliza Normen
Wing
CLASS: 2011
Louisville, CO

Hometown

Monarch

High School
28

Overall Rank

5

Position Rank
ESPN Player Evaluations
End of the Trail-July 10: As the girls' game progresses, we are starting to see the kind of hybrid players the male game has known for years. Ranked No. 28 in the class by ESPN HoopGurlz, Normen may herald the combo guard-wing position, as she is 6-1 with the ability to play all three perimeter positions, though the point-guard spot will require more strength and polish for the next level. But this is evolution. The Arizona State commit has better-than-average handles and a nice passing touch from the wings and high post. She is very mobile for her height but Olive Oyl thin, begging for heaps more protein in her diet. In spite of that, Normen is not at all shy about mixing it up inside and should rebound well at whatever position she plays, as well as pose a threat on the offensive glass. She is a quick first step off the bounce and rises high on her shots, though she does not have a textbook, pull-up jumper, lifting too much at angles instead of straight up. This year's summer evaluation period also sees her being more assertive and showing more leadership skills on the floor. (Howe)

Chicago Fall-Oct. 09: Eliza Normen of the Colorado Rockies had the college folks lining up to watch each time she took the floor during the USJN events. The versatile 6-1 standout has the ability to play almost any spot on the perimeter. She may not be your point guard but she can certainly handle it in transition and her court vision and decisions make her a threat any time she touches it. While she has a nice touch and solid range, she's always looking to create and keeps defenders guessing and rotating. She'll need to become more physical at the defensive end of the floor but her size and active play already makes her an effective stopper. Her pool of choices for her bright future should be getting deeper by the day.

Summer Showcase-July 09: Boulder Rockies Black wing Eliza Normen may be the prototypical 3 for the college game. She's 6-0 and has length to spare. Her perimeter skills include handle with nice change of direction, court vision, passing, nice release and range to 17 feet. She has good agility though some may question her foot speed. It was not an issue in this tournament. She knows where to position herself on the floor defensively and when matched up with an interior player she's not afraid to mix it up and showed solid post defense.
Notes
Club Team: Boulder Rockies

Honorable mention all-state, 2010