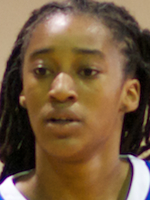 Breanna McDonald
Guard
CLASS: 2012
Lithonia, GA

Hometown

Chamblee

High School
42

Overall Rank

13

Position Rank
ESPN Player Evaluations
Battle in the Boro-July 10: Possibly one of the most dynamic and explosive one on one players in the 2012 class. Problem is, that's not what you get every possession down the floor. At her best she has an explosive first step and the agility to navigate the most aggressive defensive minefields to get to the rim. The pull up is there and actually has more consistency than the deeper looks. In transition she may be at her best with the ball in her hands but she will get out and run the lanes. Nobody is going to call defense a strength but when focused she's much better than most people know and could actually become quite a stopper. (Lewis)

Flava Jam-July 10: It would be natural, as a college coach, to drool over the spectacular size and athleticism that the 6-foot McDonald offers from the wing. She is fast and explodes off the floor. She also has above-average handles and a quick and long first step. Whether she joins the ranks of the truly elite, as her physical skills might suggest, depends on how much polish she can apply to some of her game. Her aerial show is nice to watch, up until the finish, for example, where she needs a little more balance to be consistent. McDonald also can show a little more resolve at the defensive end, where her speed, length and rocket-powered legs could add up to bushels full of blocks and deflections, especially in help. (Hansen)

Nike Regional Skills-May 10: One of the most talented players in the class and if she wants to be among the top 25 she has the talent to do it. The desire remains the question. She can score at will when she wants to but she hasn't decided to push herself through that comfort zone that separates good from exceptional. Two of the coaches at the camp mentioned that "25 had put it in cruise control" and she was wearing that number. Athleticism is matched by few and for her size the skill set is also impressive but being an elite impact player requires intangibles that she is yet to display on a more consistent basis. (Bodine)

USA U16 Trials-May 09: The 6-0 wing has a nice, strong frame. With the ball, she showed solid guard skills, including a nice handle, with some shake to freeze defenders. She also showed a pull-up in the 12-foot range. With her athletic gifts she could be a lock-down defender, which she showed in spots, especially on the ball.

Nike Regional Skills Academy-April 09: Breana McDonald has a great combination of length, athleticism and open-court play. She was really focused during the teaching parts of the camp. McDonald gave maximum efforts in the breakout skills sessions where players were required to go to assigned baskets to practice those skills in which lead instructor Ganon Baker had just demonstrated. McDonald seemed to relish this opportunity and took advantage of it. She was even spotted taking extra shots during the water breaks.
Notes
Club Team: A.O.T. (2011)

Previously played for W.P. Celtics