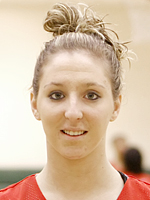 Alexa Gallagher
Wing
CLASS: 2011
Fort Washington, PA

Hometown

Germantown Academy

High School
—

Overall Rank

28

Position Rank
ESPN Player Evaluations
USJN DC-July 10: This 6-1 wing continues to subtly impress anyone who truly knows the game. Her contributions are steady and versatile as well as critical to any team's success. She plays a smart, well thought game and is one of those players who can make those around her better. She's not the best athlete on the floor (but still sound) but she compensates with a work ethic and approach to the little things that make a difference. (Lewis)

USA U17 Trials-June 10: She was far from the most athletic player on the court, but the nice thing about her performance is that she still made plenty of plays. Gallagher is a witty 5-foot-11 wing player who has enough athleticism to take advantage of the defenders' mistakes. Her ability to make plays with the pass stood out, but on a team composed of tall and long forwards, she simply did not fit what the committee went with. Regardless of her limitations, she is one of those glue players who makes her teammates better whether she is scoring or not. She will be a coach's favorite at the college level because of her basketball I.Q. and willingness to push herself on each possession. (Hansen)

Boo Williams-April 10: With a leaner look (recovered from an ACL tear) and more active play Gallagher seems to really have taken steps in her game. She looks to be much more of an offensive threat both on the drive and from the perimeter. Her shot is effective on the pull up as well as from the deeper perimeter. She cuts well off the ball and finds her way to the boards at both ends. An ankle kept her out of the last day's play but she should be looking at a good summer.

Boo Williams-April 09: Fundamentally sound, good length, mid-range game.
Notes
Notes are not available.