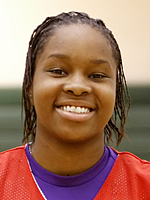 Tyonna Williams
Point Guard
CLASS: 2011
Fort Washington, MD

Hometown

Riverdale Baptist

High School
—

Overall Rank

62

Position Rank
ESPN Player Evaluations
USJN DC-July 10: Slightly built point guard who isn't hesitant to use her body anyway. Very quick and an effective penetrator. (Lewis)

Turkey Jamm-Nov. 09: Penetrating guard with impressive speed and quickness. Got by defenders again and again and handled the traffic well inside. She leaves her feet on the pass occasionally but her decision making usually gets the ball where it needs to go. Her base is very narrow on her jumper but the stroke was OK. She'll need to be a legitimate threat to keep defenders closing out on her. Defensively she has all the tools to be an effective stopper if she'll embrace the role.

Nike Regional Skills Academy-May 09: If you're standing just 5-5 at the point you better bring something to the table to make up for that lack of inches. Academy of the Holy Cross (Md.) standout Tyonna Williams does just that with an explosive first step that leads to some productive penetration. She also possesses a solid pull-up that she can knock down as defenders shift and rotate. Her ability and willingness to create or look for her teammates make her an even more complete threat. The form is there on the shot, but some additional range might come in handy. The attacking attitude serves her well at both ends of the floor. An aggressive defender, she doesn't take any plays off and her matchups need to stay on their toes every possession.
Notes
Notes are not available.