Commentary
Corral takes Three-Point crown at Jam Fest
Originally Published:
March 25, 2008
By
Glenn Nelson
| HoopGurlz.com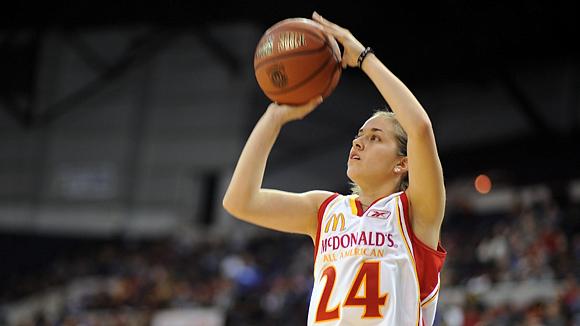 HoopgirlzAshley Corral scored 15 in the finals of the Three-Point contest to finish first.
MILWAUKEE -- A lot of things can happen in four years. A President can leave office. A popular television series can come and go.
And a pure passer can transform herself into a bona fide 3-point shooter.
That's the lesson, at least, to be drawn from the Three-Point Shootout at the Powerade Jam Fest here on Monday. The competition was won by a point guard turned combo guard from Vancouver, Wash. Ashley Corral started her career at Prairie High School as a distributor and ended it as its all-time leading scorer.
The evolution led to Corral beating future USC teammate Briana Gilbreath of Katy, Texas, 15-12, in the championship round. Corral led eight first-round participants with 16 points.
In preparation, Corral was to meet her high-school coach, Al Aldridge, who was to feed her the ball at the five spots used in the competition.
"We were supposed to," Corral said, "but it didn't happen."
Talk about pure shooting.
[+] Enlarge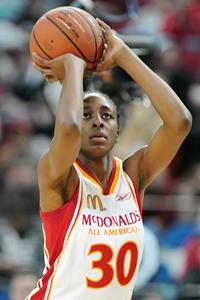 HoopGurlz.com Nneka Ogwumike teamed with future UCLA Bruin Jrue Holiday to take the Team Ball Competition.
In fact, talk about pure shooting with Nneka Ogwumike of Cyfair, Texas. The 6-foot-2, Stanford-bound forward seriously considered signing up for the Slam Dunk Contest, but thought the better of it. So she entered the Team Ball Competition, pairing with Jrue Holiday of Compton, Calif., to beat Nikki Speed of Pasadena, Calif., and Malcom Lee of Moreno Valley, Calif., 35-15, in the final round. Ogwumike and Holiday emerged from the first round with a high score of 51.
"It's all mental," said Ogwumike, the Gatorade National Player of the Year. "Everyone is just watching you. But we're all here for a reason -- we all can score. It's just staying calm, not worrying about anything."
With Larry Drew II of Los Angeles taking the Three-Point Shootout for the boys, the West swept all the Jam Fest events, leading some to wonder if a trend had been started.
"It's foreshadowing something, I do have to say," Ogwumike said.
If not for Corral's victory in the shootout, the upset of the night would have been a high-school basketball player uttering the word "foreshadowing."
After all, it was just a year ago that Corral was undergoing the first of two surgeries to repair ligaments in her ankles that her surgeon said had been damaged since the ninth grade. The surgeries restored Corral's explosiveness off the dribble and balance to her shot. The recovery period equally was a godsend.
"I couldn't run at all," Corral noted. "All I could do was shoot."
The biggest change in her shot, Corral said, was her ability to land on and push off both feet. "I used to come down," she said, "on whatever foot felt good that day."
A big difference indeed. That's what four years, hard work and a little bad luck turned good can do.
Complete Jam Fest results
Three-Point Shootout
First Round
Ashley Corral, Vancouver, Wash., 16
*Briana Gilbreath, Katy, Texas, 11
Samantha Prahalis, Dix Hills, N.Y., 11
Shekinna Stricklen, Morrilton, Ark., 9
Jasmine Dixon, Long Beach, Calif., 6
She'la White, Portsmouth, Va., 6
Destini Hughes, Fort Worth, Texas, 5
Brooklyn Pope, Fort Worth, Texas, 0
(* = won tiebreaker)
Final Round
Corral, 15
Gilbreath, 12
Team Ball Competition
First Round
Nneka Ogwumike, Cyfair, Texas, and Jrue Holiday, Compton, Calif., 51
Nikki Speed, Pasadena, Calif., and Malcom Lee, Moreno Valley, Calif., 47
Elena Delle Donne, Greenville, Del., and Kemba Walker, Bronx, N.Y., 46
Lynetta Kizer, Woodbridge, Va., and Tyler Zeller, Washington, Ind., 34
Amber Gray, West Chester, Ohio, and Greg Monroe, Gretna, La., 26
Alicia Manning, Woodstock, Ga., and Chris Singleton, Dunwoody, Ga., 25
Final Round
Ogwumike and Holiday, 35
Speed and Lee, 15
For more in-depth coverage of women's college-basketball prospects and girl's basketball, visit HoopGurlz.com
ESPNHS HoopGurlz
Founder of HoopGurlz
Coached girls' club, high school and middle school basketball
Co-founder, former editor-in-chief of Scout.com and former NBA columnist/sportswriter
GIRLS' BASKETBALL RANKINGS

Rank
School (City, State)
Rec
1
Saint Marys
Phoenix, AZ
30-0
2
McEachern
Powder Springs, GA
33-0
3
Whitney Young
Chicago, IL
34-0
4
Bolingbrook
Bolingbrook, IL
26-2
5
Riverdale
Murfreesboro, TN
34-3
See the full girls' basketball rankings »